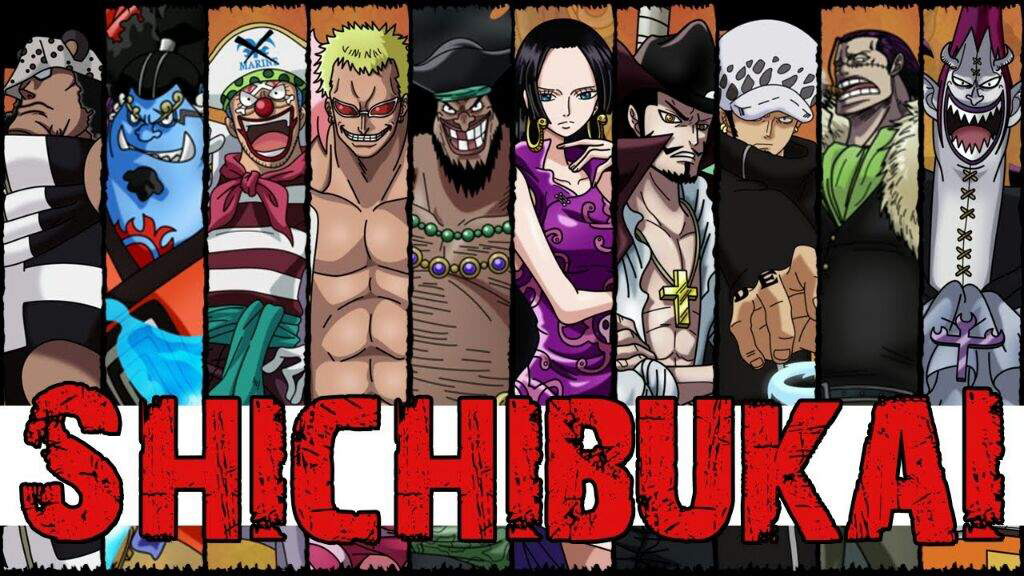 The total of all former warlords are currently 11:
Starting from the weakest to the strongest
•Rank 11 :
Buggy the clown , he a former member of the pirate king crew and a friend of a yonko and a escaper from the greatest prison in the world of one piece. The impel down so thats why he got the title when it comes to strength he's not even able to beat a Pacifista
•Rank 10 :
Gekko moria , another weak warlord , he got clapped against a weak version of luffy also against two other warlords in seconds during and after the war (doffy and jinbei) He's so weak against the sea water and he got no haki as well so i cant see him defeating any other warlord
•Rank 9:
Crocodile , one of the most underrated characters in the series we all know that he lost against a weak version of luffy as well but people don't even consider that luffy used water in that battle and crocodile was sharing his sand in the whole Alabasta to stop raining for like years so he wasn't even in his perfect state and we are ranking them according to their perfect states right now he was able to stop doflamingo mihawk and akainu during the war he even saved ace from death once , he's strong enough to deserve the title but even so he can't beat other warlords with their full power cuz croco boy doesn't use haki as we know
•Rank 8:
Jinbei The knight of the sea , is the strongest fishman , he could stop moria and crocodile easily with the sea water Power , he can also call sharks from the sea , he's powerful enough to get that title, he also protected luffy from akainu even with his weakest state so when it comes to Solo fights He can be a mid to difficult level to get clapped unlike some others
•Rank 7:
Bartholomew Kuma , his abilities are just wow And super useful, he could beat the version of luffy that defeat two other warlords in seconds so he can easily send anyone flying or even to kill enemies in a serious situation even giants were a joke to him , he got also some defensive skills so he's not a fodder for close range fighters he can be a bad problem for enemies
•Rank 6:
Trafalgar D. Law , one of the supernovas but even so he's still a rockie , his power is enough to beat all the others under him but when it comes to a higher level , like doflamingo, he becomes a fodder , his full power wasn't enough to scratch doffy at the beginning but with the help of luffy he could play a good role anyway, he's a strong and useful ally , and probably more powerful than some other supernovas but even so still in the mid of the list , he's probably gonna become stronger
•Rank 5:
Weevil , the most overrated character just because of his father's name , when it comes to strength he's really dangerous but when it comes to strategy he's dumber than luffy so in a serious fight against a smart and strong enemy he will just lose , but still can beat 6 other warlords and i believe he will become a serious problem later for marco
•Rank 4:
Boa Hancock, the pirate empress got this title for her strength and beauty and its really close to the pirate king title so she must be really strong, she's a conqueror haki user , thats mean her full power must be no joke , people right now according to what they saw her doing during the war might rank her lawer but i believe this is a good rank for her currently , Because just with that mood (playing around during the war ) she could one shoot two Pacifistas which even supernovas could hardly beat one , she might be already awakened her DF and if so imagine her using that ( turning everything to stone around her even the ground ,the sea , ships , people, animals) she will really become stronger even than doflamingo, it depends on how she can use her awakened DF , we will see that after wano arc if they buster call her island
•Rank 3 :
Doflamingo , is one of the strongest characters he's a yonko commander level , but under Katakuri, he's strong enough to face an admiral or destroy an island (solo) he might Appear again who knows , but if he does he will be a serious problem for luffys alliance cuz he's already one of kaidos followers and oda kept showing him in impel down reading the news so he got a chance to appear in wano or after wano we don't know
•Rank 2 :
Dracule mihawk , i don't need to say anything just his title as the strongest swordsman in the world is enough to show his strength
•Rank 1:
The badass , marshal D teach , i don't need to say anything about his as well , with two devil fruits he might become the strongest yonko in the future and even the strongest opponent ever for luffy and maybe the last boss in op
>>What do you think guys ??