Jurassic World: Dominion Dominates Fandom Wikis - The Loop
Play Sound
"Gashed" Albion[3] is one of the rookie pirates who joined the Fake Straw Hat Crew. He has a bounty of

92,000,000.[1]
Appearance
Albion is a pale man with a large, ovular head that is wrapped in bandages, like most of his body, from his forehead to his scalp, with his face only occupying the lowest part of his head. He has a long black ponytail on the back of his head, growing out from under the bandages, and wears a captain's coat. Around his neck is what appears to be a shirt collar with two buttons that have "A" on them, along with a red and maroon striped tie around his neck. He also has a dark yellow sash around his waist.
He has three thin daggers on his right hip and is also seen carrying a sword in his left hand.[1]
Gallery
Albion's concept art from the anime.
Personality
Albion seemed calm when Caribou attacked the Marines but appeared annoyed by his attitude. Albion appears to be among the many others who were easily fooled by Fake Straw Hats' charade. Still, his desire to have his name known throughout the seas may have contributed to his decision to join Demaro Black's crew, as he did not question the dubious credibility of the fake Straw Hats. He quickly became angered upon realizing that his "boss" was a fake weakling, accusing the latter of taking advantage of the real Luffy, whom everyone thought to be dead, all the while considering Black to be a "random piece of trash worth a mere 26 million". As Sentomaru put it, Albion and the rest of the recruits were stupid for being so easily duped by the frauds.[4]
Abilities and Powers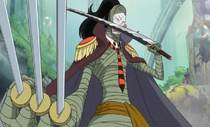 Not much is known about his abilities. It can be assumed that he is rather strong since he was able to make it all the way to Sabaody Archipelago and almost became a Supernova. He was also able to escape Sentomaru's platoon, when most of the other recruits were apprehended.[3]
Weapons
He has at least four bladed weapons, so it might be assumed that he is a swordsman. He is seen holding three daggers between the fingers on his right hand and using them like claws, similar to Buggy's knife-combat style. He uses a curved sword in his left hand.
History
Return to Sabaody Arc
Albion arrived at Sabaody Archipelago around the same time as the Straw Hat Pirates' reunion. While there, he joined the Fake Straw Hat Crew, which he believed to be the true ones, and gathered at Grove 46 along with the rest of the pirates who had been recruited.[1] After Caribou instigated a fight with the Marines, Sentomaru arrived with two Pacifistas and revealed that Demaro Black had impersonated the real Monkey D. Luffy and deceived the pirates, which angered Albion and the others.[5]
Albion was among the pirates who evaded capture by the Marines.[6][3]
References
Active

5,000,000,000 to 1,000,000,000

:
Kaidou ?  •  Charlotte Linlin ?  •  Shanks  •  Monkey D. Luffy  •  Trafalgar Law  •  Eustass Kid  •  Marshall D. Teach  •  King  •  Marco  •  Queen  •  Charlotte Katakuri

1,000,000,000 to 500,000,000

:
Jack  •  Charlotte Smoothie  •  Charlotte Cracker  •  Charlotte Perospero  •  Sabo  •  Charlotte Snack  •  Little Oars Jr.  •  Who's-Who  •  Chinjao

500,000,000 to 100,000,000

:
Edward Weevil  •  Black Maria  •  Sasaki  •  Belo Betty  •  Jinbe  •  Tamago  •  Karasu  •  Ulti  •  Scratchmen Apoo  •  Capone Bege  •  Donquixote Doflamingo  •  Pekoms  •  Cavendish  •  Sanji  •  Basil Hawkins ?  •  Gecko Moria  •  Roronoa Zoro  •  Lindbergh  •  Charlotte Oven  •  Charlotte Daifuku  •  Caesar Clown  •  Bartholomew Kuma  •  Morley  •  Page One  •  X Drake  •  Squard  •  Caribou  •  Sai  •  Killer  •  Usopp  •  Bartolomeo  •  Bellamy  •  Coribou  •  Orlumbus  •  Jewelry Bonney  •  Nico Robin  •  Charlotte Mont-d'Or  •  Urouge  •  Bobbin

100,000,000 to 50,000,000

:
Dorry  •  Brogy  •  Kinoko  •  Trebol  •  Diamante  •  Pica  •  Vito  •  Rockstar  •  Franky  •  Albion  •  Gotti  •  Lip Doughty  •  Brook  •  Chadros Higelyges  •  Boa Hancock  •  Daz Bonez  •  Raccoon  •  Gyro  •  Doc Q  •  Suleiman  •  Gambia  •  Nami  •  Van Augur  •  Lao G  •  Devil Dias  •  Senor Pink  •  Kelly Funk  •  Peachbeard

50,000,000 to 10,000,000

:
Laffitte  •  Boa Sandersonia  •  Boa Marigold  •  Sarquiss  •  Shoujou  •  Mikazuki  •  Bobby Funk  •  Zala  •  Bentham  •  Gladius  •  Marianne  •  Mont Blanc Cricket  •  Galdino  •  Foxy  •  Charlotte Lola  •  Demaro Black  •  Masira  •  Arlong  •  Jesus Burgess  •  Yeti Cool Brothers  •  Krieg  •  Lacuba  •  Kuro  •  Buggy  •  Dellinger  •  Bluejam  •  Drophy  •  Gin  •  Machvise
10,000,000
and under:
Mr. 5  •  Wellington  •  Kuroobi  •  Hatchan  •  Curly Dadan  •  Mikita  •  Sham & Buchi  •  Chew  •  Alvida  •  Porchemy  •  Mr. 4  •  Bepo  •  Tony Tony Chopper

Unknown reward

:
Benn Beckman  •  Lucky Roux  •  Yasopp  •  Zeff  •  Dracule Mihawk  •  Crocodile *  •  Monkey D. Dragon  •  Crocus  •  Yorki  •  Jozu  •  Vista  •  Silvers Rayleigh  •  Emporio Ivankov  •  Inazuma  •  Shiryu  •  Sanjuan Wolf  •  Vasco Shot  •  Catarina Devon  •  Avalo Pizarro  •  Aladine  •  Charlotte Amande
Non-canon

1,000,000,000 to 100,000,000

:
Bounty  •  Prize  •  Byrnndi World ?  •  Panz Fry  •  Chameleone  •  Lambor Bukini  •  Puggy  •  Dopp

100,000,000 to 10,000,000

:
Puzzle  •  Gasparde  •  Tambu  •  Bobrad  •  Woonan †  •  Needless  •  Olive  •  Willy  •  Bigalo  •  Battler  •  Wetton  •  Bear King
10,000,000
and under:
Eldoraggo  •  Dick  •  Pin Joker  •  Golass  •  Honey Queen  •  Skunk One  •  Gally  •  Billy  •  Heaby  •  Hotdog  •  Spiel  •  Pandaman  •  Boo Jack  •  Billy  •  A A A  •  Wild Joe  •  D.R.  •  Hitokui  •  Henna Oyag  •  Koba K  •  Usanksai  •  Sard  •  Tohenbok  •  Tacobo

Unknown reward

:
Patrick Redfield  •  Mobu Head  •  Red Arrows Pirates †  •  Dareda  •  Dontacos

Others

:
Gill Bastar  •  Mikio Itoo