Balloon is a Ruku (怪鳥, Ruku?, literally translated as "monstrous bird") from Romance Dawn, Version 2 and best friend to Ann. It was sought after by Spiel for its magical blood, and was the last of its species. It always returns to Ann's side no matter where she is when separated.
Appearance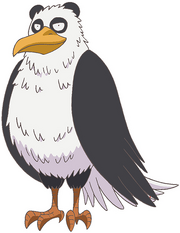 Balloon is a large, rounded bird with features similar to that of a panda-bird hybrid. He has an elongated beak, and is large enough to carry at least one human on his back and another in his beak.

Trivia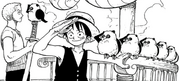 In One Piece, there is a scene where Luffy accidentally gets himself caught by a giant bird. The way the bird caught Luffy in its beak is similar to the way Balloon transported Luffy back to Ann.[2] The title page of the manga chapter in which this scene happens also shows several small "Balloon" like birds.
References
↑ Romance Dawn, Version 2 (p. 3), Balloon is introduced.
Straw Hat Pirates' Allies
Non Canon Allies

One Shots

:
Silk  •  Ann and Balloon  •  Dragon Team  •  Toriko and his allies

Specials

:
Medaka, Herring, and Skid  •  Meroie and Hamu  •  Maccus, Bonney, Amanda, Milia, and Holy  •  Randolph Theater members  •  Toriko and his allies  •  Dragon Team  •  Diego and Regis  •  Foxy Pirates  •  Kinoconda  •  Myskina Olga, Myskina Acier, Elizabeth, and Chavez

Movies

:
Ganzo and Tobio  •  Akisu and Borodo  •  Mobambi and Karasuke  •  Adelle and Shuraiya Bascùd  •  Maya  •  Izaya  •  Lacos  •  Brief  •  Tearoom Pirates  •  Roba and Gonzo  •  Billy  •  Schneider and Buzz  •  Kuzan  •  Mobston and Gari  •  Z  •  Carina  •  Raise Max  •  Rikka  •  Worst Generation's Super Rookies  •  Smoker  •  Buggy  •  Boa Hancock  •  Sabo  •  Crocodile

Filler Arcs

:
Apis and Ryu  •  Tajio  •  Kodama  •  Zenny Pirates  •  Pumpkin Pirates  •  Mekao and Kobato  •  Foxy, Porche, and Hamburg  •  Phoenix Pirates  •  Sayo, Lina, and Nukky  •  Yoko and Boss  •  Little East Blue residents  •  Panz Fry and Lily Enstomach  •  Sea Animal Pirates  •  Desire

Games

:
Atoli and Dias  •  Popola  •  Gaburi  •  Pato  •  Yadoya

Events

:
Dragon Team and Astro Boy and his team  •  Dragon Team and Kankichi Ryotsu  •  Hakuto  •  Toratsugu
Community content is available under
CC-BY-SA
unless otherwise noted.