Jurassic World: Dominion Dominates Fandom Wikis - The Loop
Play Sound
The Beta Beta no Mi[3] is a Paramecia-type[2] Devil Fruit that allows the user to create and control mucus, making the user a Mucus Human (粘液人間, Nen'eki Ningen?).[4] It was eaten by Trebol.[3]
Etymology
Betabeta is a Japanese onomatopoeia for "sticky" or "clinging", which reflects on the properties of the substance this power produces.
In the Viz Manga, it is called the Stick-Stick Fruit.
In the Funimation adaptations, it is called the Sticky-Sticky Fruit.
Strengths and Weaknesses
The fruit's major strength is the ability to create limitless amounts of mucus, which affords the ability to restrain movements and allow the user to attach themselves to surfaces. The mucus is strong enough to hold a ship.[5]
The limitless amounts of mucus that the user can generate, similarly to the Doru Doru no Mi and the Doku Doku no Mi, can make the fruit appear to be a Logia. Trebol used this against Monkey D. Luffy, who hit his mucus coat under the impression that it was part of his body, and was shocked when nothing happened. It also seems that the user can give different colors to their mucus, as seen when Trebol made part of his mucus coat look like his body.[6]
The mucus is flammable and will cause it to explode violently upon contact with a spark; though potentially a liability, the user can use this to his or her advantage.[7] Trebol appears to have a constantly runny nose, though it has yet to be determined whether this is actually a side-effect of the fruit's powers. At the same time this does make it easier for Trebol to shoot snot at his enemies.[8] If the user takes significant wounds, they will lose control of any mucus they generate, leaving them vulnerable to any more attacks.[9] Aside from that and the standard Devil Fruits' weaknesses, this ability has no other known weakness.

Usage
Trebol uses it to stick to various surfaces, such as roofs or walls.[1] By producing mucus he is able to extend his reach and seize his targets from afar, and keep them in place (or make moving more difficult for them).[10] He can also fire off mucus with extreme force and precision, piercing a wall with explosive force while striking a fly in between its eyes,[11] or use it to seize heavy objects and use it as a flail.[5] As the mucus is flammable, he can ignite it with a match upon capturing his opponents and causing incendiary damage.[7]
Trebol made it appear as though the fruit's power is that of a Logia by covering himself in a thick coat of mucus around his emaciated body, which the opponents would assume to be part of his body and believe it to be intangible when attacking that empty space inside the mucus shell, giving him an advantage over enemies who fall for this ploy.[9]
Techniques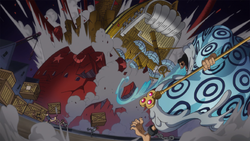 Trivia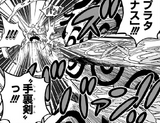 This fruit is often misclassified as a Logia type. However, as the user cannot transform any part of their body into mucus, it is a Paramecia.

One of the reasons for the confusion is the amount of mucus Trebol constantly covers himself with, and the other is the fact that Usopp seemingly managed to cut Trebol in thirds using his Platanus Shuriken.[15]
In Episode 675, Trebol's body was shown to split into smaller slime pieces and reassembles itself.
External links
Mucus – Wikipedia article on mucus.
Adhesion – Wikipedia article on the effect this fruit produces.
Nitrocellulose – Wikipedia article about explosive and adhesive substance.
References
Zoan

Standard

:
Ushi Ushi no Mi, Model: Bison  •  Hito Hito no Mi  •  Tori Tori no Mi, Model: Falcon  •  Inu Inu no Mi, Model: Dachshund  •  Mogu Mogu no Mi  •  Inu Inu no Mi, Model: Jackal  •  Uma Uma no Mi  •  Neko Neko no Mi, Model: Leopard  •  Zou Zou no Mi  •  Inu Inu no Mi, Model: Wolf  •  Ushi Ushi no Mi, Model: Giraffe  •  Hebi Hebi no Mi, Model: King Cobra  •  Hebi Hebi no Mi, Model: Anaconda  •  Kame Kame no Mi  •  Sara Sara no Mi, Model: Axolotl  •  Mushi Mushi no Mi, Model: Kabutomushi  •  Mushi Mushi no Mi, Model: Suzumebachi  •  Tama Tama no Mi  •  Tori Tori no Mi, Model: Albatross  •  Inu Inu no Mi, Model: Tanuki

Ancient

:
Ryu Ryu no Mi, Model: Allosaurus  •  Zou Zou no Mi, Model: Mammoth  •  Ryu Ryu no Mi, Model: Spinosaurus  •  Ryu Ryu no Mi, Model: Pteranodon  •  Ryu Ryu no Mi, Model: Brachiosaurus  •  Ryu Ryu no Mi, Model: Pachycephalosaurus  •  Ryu Ryu no Mi, Model: Triceratops  •  Kumo Kumo no Mi, Model: Rosamygale Grauvogeli  •  Neko Neko no Mi, Model: Saber Tiger

Mythical

:
Hito Hito no Mi, Model: Nika *  •  Tori Tori no Mi, Model: Phoenix  •  Hito Hito no Mi, Model: Daibutsu  •  Uo Uo no Mi, Model: Seiryu  •  Inu Inu no Mi, Model: Kyubi no Kitsune  •  Hebi Hebi no Mi, Model: Yamata no Orochi  •  Hito Hito no Mi, Model: Onyudo  •  Inu Inu no Mi, Model: Okuchi no Makami

Artificial

:
Artificial Devil Fruit (SMILE)

Non-Canon

:
Tori Tori no Mi, Model: Eagle *  •  Inu Inu no Mi, Model: Bake-danuki *  •  Batto Batto no Mi, Model: Vampire *  •  Tori Tori no Mi, Model: Nue *