Cobra Kai Season 4 - The Loop
Play Sound
— Sanji on creating his new technique, Ifrit Jambe.[1]
Ifrit Jambe is a stronger variant of Diable Jambe developed by Sanji during the raid on Onigashima. After Sanji equipped the Raid Suit created by Germa technology, his body began to awaken genetic modifications similar to his siblings. Though Sanji rejected the path of becoming an emotionless Germa soldier and destroyed the suit to prevent further modifications, he came to terms with the powers that had already been awakened. Sanji then realized he can combine this new power with his old, to form a stronger technique.[2]
By combining the hardness of his exoskeleton with his Busoshoku Haki, Sanji's legs become capable of enduring flames of even greater heat than Diable Jambe. The flames of Ifrit Jambe are so intense that they produce blazes resembling lightning itself, and increase the weight and speed of his pre-existing kicking techniques to another level, producing attacks that are both hot and fast enough to not only burn his opponent, but effectively shock them as well due to the sheer speed of the strikes themselves.[2]
Techniques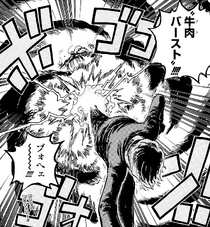 Bœuf Burst (牛肉バースト

Bufu Bāsuto

?

, literally meaning "Beef Burst"): The culmination of a powerful combo making full use of Ifrit Jambe, the attack is a burning, shocking kick aimed at the center of the opponent's body where it blows the enemy away with a powerful spiraling explosion. This was first seen to defeat Queen after a long and devastating series of kicks.[2] Bœuf is the French term for beef. This is called Boeuf Burst in the VIZ Manga. Its name and combo may be referring this technique as an evolved form of Veau Shot from the basic Black Leg Style, as veau (or veal) is meat from calf, while bœuf (or beef) is meat from a full grown cow. This attack is used as the finishing move of the Collier, Basse Côte, Paleron, Jumeau à Bifteck, Tendron, Flanchet, Queue, Poire, Jarret, Bœuf Burst combo.
Trivia
An Ifrit is a powerful type of Demon (or Jinn) in Islamic mythology that are often associated with the underworld and identified with the spirits of the dead. In Islamic folklore, they are a class of generally ruthless and wicked chthonic spirits formed out of smoke and fire. In modern fiction, they are almost always associated with the element of fire.
References