Jurassic World: Dominion Dominates Fandom Wikis - The Loop
Play Sound
Ahoy! This here is the 75th Featured Article.

"Boo Jack" has been featured, meaning it was chosen as an article of interest.
Boo Jack is one of the Trump Siblings Pirates who appeared in the second movie as one of the major antagonists.[1]
Appearance
Boo Jack is a fat man with a pig-themed outfit. He wears a bandanna-like hat with a pig's head design, a yellow shirt with a "J" printed on the front, suspenders, and his white, furred Toge Toge Armor. He also has furred arm and elbow bands.
Gallery
Boo Jack's wanted poster from
Movie 9
.
Personality
Like his siblings, Boo Jack is an arrogant and ruthless enforcer of Bear King's will, always eager to press unfair advantages and mock those he believes to be weaker than himself. This arrogance was partly responsible for his brutal defeat by Sanji.
Occasionally, he will adopt the mannerisms of a quiz-show host - as "Boo" is also the standard Japanese sound effect for a wrong-answer buzzer - and quiz enemies on who will be the Pirate King. His stated answer is inevitably "Bear King" (though Monkey D. Luffy always answers "me").[1]
Abilities and Powers
Boo Jack is a good swimmer, as Honey Queen could stand on his back while he was floating in the ocean.[1] He was also strong enough to be given a bounty of

3,200,000.[2]
Weapons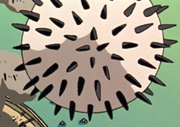 Boo Jack's primary weapon is the Toge Toge Armor (トゲトゲの鎧, Toge Toge no Yoroi?, literally meaning "Spike Spike Armor"), which can deploy spikes or launch them at people. He can also become a giant, rolling, spiked ball.
He also has white balls that he can throw at his opponents, which either explode like bombs or emits spikes.[1]
History
Clockwork Island Adventure
Boo Jack first appeared with Honey Queen when their fleet encountered the Straw Hats and the Thief Brothers. The Straw Hats demanded that they hand back the Going Merry, but the two Trump Siblings denied that they took it. Boo Jack then asked the Straw Hats who would the Pirate King would be. After Luffy said it was himself and Boo Jack corrected him by saying it was the Bear King, Sanji and Zoro mocked him and said that it was a stupid riddle. After hearing this, he and Honey Queen ordered their fleet to attack. The Straw Hats proved themselves to be stronger than the average pirate, but when Usopp saw Boo Jack's spinning attack, he rowed the crew to safety.
Unbeknownst to the Straw Hats, Boo Jack and Honey Queen had been following them, and when they were near the Straw Hats and Thief Brothers, they threw bombs onto the the Thief Brothers' ship. He then asked them what he and Honey Queen wanted the most. When Sanji screamed out Nami's name, Honey Queen revealed that it was the correct answer and that their intentions were to kidnap Nami as a gift to their Captain.
Later, they returned to Trump Castle, where Boo Jack handed Nami over to Bear King. When Bear King asked who this Luffy that Nami mentioned was, Boo Jack explained that it was her friend that could stretch like rubber.
While waiting for Luffy to arrive, the Trump Siblings played cards with Nami, losing every game to her. When Honey Queen left to go scout out the area for the Straw Hats, Boo Jack left with her. Afterwards, they found the Straw Hats and the Thief Brothers floating up in a hot air balloon. Boo Jack then attacked the balloon by throwing one of his surprise spike balls, which ended up piercing through Sanji's foot. After Sanji fell from Honey Queen's attack, the two captured him and brought him back to Trump Castle. They then watched in awe at the completed King Cannon being brought in. Boo Jack wnt on to step on Sanji for saying too much.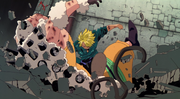 Afterwards, Boo Jack watched as Bear King prepared to fire the King Cannon at the captured Sanji, Usopp, and Zoro. However, Borodo interrupted them, and Boo Jack became surprised when he saw that the thief had dynamite strapped to himself. He then watched in shock when Luffy pushed through several floors and into the room before blowing up all the dynamite. Boo Jack then leapt into action and charged at Nami, but was blocked by Sanji, who told him that he would not let him lay a hand on her. In response, Boo Jack laughed at Sanji and asked what he was going to do with his bleeding feet. After Sanji put on his boots, Boo Jack ridiculed him about whether that would make a difference and then spun at him in his Toge Toge Armor. However, Sanji easily kicked him away and then defeated him after a few more kicks.
Afterwards, Bear King was defeated and the impact from Luffy's attack using the King Cannon's bullet caused the island to collapse. His fate remains unknown, as he was unconscious and was most likely caught in the island's destruction.[1]
Major Battles
Merchandise
Video Games
Enemy Appearances
Trivia
Every member of Bear King's crew had both an animal and a card based theme. Boo Jack was based on a Pig and the Jack. The similar noise "Buu" is the sound a pig makes in Japanese ("Oink" to an English speaker).
Both name-wise and visual-wise, his armor bears similarities to Miss Doublefinger's Toge Toge abilities. This, however, is likely to be coincidence, as the latter was introduced in Chapter 190, several months after Clockwork Island Adventure premiered.
References
Active

5,000,000,000 to 1,000,000,000

:
Kaidou ?  •  Charlotte Linlin ?  •  Shanks  •  Monkey D. Luffy  •  Trafalgar Law  •  Eustass Kid  •  Marshall D. Teach  •  King  •  Marco  •  Queen  •  Charlotte Katakuri

1,000,000,000 to 500,000,000

:
Jack  •  Charlotte Smoothie  •  Charlotte Cracker  •  Charlotte Perospero  •  Sabo  •  Charlotte Snack  •  Little Oars Jr.  •  Who's-Who  •  Chinjao

500,000,000 to 100,000,000

:
Edward Weevil  •  Black Maria  •  Sasaki  •  Belo Betty  •  Jinbe  •  Tamago  •  Karasu  •  Ulti  •  Scratchmen Apoo  •  Capone Bege  •  Donquixote Doflamingo  •  Pekoms  •  Cavendish  •  Sanji  •  Basil Hawkins ?  •  Gecko Moria  •  Roronoa Zoro  •  Lindbergh  •  Charlotte Oven  •  Charlotte Daifuku  •  Caesar Clown  •  Bartholomew Kuma  •  Morley  •  Page One  •  X Drake  •  Squard  •  Caribou  •  Sai  •  Killer  •  Usopp  •  Bartolomeo  •  Bellamy  •  Coribou  •  Orlumbus  •  Jewelry Bonney  •  Nico Robin  •  Charlotte Mont-d'Or  •  Urouge  •  Bobbin

100,000,000 to 50,000,000

:
Dorry  •  Brogy  •  Kinoko  •  Trebol  •  Diamante  •  Pica  •  Vito  •  Rockstar  •  Franky  •  Albion  •  Gotti  •  Lip Doughty  •  Brook  •  Chadros Higelyges  •  Boa Hancock  •  Daz Bonez  •  Raccoon  •  Gyro  •  Doc Q  •  Suleiman  •  Gambia  •  Nami  •  Van Augur  •  Lao G  •  Devil Dias  •  Senor Pink  •  Kelly Funk  •  Peachbeard

50,000,000 to 10,000,000

:
Laffitte  •  Boa Sandersonia  •  Boa Marigold  •  Sarquiss  •  Shoujou  •  Mikazuki  •  Bobby Funk  •  Zala  •  Bentham  •  Gladius  •  Marianne  •  Mont Blanc Cricket  •  Galdino  •  Foxy  •  Charlotte Lola  •  Demaro Black  •  Masira  •  Arlong  •  Jesus Burgess  •  Yeti Cool Brothers  •  Krieg  •  Lacuba  •  Kuro  •  Buggy  •  Dellinger  •  Bluejam  •  Drophy  •  Gin  •  Machvise
10,000,000
and under:
Mr. 5  •  Wellington  •  Kuroobi  •  Hatchan  •  Curly Dadan  •  Mikita  •  Sham & Buchi  •  Chew  •  Alvida  •  Porchemy  •  Mr. 4  •  Bepo  •  Tony Tony Chopper

Unknown reward

:
Benn Beckman  •  Lucky Roux  •  Yasopp  •  Zeff  •  Dracule Mihawk  •  Crocodile *  •  Monkey D. Dragon  •  Crocus  •  Yorki  •  Jozu  •  Vista  •  Silvers Rayleigh  •  Emporio Ivankov  •  Inazuma  •  Shiryu  •  Sanjuan Wolf  •  Vasco Shot  •  Catarina Devon  •  Avalo Pizarro  •  Aladine  •  Charlotte Amande
Non-canon

1,000,000,000 to 100,000,000

:
Bounty  •  Prize  •  Byrnndi World ?  •  Panz Fry  •  Chameleone  •  Lambor Bukini  •  Puggy  •  Dopp

100,000,000 to 10,000,000

:
Puzzle  •  Gasparde  •  Tambu  •  Bobrad  •  Woonan †  •  Needless  •  Olive  •  Willy  •  Bigalo  •  Battler  •  Wetton  •  Bear King
10,000,000
and under:
Eldoraggo  •  Dick  •  Pin Joker  •  Golass  •  Honey Queen  •  Skunk One  •  Gally  •  Billy  •  Heaby  •  Hotdog  •  Spiel  •  Pandaman  •  Boo Jack  •  Billy  •  A A A  •  Wild Joe  •  D.R.  •  Hitokui  •  Henna Oyag  •  Koba K  •  Usanksai  •  Sard  •  Tohenbok  •  Tacobo

Unknown reward

:
Patrick Redfield  •  Mobu Head  •  Red Arrows Pirates †  •  Dareda  •  Dontacos

Others

:
Gill Bastar  •  Mikio Itoo