The Buku Buku no Mi is a Paramecia-type Devil Fruit that allows the user to manipulate books, making them a Book Human (書籍人間, Shoseki Ningen?). It was eaten by Charlotte Mont-d'Or.[2]
Etymology
Bukku (

ブック

?

) is the Japanese pronunciation of the English word "book".
Strengths and Weaknesses
The user has full control of the books around them, allowing them to telekinetically move them around and use them in a variety of ways, such as footholds.[1]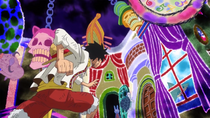 The biggest strength of this fruit is the ability to put both living or non-living targets inside a book's setting, which Mont-d'Or calls the World of Books ("本"の世界, "Hon" no Sekai?). This can be done in two ways: in the first one, by hovering an open book over the target, the target will be placed under the visual illusion that they are in the book's world. Their body will still be in the real world, and the user can take advantage of the target's inability to see by attacking them then. The illusion will cease once the book is shut.[1]
Secondly, the user can also place a target directly in a book itself, in which the target will become an illustration in that book; while inside the book, they will not age, and the user can use other in-book illustrations to affect the trapped targets, such as Mont-d'Or pinning down his captives with oversized nail-like appendages[3] which seem to be unbreakable.[4] Someone can travel in and out of a book at will by inserting a special bookmark into the page.[5]
The user can also use books as a means of distant and broad communication. Mont-d'Or was shown to be able to call multiple Den Den Mushi at once by having all of them connected to another book, while he and his Den Den Mushi were on top of another book. How this exactly works is unknown.[6]
If a target is placed under the illusion of a book's setting, they still have access to their abilities and senses other than sight, and can still move around in the real world, as shown when Monkey D. Luffy was able to hear Nami while under the illusion and could move.[1] Also, those trapped inside a book are able to communicate with the real world so long as their page is open.[3] Prisoners can be released by burning the books they are kept in, although the prisoners themselves will catch on fire as well.[7] Otherwise, the user is affected by the standard Devil Fruit weaknesses.
Usage
Mont-d'Or's most prominent use of the fruit's power lies in his trapping of many strange creatures as well as prisoners inside oversized picture books, pinning them down with massive nails and keeping them in a large library in the Whole Cake Chateau. The library's normal section is for Big Mom's collection of strange, rare creatures and beasts while normal prisoners have their separate section called the Prisoner Library.[3]
In combat, Mont-d'Or may control normal-sized books to give him mid-air footholds and also to place foes under illusions with them, allowing his allies the opportunity to attack the sitting duck opponents.[1]
He also uses his ability to coordinate the movements of the Big Mom Pirates, such as when they were pursuing the Straw Hat Pirates. He has been shown communicating with several of his crewmates at once, and also drawing maps with his quill.[6]

Big Mom keeps a collection of rare animals in her books with Mont-d'Or's assistance.
Mont-d'Or uses a book as a chair.
Trivia
References
↑ 1.0 1.1 1.2 1.3 1.4 One Piece Manga and Anime — Vol. 84 Chapter 846 and Episode 810, Mont-d'Or's powers are first seen.
↑ 3.0 3.1 3.2 One Piece Manga — Vol. 84 Chapter 847.
↑ One Piece Manga — Vol. 85 Chapter 850.
↑ One Piece Manga — Vol. 84 Chapter 848.
↑ 6.0 6.1 One Piece Manga — Vol. 89 Chapter 899.
↑ One Piece Manga — Vol. 85 Chapter 852.
Devil Fruits
Zoan

Canon (Natural)

:
Ushi Ushi no Mi, Model: Bison  •  Hito Hito no Mi  •  Tori Tori no Mi, Model: Falcon  •  Inu Inu no Mi, Model: Dachshund  •  Mogu Mogu no Mi  •  Inu Inu no Mi, Model: Jackal  •  Uma Uma no Mi  •  Neko Neko no Mi, Model: Leopard  •  Zou Zou no Mi  •  Inu Inu no Mi, Model: Wolf  •  Ushi Ushi no Mi, Model: Giraffe  •  Ryu Ryu no Mi, Model: Allosaurus  •  Hebi Hebi no Mi, Model: King Cobra  •  Hebi Hebi no Mi, Model: Anaconda  •  Tori Tori no Mi, Model: Phoenix  •  Hito Hito no Mi, Model: Daibutsu  •  Kame Kame no Mi  •  Sara Sara no Mi, Model: Axolotl  •  Mushi Mushi no Mi, Model: Kabutomushi  •  Mushi Mushi no Mi, Model: Suzumebachi  •  Zou Zou no Mi, Model: Mammoth  •  Tori Tori no Mi, Model: Albatross  •  Inu Inu no Mi, Model: Tanuki  •  Inu Inu no Mi, Model: Kyubi no Kitsune  •  Hebi Hebi no Mi, Model: Yamata no Orochi  •  Ryu Ryu no Mi, Model: Spinosaurus  •  Ryu Ryu no Mi, Model: Pteranodon  •  Ryu Ryu no Mi, Model: Brachiosaurus

Canon (Artificial)

:
Artificial Devil Fruit  •  SMILE

Non-Canon

:
Tori Tori no Mi, Model: Eagle  •  Inu Inu no Mi, Model: Bake-danuki  •  Batto Batto no Mi, Model: Vampire  •  Tori Tori no Mi, Model: Nue