Doctor Strange in The Multiverse o Madness - The Loop
Play Sound
Caimanlady[2] is a Gifter in the Beasts Pirates, being part of the surveillance division called the "Marys".[1][3]
Appearance
Caimanlady is a young woman with long dark hair.[1] She wears a leaf-patterned kimono loosely with her shoulders exposed, and an obi around her waist. In front of her face she wears the Marys' mask with an eye symbol.[2]
Personality
Not much is known about Caimanlady's personality, but she seemed to be loyal to Black Maria and her fellow Beasts Pirates.[1]
Abilities and Powers
As a Mary, Caimanlady is equipped with a strange eye-marked paper mask that gives her the ability to remotely observe locations, communicate and broadcast other people's voices through other Marys.[4] This allows her to act in surveillance, detecting and keeping track of an enemy's position from afar.[3]
Devil Fruit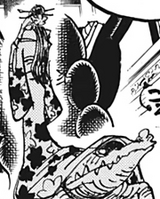 Caimanlady ate an unnamed SMILE fruit which allows her to grow a full caiman from her legs. Notably, the caiman faces in the opposite direction as Caimanlady, meaning it must walk backwards to move her forward.[2]

History
Wano Country Arc
Caimanlady was with Black Maria after they captured Sanji and was waiting for him to call Nico Robin per her superior's request.[1] She then witnessed Sanji receiving a beating from Black Maria, until he decided to call his crewmate using Caimanlady's connection to the Marys system.[2][4]
Trivia
Caimans are a type of reptile in the same family as alligators.
References
Governor-General

:
Kaidou

All-Stars

:
King  •  Queen  •  Jack

Tobiroppo

:
X Drake ‡  •  Page One  •  Ulti  •  Who's-Who  •  Black Maria  •  Sasaki

Shinuchi

:
Sheepshead ?  •  Ginrummy ?  •  Basil Hawkins  •  Holed'em  •  Speed ‡  •  Dobon  •  Babanuki ‡  •  Daifugo ‡  •  Solitaire  •  Bao Huang  •  Briscola ‡  •  Fourtricks ‡  •  Hamlet ‡  •  Mizerka ‡  •  Poker ‡

Gifters

:
Batman  •  Gazelleman ‡  •  Mouseman  •  Snakeman  •  Rabbitman  •  Sarahebi  •  Alpacaman  •  Madilloman  •  Dachoman  •  Tenjo-Sagari  •  Nure-Onna  •  Caimanlady  •  Wanyudo  •  Armored Division ‡  •  Trio the Grip ≠  •  Bearman ≠  •  Llamaman ≠  •  Tigerman ≠

Waiters

:
Massui  •  Pudos  •  Ibiributsu  •  Donannoyo  •  Uwattsura  •  Nokotti

Numbers

:
Inbi  •  Fuga  •  Zanki  •  Jaki  •  Goki  •  Rokki  •  Nangi  •  Hatcha  •  Kunyun  •  Juki

Samurai

:
Fukurokuju ‡  •  Daikoku  •  Raijin  •  Fujin  •  Hanzo  •  Chome  •  Jigoku Benten  •  Bishamon  •  Yazaemon  •  Kazekage  •  Sarutobi  •  Hotei

Other Members

:
Scotch ?  •  Scratchmen Apoo  •  Hihimaru ‡  •  Kamijiro  •  Gorishiro ‡

Subordinate Crews

:
Drake Pirates *  •  On Air Pirates  •  Hawkins Pirates

Allies and Affiliates

:
Big Mom Pirates  •  Yamato ‡  •  Kurozumi Family (Kurozumi Orochi) ‡  •  Donquixote Pirates (Donquixote Doflamingo  •  Caesar Clown) ‡  •  Bounties Pirates ≠

Ships

:
Mammoth †  •  Liberal Hind ‡  •  Stay Tune  •  Grudge Dolph

Abilities

Devil Fruit Based

:
Uo Uo no Mi, Model: Seiryu  •  Ryu Ryu no Mi, Model: Pteranodon  •  Ryu Ryu no Mi, Model: Brachiosaurus  •  Zou Zou no Mi, Model: Mammoth  •  Ryu Ryu no Mi, Model: Allosaurus ‡  •  Ryu Ryu no Mi, Model: Spinosaurus  •  Ryu Ryu no Mi, Model: Pachycephalosaurus  •  Ryu Ryu no Mi, Model: Triceratops  •  Kumo Kumo no Mi, Model: Rosamygale Grauvogeli  •  Neko Neko no Mi, Model: Saber Tiger  •  Inu Inu no Mi, Model: Okuchi no Makami ‡  •  Wara Wara no Mi  •  Oto Oto no Mi  •  SMILE

Fighting Style Based

:
Haki  •  Shuron Hakke  •  Rokushiki  •  Alpaca Kenpo  •  Ninjutsu

Weapons Based

:
Hassaikai  •  Karakuri Sword  •  Karakuri Rasento  •  Takeru ‡

Support Based

:
Koro  •  Seastone  •  Excite Bullets (Mummy  •  Ice Oni)  •  Excite Shot
Abilities

Devil Fruit Based

:
Artificial Devil Fruit  •  Fuku Fuku no Mi  •  Fude Fude no Mi (Ryunosuke †  •  Kazenbo)  •  SMILE  •  Zou Zou no Mi, Model: Mammoth  •  Kibi Kibi no Mi  •  Inu Inu no Mi, Model: Tanuki  •  Wara Wara no Mi  •  Uo Uo no Mi, Model: Seiryu  •  Juku Juku no Mi  •  Maki Maki no Mi  •  Ryu Ryu no Mi, Model: Allosaurus  •  Ryu Ryu no Mi, Model: Spinosaurus  •  Ryu Ryu no Mi, Model: Pteranodon  •  Hito Hito no Mi, Model: Onyudo  •  Ryu Ryu no Mi, Model: Brachiosaurus  •  Oto Oto no Mi  •  Ryu Ryu no Mi, Model: Pachycephalosaurus  •  Ryu Ryu no Mi, Model: Triceratops  •  Kumo Kumo no Mi, Model: Rosamygale Grauvogeli  •  Neko Neko no Mi, Model: Saber Tiger  •  Hebi Hebi no Mi, Model: Yamata no Orochi  •  Inu Inu no Mi, Model: Okuchi no Makami  •  Toki Toki no Mi †  •  Mane Mane no Mi †  •  Bari Bari no Mi †  •  Tori Tori no Mi, Model: Nue ≠

Fighting Style Based

:
Haki (Ryuo)  •  Oden Two Sword Style  •  Foxfire Style  •  Ninjutsu  •  Kappa Style

Weapons

:
Shusui  •  Kitetsu (Shodai Kitetsu ?  •  Nidai Kitetsu  •  Sandai Kitetsu ‡)  •  Sukesan and Kakusan  •  Tsuji Shibai  •  Soto Muso  •  Hassaikai  •  Takeru  •  Ame no Habakiri  •  Karakuri Rasento  •  Enma ‡