Charlotte Brownie[3] is the 32nd son of the Charlotte Family and an executive member of the Big Mom Pirates[2]. He joined Charlotte Oven's army to intercept the Straw Hat Pirates on Cacao Island.[1]
Appearance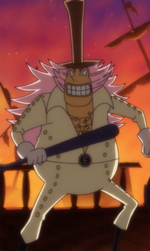 Brownie's jaw area is very rotund and large in comparison to the top of his head. He has a pointy nose and light purple hair that sticks up on the sides. He wears a studded suit with a very high collar as well as a tall and thin top hat.[1]

Personality
Brownie appears to be rude, lazy, and easily bored, as he blew off standing guard on Cacao Island after seeing the excessive amounts of forces stationed there and decided to go to sleep instead, only wanting to be woken up if anything happened.[1]
Abilities and Powers
Brownie's fighting capabilities are unknown, but he does appear to command subordinates, as he captains his own ship that bears his name on the sail.[1]
Weapons
Brownie is seen holding a bat while fighting against Germa 66.[4]
History
Whole Cake Island Arc
Brownie took his ship to Cacao Island to help stand guard in preparation for an attack on the Straw Hat Pirates, but after seeing how many of his siblings and crewmates had gathered just for less than ten people, he decided to go to sleep instead, telling his subordinates to wake him up if something happened.[1] He later woke up when the Big Mom Pirates' fleet was under attack by Germa 66.[5] He was then preoccupied with fighting Germa's forces that he did not notice Oven's command to stop Luffy and Sanji from escaping overhead.[4]
After the Straw Hats escaped, the Big Mom Pirates were later joined by Linlin when she arrived at the island.[6]
Trivia
Brownies are baked chocolate square desserts, which fits with the Charlotte Family and Big Mom Pirates' food-themed names.
References
↑ 1.0 1.1 1.2 1.3 1.4 1.5 1.6 1.7 One Piece Manga and Anime — Vol. 89 Chapter 894 (p. 14-15) and Episode 869, Brownie makes his debut.
↑ 2.0 2.1 One Piece Manga — Vol. 92 Chapter 930 (p. 8), Children of the Charlotte Family confirmed to be executives of the Big Mom Pirates
↑ One Piece Manga — Vol. 89 Chapter 894 (p. 14-15), Brownie's name is seen romanized on his ship.
↑ 4.0 4.1 One Piece Manga — Vol. 89 Chapter 898.
↑ One Piece Manga — Vol. 89 Chapter 897.
↑ One Piece Manga — Vol. 90 Chapter 902.
Community content is available under
CC-BY-SA
unless otherwise noted.