| | |
| --- | --- |
| | This article is about Japanese merchandising. For some pointers about related subjects like bootlegs, Japanese version vs the world, or the Toei sticker, you can consult the Merchandise FAQ page. |
| | |
| --- | --- |
| | Illustrations on this page are stock photos and aren't necessarily representative of the final products. |
Chibi (ちび, chibi) as an English word is slang used in some circles (for example otaku). It has its origins in the Japanese language and usually translates to either tiny, short, or dwarf.
In the context of anime or manga, is used to describe a style of drawing a character in a highly stylized way, with stubby bodies that are about the same size as the head; this style is called "super deformed style" by many English speakers. A chibi rendition of a character is usually done for comedic purposes.
In general use, chibi can be used in a person's name, such as Chibi-Usa (or Chibi-Usagi which translates to "Small Rabbit") from Sailor Moon, to describe the character. It may also be used to to describe the magnitude of an attack (Small beam) in comparison to its normal power level. Other uses come from the naming of animals base on size ("Small Dog") or part of a feature on a creature ("small horned lizard").
It can also be applied to describe someone who is considered "weak" or "small time". For example, in the One Piece: Grand Battle 3 game, Benn Beckman is seen in a scene calling Rockstar "Chibi".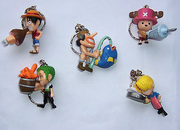 Initially the most common use of the chibi style for One Piece was found in the video games such as One Piece Grand Battle! and One Piece: Going Baseball. Other examples are found amongst the One Piece Merchandise (this is common representations amongst Japanese media). Eiichiro Oda draws the characters in his Side Comics in chibi-form. Also, Luffy, after using Gear 3, transforms into a chibi-like form for a while, until he changes back to normal size. During his Mini-arc, Buggy resembled a chibi character after losing the entire middle of his body. Also the style of Chopper's body in Brain Point is chibi.
Community content is available under
CC-BY-SA
unless otherwise noted.