Chin Piece
Statistics
Author:
Yoshikazu Amami
Original Run:
June 1, 2018
Genre:
Comedy
Chin Piece (チンピース, Chin Pīsu?) is a comedic manga spinoff of One Piece, written and drawn by Yoshikazu Amami. The series started in the bi-monthly Saikyo Jump magazine's July issue on June 1, 2018.[1]
Chin Piece revolves around a group of village kids led by Kusopp, who aspire to be great pirates like the Straw Hat Pirates. They then meet a boy named Chimpy, who resembles Luffy and whose penis can stretch like the pirate's.[2]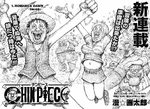 Chin Piece is also the name of a one-chapter parody written by Chinyūki ~Tarō to Yukai na Nakama-tachi~ author Man Gatarô and published in Shonen Jump 2017 Issue #42.[3]
"Chin" comes from "chinchin" and "chinko", which are colloquial Japanese words for the penis.

Community content is available under
CC-BY-SA
unless otherwise noted.