Doctor Strange in The Multiverse o Madness - The Loop
Play Sound
Cipher Pol is a series of secret agencies who do investigations, assassinations and espionage for the World Government.
Overview
The various Cipher Pol cells are stationed throughout the world and investigate for the World Government. They supplement the Intelligence Branch of the World Government's Marine forces, but seem to operate more as a counter-insurgency agency that also has more general law enforcement duties. They have some authority regarding recruitment for the Marines, even dealing with the Underworld for unique individuals. If they encounter pirates, they will apprehend them, but, as an agency, Cipher Pol seems to focus more on political threats to the World Government than more generic criminals.
There are eight official Cipher Pols that are numbered from CP1 to CP8, with two unofficial units named CP9 and CP0. In general (save the "zeroth" agency), the higher the Cipher Pol agency's number, the more important the tasks assigned to them.[2] Cipher Pol No. 9 has the license to kill any citizen that does not cooperate with the World Government or acts contrary to its interests. Because such a radical method of applying justice by the World Government should not be common knowledge, this group is a top secret organization.[3] CP0 is known to the public, but is different from the other units in that its members work directly as enforcers for the World Nobles, and thus are the strongest agency.
According to the Enies Lobby Arc, the official uniform for Cipher Pol agents is a black suit and fedora.
In order to exceed the limits of the human body, CP9 agents receive special training since their childhood. In order to become a full-fledged member of CP9, the agents must master a martial arts style that is called Rokushiki. The training also has somewhat of a mind-molding process so that Cipher Pol agents only learn how to be assassins and that this is their only profession. Rob Lucci, for example, was not capable of feeling gratitude or mercy.[4] Kaku, on the other hand, loved being a shipwright but was forced to leave it behind; he seemed to have shown regret at this decision,[5][6] but ultimately did not hold back when he was fulfilling his duties. The members received individual training, but they also trained together a lot.
The Five Elders have stated the Marines have no jurisdiction to interfere in operations that are conducted by the Cipher Pol.[7] They also seem to have the sanction to eliminate Marine soldiers who become liabilities to their covert missions.[8]
According to Monkey D. Dragon, their power has been growing in recent years.[9]
Agents
See also the associated category: Cipher Pol Agents.
Rob Lucci
Hattori
Spandam
Kaku
Stussy

Maha ?
?????? ?
??????
??????
Funkfreed ≠
Spandam ‡
Spandine ‡
Rob Lucci ‡
Kaku ‡
Jabra ‡
Blueno ‡
Kumadori ‡
Fukurou ‡
Kalifa ‡
Nero ‡ ?
Who's-Who ‡
Laskey ‡

?????? ‡
Hattori ‡
Funkfreed ‡

Spandam ‡ (CP5)
Jerry (CP6)
Wanze (CP7)
?????? ?
?????? ?

??????
World Government
Known Cipher Pol Groups
CP5
CP5 (サイファーポールナンバーファイブ, Saifā Pōru Nanbā Faibu?) were a faction led by Spandam when he was tasked with retrieving the blueprint of Pluton eight years before the beginning of the series.[10] While their specialty is unconfirmed, they were seen capable of stealth, thievery, sailing, and operating unique weaponry.[11] They seemed to be recognizable enough to have a say in matters of delivering justice.[12] Its current status is unknown.
CP6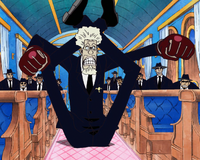 CP6 (サイファーポールナンバーシックス, Saifā Pōru Nanbā Shikkusu?) are a faction with an unknown specialty, that was assigned to assist CP9 while they delivered Nico Robin and Franky to Enies Lobby aboard the Puffing Tom. Its only known named member is Jerry.[13] The group was defeated by Sanji as he invaded the Sea Train to rescue Robin.[14] The cart they were on was detached by Sanji,[15] and were then stranded at sea after encountering Roronoa Zoro on the Rocketman.[16] The faction current status is unknown.
CP7
CP7 (サイファーポールナンバーセブン, Saifā Pōru Nanbā Sebun?) are a faction with an unknown specialty, that was assigned to assist CP9 while they delivered Nico Robin and Franky to Enies Lobby aboard the Puffing Tom. Its only known named member is Wanze, who is said to be their "ace".[17] Wanze stood in the way of Sanji's group, but was defeated by Sanji.[18] The faction current status is unknown.
CP9
CP9 were a faction specialized in assassinations.[3] Officially, CP9 does not exist. After the group was defeated by the Straw Hat Pirates in Enies Lobby, its status is unknown.[19] At least three of CP9 members, Rob Lucci, Kaku, and Spandam were reassigned to CP0.
CP0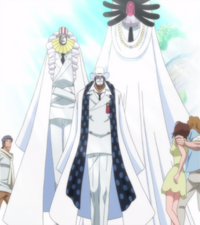 CP0 are the strongest faction of Cipher Pol.[20] While rest of Cipher Pol operates under the World Government, CP0 operates directly under the World Nobles.[21]

Trivia
Cipher Pol's name might be a reference to Interpol. The "Cipher" part of this organization's name is in relation to their covert work, and "Pol" for "Police" like the real world organization.
References