For the former pirate captain and slave of Rosward, see Devil Dias.
Dias is a young boy who joins the Straw Hat Pirates for the duration of the game "Legend of the Rainbow Island", and leaves the crew at the end.
Appearance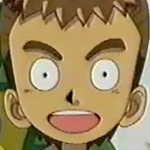 Dias is a short, slightly-tanned boy with short, spiked brown hair and thick, black eyebrows. He wears a blue and beige shirt, blue gloves that do not have fingers, light brown pants, blue boots, and a long red cape. He wears the Fisherman's Emblem, a green triangular item, on a necklace, and he usually carries around a boomerang with him.

Personality
Dias is a bold and fearless individual, willing to stand up to pirates who threaten him and bully other people. His dream is to find the legendary Rainbow Island.
Abilities and Powers
Dias carries around a boomerang and fights with it. He is most likely very skilled in wielding it, and his skills impressed the members of the Straw Hat Pirates.
History
Past
Before the events of the game, Dias was separated from his parents. Their status is unknown.
Legend of the Rainbow Island
One morning, Dias had a dream about Rainbow Island before his boss woke him up to go to Loguetown's harbor to sell their product. After arriving in the harbor, Chip and Mini approached him and demanded they give him food. The Straw Hat Pirates came to Dias' rescue and beat the pirates up. After brief introductions, Dias offered to show Luffy, Zoro and Nami around town. He took them to Ippon-Matsu's shop, a clothing shop, and a tavern. At the tavern, Dias had a meal with the crew where they talked about their dreams and the pirates offered to teach Dias how to fight. They agreed to stay in a hotel for a night, and then Dias would take them to see Gol D. Roger's execution platform the next day.
He fought some pirates who were bothering his neighbors before going into town where he found two pirates, Garride and Kaabo threatening Atoli. Dias stood up to the two and attacked them, fleeing with Atoli to his home. The two pirates followed them, demanding that the children come with them. The four walk through the town and came across the Straw Hat Pirates, who along with Dias, defeated the two enemy pirates. Afterward, Dias joined the crew and they, along with his friend, sailed off to the Grand Line.
Along the way, they arrived at an underwater cavern that Dias and Luffy decided to investigate. The found and fought a group of hostile Fish-Men, including a member of the same crew as the two pirates who fought them earlier. After defeating the fish-men, Dias and the crew went to Reverse Mountain and met Mr. 9 and Miss Wednesday. After defeating them, they went to Whiskey Peak and joined in the citizens' party. Dias got up in the night to find Zoro, who knew that the party was a trap. The two fought the disguised Baroque Works members. After Miss Wednesday revealed her true identity as Nefertari Vivi, Dias and his crew fought Mr. 5 and Miss Valentine, escaping Whiskey Peak after meeting Miss All-Sunday.
Dias and the crew traveled to a barren island and encountered a man who knew Dias's friend. Later, the man revealed his true identity as a member of the crew of the two men and the fish-man. The crew defeated him and left the island.
Dias and the crew continued their journey to Alabasta and defeated Baroque Works, as well as the rest of the enemy crew.
Trivia
Dias, as the main protagonist of the game, Legend of the Rainbow Island, can be named by the player at the beginning of the game. If the player does not wish to do so, they can continue without entering a name, causing the game to use the default name.
References
Straw Hat Pirates' Allies
Non Canon Allies
One Shots:
Silk  •  Ann and Balloon  •  Dragon Team  •  Toriko and his allies
Specials:
Medaka, Herring, and Skid  •  Meroie and Hamu  •  Maccus, Bonney, Amanda, Milia, and Holy  •  Randolph Theater members  •  Toriko and his allies  •  Dragon Team  •  Diego and Regis  •  Foxy Pirates  •  Kinoconda  •  Myskina Olga, Myskina Acier, Elizabeth, and Chavez
Movies:
Ganzo and Tobio  •  Akisu and Borodo  •  Mobambi and Karasuke  •  Adelle and Shuraiya Bascùd  •  Maya  •  Izaya  •  Lacos  •  Brief  •  Tearoom Pirates  •  Roba and Gonzo  •  Billy  •  Schneider and Buzz  •  Kuzan  •  Mobston and Gari  •  Z  •  Carina  •  Raise Max  •  Rikka  •  Worst Generation's Super Rookies  •  Smoker  •  Buggy  •  Boa Hancock  •  Sabo  •  Crocodile
Filler Arcs:
Apis and Ryu  •  Tajio  •  Kodama  •  Zenny Pirates  •  Pumpkin Pirates  •  Mekao and Kobato  •  Foxy, Porche, and Hamburg  •  Phoenix Pirates  •  Sayo, Lina, and Nukky  •  Yoko and Boss  •  Little East Blue residents  •  Panz Fry and Lily Enstomach  •  Sea Animal Pirates  •  Desire
Games:
Atoli and Dias  •  Popola  •  Gaburi  •  Pato  •  Yadoya
Events:
Dragon Team and Astro Boy and his team  •  Dragon Team and Kankichi Ryotsu  •  Hakuto  •  Toratsugu
Community content is available under
CC-BY-SA
unless otherwise noted.