Obi-Wan Finale - The Loop
Play Sound
Ahoy! This here is the 6th Featured Article.

"Edward Newgate" has been featured, meaning it was chosen as an article of interest.
Edward Newgate,[12] more commonly known as "Whitebeard", was the captain of the Whitebeard Pirates and was widely known as the "Strongest Man in the World" and, after Gol D. Roger's death, the "Man Closest to One Piece".[7]
Before forming his own crew, Newgate was an orphan hailing from the island of Sphinx. During his tenure as a pirate, he was a known member of the legendary Rocks Pirates and later in life became part of the Four Emperors that rule over the New World,[5][4] before his death in the Summit War of Marineford.[13]
In his prime, Whitebeard was a rival to Gol D. Roger, and following Roger's death, was widely recognized as the strongest man in the world, a fact complimented by having the highest active bounty whilst alive, and the second highest bounty of any pirate in history.
He was an ally of Monkey D. Luffy and a central figure overall during the Marineford Arc.
Appearance
In his younger days, he wore an open dark gray vest and a black bandanna, and his trademark mustache was nonexistent.[14] Later in his life, he grew the prominent crescent-shaped mustache, which would spawn his epithet, "Whitebeard". When he was 52, he wore a white and yellow pirate hat with his jolly roger on it over a black bandana with black and red, both worn over long, blond flowing hair he had back then.[15]
Whitebeard was an abnormally large man, with a height of 666 cm (21'10"). Unlike other large-sized humans, however, he was well-proportioned. He had a long face, ploughed because of the advanced age with many wrinkles around his eyes, and many scars running along his chest, and was very muscular.[1] The muscles on his biceps seemed to grow bigger whenever he used his quake-based powers.[16][17][18] Like all of his men, he had his own Jolly Roger tattooed on his back.[19] In the manga, his eyes are brown,[20] but in the anime, his eye color is seen to be yellow.[1]
He wore a black bandanna around his head and adorned himself with a white captain's coat, which hung loosely from his broad shoulders and bore his Jolly Roger symbol. He was always seen bare-chested, and wore light, loose pants tucked inside his large black boots, and a dark pirate sash around his waist. While not in battle, Whitebeard was typically on oxygen and attached to several medical sensor machines, due to health issues concerning his age.[1]
In the manga, after Akainu melted off a portion of his head, Whitebeard lost his left eye and the left side of his mustache[21] (this was changed to just losing the left side of his mustache in the anime)[22] as well as a massive hole in his torso[23] (a second, bigger hole in the stomach was also dealt by Akainu in the anime).[24] However, for the entire 72 years that he lived, he had never once received a wound on his back because he never ran away from his battles.[19]
As a child, he wore a light colored sleeveless shirt with the word "Power" (力 Chikara) written on it. He also wore shorts and a white bandanna. He had bandaged scrapes and cuts from his fights.[25]
Gallery
Main
Whitebeard's color scheme in the manga.
Whitebeard's color scheme as depicted initially in the manga.
Whitebeard's color scheme in the manga at age 48.
Whitebeard in comparison to
Marco
, an average sized human.
Newgate as a child.
Edward Newgate, before he became known as "Whitebeard".
A full view of Newgate when he was a young pirate.
Newgate at age 30.
Whitebeard at age 44.
Whitebeard at age 44 without his hat on.
Whitebeard at age 52.
Close up of Whitebeard's face at age 52.
Close up of Whitebeard's face at age 72.
Whitebeard's back tattooo.
Video Games
Young Whitebeard in One Piece Thousand Storm.
Whitebeard with animal coat in One Piece Thousand Storm.
Whitebeard's New Year outfit in One Piece Thousand Storm.
Whitebeard's Sea's Strongest Man outfit in One Piece Thousand Storm.
Whitebeard's Wano Country outfit in One Piece Thousand Storm.
Other
Whitebeard's silhouette in
Buggy
's memories.
Whitebeard with brown hair in his anime debut.
Whitebeard's concept art from the anime.
Whitebeard's wax figurine built by
Diego
.
Whitebeard's wax figurine built by
Regis
.
Personality
Edward Newgate was a cheerful and carefree person during his younger years, prior to commanding his own ship and becoming known as Whitebeard. Due to being an orphan who grew up in poverty, Newgate had a strong desire for a family, which he saw as the greatest treasure one could have. He was not ashamed of this wish, which was considered strange and humorous among his pirate peers.[14]
His reign on the sea, reputation, and foreboding power made him seemingly overconfident and fearless.[26] In initial appearances, he seemed unable to see any cause for alarm on any decision he made and refused all advice given to him, such as his nurse telling him not to drink heavily[27] or Shanks warning him of Blackbeard.[28] However, he was much more thoughtful than he initially appeared to be. Actions that initially seemed to be the result of thoughtless, headstrong bravado actually had strong reasons behind them; his loud declaration that Fish-Man Island belonged to him freed the island from all pirates and slavery,[29] and his insistence that Blackbeard be punished was merely a cover for Ace, who had set out after him against Whitebeard's wishes.[30]
— Whitebeard's response to his status as the "Strongest Man in the World".[31]

Though he may seemed to have an overgrown ego, Whitebeard knew deep down that he was nothing but a single man and was fully aware of his own mortality.[31] He knew that the youth were the keys to the future, and that their lives were far more important than his own. Because of this, he was not afraid of sacrificing himself for the safety of those he considered his children.[32] Like Gol D. Roger, Whitebeard believed that a child should not be responsible for their parents' sins.[33] Yet another belief he held is that any path a man wished to follow in life was fine by him, as long as they did not regret it.[34]
Despite his fierce reputation, Whitebeard was a compassionate man, having adopted countless people of different backgrounds into his crew as his foster children, such as Squard, whose life was devastated by Roger killing his crew, or Teach, who requested to join his crew due to being homeless. Marco stated that the main reason the Whitebeard Pirates held such strong loyalty to their captain was due to Newgate's paternal-like attitude, deeply caring for them like a father. Contrary to the tyrannical Kaidou and Charlotte Linlin, Whitebeard used his power and influence as one of the Four Emperors for humanitarian purposes. He liberated and protected Fish-Man Island from slavery, an act which touched the hearts of the normally human-distrusting citizens of Ryugu Kingdom, and invested the majority of his riches to support his homeland of Sphinx, an once poor, lawless island.[35] Whitebeard was understanding and forgiving of his subordinates, going to great lengths to rescue any who were in great danger, no matter the cost.[36] Whitebeard was naturally protective of his family and did not tolerate the idea of letting a crewmate join someone else's crew, especially a rival one. In fact, the notion of separating himself from just one of them and for a short time infuriated him. Even if he did accept doing so, it was reluctantly and while showing much annoyance.[37]
Whitebeard was very careful about choosing a person to be included in his crew, depending on their personality and nature. This cautiousness mainly stemmed from his time as a member of the Rocks Pirates, as the violent and poor relationship among the members of that crew left a negative impact on Whitebeard.[38] For this reason, Whitebeard was fully against letting someone like Kozuki Oden join his crew, since the Samurai was rebellious by nature. Still, Whitebeard showed enough open-mindedness to give Oden a chance to prove himself in a challenge and eventually allowed the Kuri daimyo to be part of his crew after the latter prioritized the life of an innocent woman over the challenge itself.
A distinguishing feature of Whitebeard's nature was his high moral standards: he never forgave the death of a crewmate by another, and believed that a man could not live without some form of honor code.[39] When confronted by Blackbeard, he intended to avenge Thatch, despite being close to death at the time.[40] However, he was willing to go against his personal code under certain circumstances, if he felt the risk would not be worth the safety of his crew.[41][42]
Whitebeard seemed to enjoy talking about the past; when Shanks visited his ship, the first thing Newgate did was recollect his memories from the last twenty-two years, particularly those involving old rivals like Roger, Garp and Sengoku.[43][44] People that were children at that time were still viewed as children in Whitebeard's eyes, no matter how powerful they had grew since.[45][46] Despite fond memories of his time as a pirate captain, Whitebeard was not proud of his former association with the Rocks Pirates due to the lack of camaraderie among members, thus he rarely referred to those times unless in a negative tone.
Regardless of his poor health at the time, Whitebeard liked drinking, to the point that bringing and sharing a drink with him (preferably of high quality and very expensive) was viewed as enough of a respectful gesture to engage a conversation. This was seen in his encounters with Shanks,[47] Gol D. Roger,[48] and Shiki; still, this did not guarantee complete cooperation from him, judging from the nature of these conversations.[15][49]
Like other characters in One Piece, he had a unique laugh, which was "Gu ra ra ra ra".[50] Like Perona, his laugh is similar to the name of his Devil Fruit, the Gura Gura no Mi. However in the anime (before the Marineford Arc) and Gigant Battle, his laugh was changed to a regular "Ha ha ha ha ha". In the American Shonen Jump, his laugh is changed to "Gu ha ha ha ha".
Relationships
Crew
— Whitebeard tells Ace to join his crew.[51]
Whitebeard considered every single member of his crew, as well as his subordinate crews, his "sons". His strong love for his crew and subordinate crews traced all the way back to before he even had a crew, when he stated that the one thing he wanted more than anything was a family.[14]
Any crewmember from Whitebeard's crew who killed another crewmember were to be hunted down by the commander of that former crew member's division.[52] Whitebeard's strong stand against crewmate killing was based on his fatherly stance over every member of his crew; as a result of this treatment, the whole crew affectionately referred to him as "Pops" or "Old Man" (オヤジ, Oyaji?, an informal variation of "father").[53] However, Whitebeard did not force commanders to hunt down wayward crew members if he had an uneasy feeling about the situation; in the case of Blackbeard, Whitebeard tried to make an exception and stop Ace from hunting him down, but Ace did so anyway for the sake of Whitebeard's honor.[41]
This was not blind loyalty, as Whitebeard was willing to go to war with the World Government to save Ace.[36] In addition, Whitebeard took full responsibility for the actions of his crew and kept a stern outward appearance for non-crew members, falsely claiming to outsiders that he ordered Ace to hunt down Blackbeard.[30] Whitebeard also treated all of his "sons" and "daughters" equally, and claimed to Squard that Ace was no different than any other, despite being Roger's son.[33] In battle, while this unshakable bond between him and his crew stood, Whitebeard's subordinates knew better than to get in the way of their captain.[54]
Marco
Out of everybody within his crew, Marco was perhaps the closest person Whitebeard had to a right-hand man. During the initial stages of the Marineford War, Marco stood right by Whitebeard's side, informing him of battlefield intel, protecting him from long-range assaults, listening to his comments and orders, and was also the only one to rush to Whitebeard's aid after the latter got stabbed by Squard, showing little tolerance to the perpetrator for harming his captain.[55] Later, Marco attempted to assist his captain in fighting Blackbeard, but was ultimately ordered to stand down.[56] After Whitebeard's death, Marco was moved to tears, much like the rest of his crewmates, and made sure to carry out his captain's final order to escort Luffy to safety. Marco was also the one who instigated the Payback War against Blackbeard, gathering the remnants of the Whitebeard Pirates to hunt down the crew's traitor and main responsible for Whitebeard and Ace's deaths, but failed to accomplish his revenge.[57]
As a testament to Whitebeard and Marco's closeness, the latter was aware of the former's childhood circumstances as an orphan of Sphinx, which led to Whitebeard's career of piracy. Since his old captain had spent much of his fortune aiding his struggling homeland, Marco found himself with the duty of protecting the one thing that still remained from Whitebeard's past, becoming a local doctor who took care of the health of the locals. Marco teared up when he told Nekomamushi about Whitebeard's love for the land he had been born into, knowing that it was the reason his captain was so stingy with money.[35]
Portgas D. Ace
Whitebeard first became aware of Portgas D. Ace while the latter was still a rookie, being curious and impressed by the rapid growth and progress of the youngster's career as a pirate captain.
After easily defeating him, Whitebeard eventually revealed himself to be a magnanimous man to Ace and his crew, giving him the chance to join his family as his son.[58] Initially, Ace refused this offer and attempted to kill Whitebeard nearly a hundred times, only to fail at each one. As he further bonded with Whitebeard's crewmates, who already treated him as family, Ace eventually grew to respect Whitebeard so much that he viewed him as a proper father figure, due to his hatred of his actual father, Gol D. Roger. Ace claimed to Sengoku that he believed Whitebeard would become Pirate King.
As Ace's respect for Whitebeard grew, so did his honor as one of the Whitebeard Pirates. Because of this, he was one of the most outraged members regarding Thatch's murder, viewing such a thing as an unforgivable offense to Whitebeard's ideals. Although Whitebeard advised him not to venture into the hunt for Teach, Ace left without permission and, in the end, Whitebeard took responsibility for Ace's mistakes without hesitation by going to Marineford to save him from execution. [59] After Ace was freed from the execution platform, Whitebeard asked him if he had been a good father to him, and felt satisfied once Ace stated that he was a good father.[60] Ace's death was enough to make Whitebeard stop holding back the full destructiveness of his Devil Fruit, with him targeting Ace's killer, Akainu, almost immediately after.
Kozuki Oden
From their first meeting and their brief fight, Whitebeard understood how crazy and strong Oden was.[61] He initially disagreed on taking Oden into the crew as he saw him as a dangerous type and not capable of submitting to anyone, but eventually after Oden passed a hard test of endurance, Whitebeard decided to take him on board his ship as his brother and promised him the adventure of a lifetime.[62]
He got very angry when Roger asked him to borrow Oden and then got annoyed when Oden himself asked him, hating just the idea that he could leave his crew, even if only for a short time. He let Oden go without saying goodbye, but still ordered his crew to leave some supplies for him and his family.[63]
Whitebeard was well aware of Oden's strength and entrusted him with the command of the second division. He left the command vacant for a long time also after his departure, since he had not received any news of his death until several years after it happened.[64]
Izou
Initially, Izou had a hostile relationship with Whitebeard, which stemmed from the painful and humiliating treatment Izou's master, Oden, was receiving as part of the challenge Whitebeard had given the daimyo in order to join his crew. Izou stated that he would make Whitebeard pay for putting his master through so much trouble.[65] This hostility dissipated a bit when Oden was formally inducted into the Whitebeard Pirates, with Izou sticking around for Oden's sake.[66]
Izou eventually grew fond of his new group and became a full-fledged member, preferring to stay with the Whitebeard Pirates when Oden decided to join the Roger Pirates. He was eventually promoted to commander of the sixteenth division of the crew, showing that he had earned Whitebeard's respect as a leader and fighter.[63]
Subordinate Crews
Aside from their own 1600 member crew,[67] the Whitebeard Pirates had many subordinate crews working in the New World. Each one of the pirate captains was an infamous pirate who had made a name for him or herself in the New World. There seemed to be at least 43 crews underneath Whitebeard.[68] Whitebeard treated all of his long-time subordinate crews just like his own crew, as though they were his own sons, though some of them were originally from the main crew before becoming captains of their own crews.[69] They all seemed to know Ace, at least, and were willing to help Whitebeard's cause when Ace was about to be executed at Marineford; however, they were not aware that Ace was Roger's son until around the time Ace died. These New World subordinate crews included "Bohemian Knight" Doma, "Thunder Lord" McGuy, the Decalvan Brothers, "Great Whirlpool Spider" Squard,[70] Little Oars Jr.,[71] and the "Ice Witch" Whitey Bay.[72]
Squard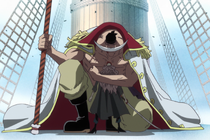 After losing his entire crew to Roger, Squard was taken in by Whitebeard, who treated him like a son and saved him from the loneliness of losing all of his comrades. Squard, in return, thought of Whitebeard as a father figure, but felt betrayed when he thought that Whitebeard was planning to sacrifice all of his subordinate crews to save Ace, leading him to stab the Emperor in a surprise attack. When Whitebeard proved otherwise, Squard broke down in tears at his mistake.[73] He later attempted to redeem himself at the cost of his own life by charging head-first into battle, but Whitebeard himself stopped and reprimanded him.[74]

Friends and Allies
Jinbe
Because of his role as a protector of Fish-Man Island, Whitebeard was considered a hero by many Fish-Men,[29] in particular Jinbe of the Seven Warlords of the Sea. Jinbe had expressed many times that he owed a great deal of gratitude to the Emperor[75] and refused to participate in the war against Whitebeard, even if it meant losing his Warlord of the Sea title and being imprisoned in Impel Down.[76] When Jinbe arrived at Marineford with the other escapees from Impel Down, the first thing he did was announce his formal resignation from the Warlords to Sengoku.
Over the years, Jinbe's respect for Whitebeard had grown to the point where he was ready to declare himself as an adversary to anyone or anything with ill intent upon the Emperor's life, which is why he immediately engaged in battle against Ace on their first encounter, since Ace was out to assassinate Whitebeard at that time.[77]
Monkey D. Luffy
Whitebeard seemed to have some form of respect for Luffy after hearing about him from both Ace and Shanks; Ace had shown excitement that Luffy was on the Grand Line,[78] and Shanks had stated that he had given up his arm on a "bet on the New Age", referring to Luffy.[79] After showing his fierce tenacity, Luffy had managed to gain Whitebeard's respect.[80] Whitebeard went as far as assigning his top commander, Marco, to act as Luffy's bodyguard during the war and "would not have forgiven him" if Luffy had died.[81]
As the war went on, his respect for Luffy increased after witnessing Luffy's true potential, and Whitebeard decided to command all his forces to fully support Luffy with all their might, a decision which even surprised his own men. This also marks the first time that Whitebeard called him by his name, Straw Hat Luffy, instead of "brat", proving that Whitebeard came to acknowledge him and his strength through the course of the war.[82] Luffy respected Whitebeard as well, believing that anyone whom Ace admires cannot be a bad person, and was willing to intercept an attack from Crocodile aimed at Whitebeard's life before he even met him in person.[83]
Neptune
Whitebeard was an old friend of King Neptune. Their friendship stemmed from when they first drank together, and Whitebeard protected Fish-Man Island from slavery due to this friendship. Though it is unknown how they became friends, it is known that they had been friends for quite some time, as Neptune helped Whitebeard out a lot during his younger days.[29]
Protectorates
Before his demise, Whitebeard had a number of locations under his protection.[84] Most of them seemed to be within the brink of pirate raids, and it was only by being "owned" under his name that they were kept stable and safe, thereby earning the Emperor the gratitude of the citizens; consequentially, these territories immediately became vulnerable after his death.[85] At least one other Emperor, Big Mom, placed Fish-Man Island under her protection[86] while Foodvalten fell to Brownbeard.[85] The status of Whitebeard's other former territories is currently unknown, but Blackbeard appears to have taken over most of them during his ascent to Four Emperors status, as he has over two decades of experience with the Whitebeard Pirates and thus knows which islands they were protecting.[87]
Among Whitebeard's known territories, his own homeland of Sphinx was the most important to him. Due to the high costs of the World Nobles' heavenly tribute being impossible for a poverty-stricken place like Sphinx to afford, the island suffered from constant pirate and slaver attacks without government protection. A young, orphaned Newgate had to grow under those oppressive conditions, leading to his life as pirate, although he never valued treasure as much as the idea of family. As such, Whitebeard dedicated a majority of his riches for humanitarian aid towards Sphinx, having built a peaceful village for the locals to live in.
Enemies
— Whitebeard about his respected enemies.[88]
Gol D. Roger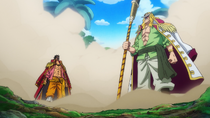 Despite having been rivals with Gol D. Roger, Whitebeard held great respect for him. They seemingly had multiple duels upon their lives, with one instance in particular leading to a friendly gift exchange between their crewmembers after three days of endless battling. During this occasion, Whitebeard and Roger held a casual conversation with Kozuki Oden joining in, showing both captains were comfortable with each other's presence. However, Whitebeard did not like Roger's attempt to "borrow" Oden as a crewmate for the Roger Pirates, and was further angered when Oden did show interest in switching crews.
Not long before his death, Roger met with Whitebeard on an island to have what seemed to be an entirely cordial drinking session, with Roger even offering to give the location of Laugh Tale to Whitebeard, and when Whitebeard asked Roger about the Will of D., Roger willingly told him about it.[48] Upon learning that Ace was his rival's son, Whitebeard did not see his bloodline as an inconvenience, and even tried to inspire Ace to respect Roger as his father.[89]
Impel Down Convicts
Whitebeard made many enemies over the years besides the other Emperors and the World Government. Many prisoners in the lower levels of Impel Down wished to kill him because of personal grudges.[90]
Crocodile
At some point in the past, right after attaining the position of one of the Seven Warlords of the Sea, Crocodile suffered a humiliating defeat against Whitebeard in the New World, enough to shatter his ambitions of becoming Pirate King for a while. Knowing he could not obtain the title of Pirate King without military might to challenge the likes of Whitebeard, Crocodile fled back to Paradise, where he settled in Arabasta in order to found Baroque Works and eventually conquer the kingdom, so he could search it for one of the Ancient Weapons, Pluton.[91]
Crocodile was one of the many Impel Down convicts who sought revenge against Whitebeard. While he did attempt to take Whitebeard's life at Marineford, he was stopped from doing so by Luffy. From then on, Crocodile took a neutral role in the war, fighting both Marines and Whitebeard's men, with Whitebeard himself showing some annoyance towards Crocodile's attacks on his crew.
Crocodile seemed disappointed about Whitebeard's power weakening with age, claiming that the Emperor barely resembled the man who had utterly defeated him years ago. Still, by the end of the war, Crocodile started fighting for Whitebeard's side, as he preferred the Marines to not have a complete win.
Marines
Whitebeard respected both Monkey D. Garp and Sengoku, a respect which was mutual. He considered them among the few people that knew the seas from Roger's era who are still alive in the present.[88] On the other hand, he considered other younger Marines to be "brats" and refused to give any of them, including the powerful admirals, much respect.[46][92] However, Sakazuki earned Whitebeard's wrath for killing Ace, and Whitebeard brutally injured him.[93]
Marshall D. Teach
Marshall D. Teach, also known as Blackbeard, was one of Whitebeard's oldest crewmates, having joined the crew at twelve years old. When Teach claimed to be an orphan with nowhere else to go, Whitebeard quickly allowed him to join out of sympathy.
Teach ultimately became Whitebeard's greatest enemy for killing Thatch and enabling Ace's capture and execution. Claiming that Blackbeard alone was the only one whom he refused to consider his son, Whitebeard attempted to take Blackbeard's life prior to his death, calling him an arrogant fool that was never worthy of being a part of his crew.[94] Just before dying, Whitebeard openly declared that Blackbeard was not worthy of being Roger's successor.[95] His last thought being his regret for allowing Teach to hurt his foster family. After Whitebeard's death, Blackbeard stole his Devil Fruit powers, conquered his territories, and usurped his post as one of the Four Emperors.[87]

Four Emperors
Shanks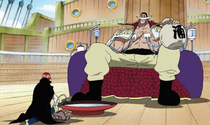 Since none of the Four Emperors work together, any other Emperor is a threat to him and his crew. In his first appearance, Whitebeard received a letter from Shanks delivered by Shanks's newest crewmate, Rockstar. However, before even reading the letter, Whitebeard threw it away, claiming that Shanks should come in person with some expensive sake if he wanted to talk.[96] Most of all, he refused to accept Shanks as anything more than the kid he was 22 years ago and believed he was 100 years too young to tell him what to do.[97]
Despite being enemies, Shanks held great respect for Whitebeard, which made him willing to lend his aid to Whitebeard by preventing the Emperor Kaidou from reaching Whitebeard, allowing him to reach Marineford without any hindrance.[98] After Whitebeard's death, Shanks saved Whitebeard's crew and their other subordinate crews [99] and gave Whitebeard and Ace a proper burial.[100]
Kaidou
In the past, they used to be part of the Rocks Pirates. After the incident at God Valley, they went their separate ways to form their own crews and became Emperors. Kaidou does not think highly of Whitebeard, stating that he was too soft despite being powerful. Still, he acknowledges that the once strongest man in the world had died in glory.[101]
Under normal circumstances, they did not provoke each other. However, Kaidou saw an opportunity to eliminate his adversary prior to the impending Summit War of Marineford and did not hesitate to attempt to do so.[98] Two years later, Kaidou cursed Whitebeard for being able to die while he remained alive.[102]
Whitebeard considered Kaidou a powerful and fearsome pirate and for this, he chose not to march into Wano Country to wage war against his crew just to avenge Oden's death, knowing that it would cause many casualties.[103]
Other
Shiki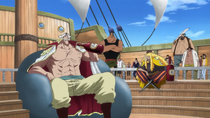 In the past, they used to be part of the Rocks Pirates. After the incident at God Valley, they went their separate ways to form their own respective crews.
Shiki did seemingly not have a bad relationship with Whitebeard, he thought of him as a strong man, able to take over Roger's dominion of the sea, as he said when they were drinking together on the Moby Dick and speaking about old times. Whitebeard was apparently knowledgeable about Shiki's penchant for planning.
Edward Weevil
Edward Weevil claims to be Edward Newgate's biological son.[104] However, many doubt this claim, and it is unconfirmed whether he actually is Whitebeard's biological son or not.[105] Weevil and his mother seek to obtain Whitebeard's fortune due to their belief that they are his rightful heirs, and to this end they have been hunting down Whitebeard's surviving allies and their subordinate crews in order to claim it. Weevil also wishes to avenge Whitebeard's death by killing the Emperor Marshall D. Teach, indicating that, at the very least, he truly believes himself to be Whitebeard's son.[106]
Bakkin
Bakkin is the self-proclaimed lover of Whitebeard and mother of Edward Weevil. She claims and/or believes herself to have been Whitebeard's lover, and that he is the father of her son, which she believes makes her and Weevil the rightful heirs to Whitebeard's fortune. It is currently unknown if any of her claims concerning her and Weevil's relationship to Whitebeard are true or not.[107] However, Bakkin was a fellow crewmember with Whitebeard around 40 years ago.[108]
Rocks Pirates
Whitebeard was a brief member of the Rocks Pirates for a certain period of his life, specifically until the God Valley Incident, when the crew met its downfall.
Whitebeard did not seem to hold his old crew in high regard, rarely talking about his time as a member. He used the Rocks Pirates as a reason for dismissing Oden joining the Whitebeard Pirates, citing the daimyo's wild, rebellious nature being difficult to control and equating it to the other members of Rocks.
Abilities and Powers
Overview
Whitebeard was one of the most powerful and influential pirates of his generation. He garnered the title "Strongest Man in the World"[7] before even the late Pirate King Gol D. Roger's death[10] and was one of the world's few to ever match Roger in one-on-one combat.[7]
After Roger's death, Whitebeard became one of the Four Emperors, the four most formidable pirates ruling the latter half of the Grand Line and the biggest pirate threats to the World Government.[4] Prior to his own passing, Whitebeard held not only the highest bounty among those four, but the second highest in recorded history, at over 5 billion (only behind Roger's own).[11]
Whitebeard's reputation alone made his simple declaration of Fish-Man Island being his territory enough to keep slave traders and pirates from attacking the island further, making Whitebeard himself far more effective than the treaty signed with the World Government 200 years before his death.[29] People from every ocean were aware of the Emperor's power and seemingly believed that he could end the world if he so wished.[109] Even the generally overconfident Buggy did not dare hurt Ace, out of fear of Whitebeard's power.
Whitebeard was the captain of the Whitebeard Pirates, directly controlling an enormous pirate fleet of 1,600 pirates divided into 16 divisions, each one being led by an incredibly powerful division commander.[67] A testament to his power is the fact that the Seven Warlords of the Sea and World Government used virtually all their power to fight him and his crew.[110] The powers of Whitebeard were so vast that few would dare to challenge him, making Ace,[111] Crocodile,[112] Aokiji,[113] Kizaru,[114] Akainu,[23] Blackbeard,[115] Kaidou,[98] and Luffy[116] a few very brave and powerful people. In the past, Ace tried to kill Whitebeard over a hundred times, with each attempt resulting in subsequent failure and injury; Whitebeard's retaliation was so effortless that he was able to counterattack even while sleeping.[117]
Another example of his power was his "fight" with Shanks. When their weapons clashed, the heavens split in two.[118]
Whitebeard blocks and subsequently extinguishes a molten rock from Admiral Akainu.
[119]
Whitebeard parries a two-handed downward swing from giant Vice Admiral John Giant with just one hand.
[120]
Whitebeard defeats several Marine Officers in one swoop despite being heavily injured.
Whitebeard stops his flagship from charging forward with just one hand.
[121]
Physical Abilities
— Edward Newgate's death.[122]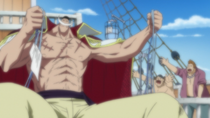 Whitebeard was given the title of the "strongest man in the world" for his physical power, which is far superior to even a giant. During the Summit War of Marineford, Whitebeard completely overpowered vast numbers of strong Marine officers and giants with tremendous physical might, such as Vice Admiral Lonz, with only one hand and supplemented by his Devil Fruit powers.[123][124][125] Whitebeard blocked a two-handed downward swing from the giant Vice Admiral John Giant with only one hand on his naginata,[126] extinguished the flames of one of Akainu's molten rocks with just a single breath,[127] and prevented a massive paddle ship from advancing using only one hand.[128] He could jump to great heights to attack large opponents, such as John Giant.[129]
Despite his gigantic size, Whitebeard could move at considerable speeds, having appeared behind Akainu to attack him in a matter of seconds, with the latter (who was on his way to kill Luffy) only realizing it once his soldiers yelled at him to watch out.[130]
Whitebeard appeared to have debilitating health problems, possibly stemming from his advanced age and excessive drinking. When not in battle, he was always surrounded by nurses, used oxygen tubes, and was hooked up to intravenous tubes and life support systems; despite this, he used to literally drink sake by the barrel.[1] However, Marco noted that Whitebeard's health had gotten worse, and he no longer possessed the reflexes to avoid Squard's surprise attack, which was, in the past, something easy for him to achieve.[131] Even with his health issues, Whitebeard was still considered the world's most dangerous and powerful pirate, which raises the question of how powerful he must have been in his prime.
Whitebeard's physical resistance and pain tolerance were tremendous: he was able to keep fighting despite the number of life-threatening injuries he sustained, which included part of his head being burned off.[21] This also proves that Whitebeard possessed enormous amounts of stamina and endurance; no matter how much damage he took throughout the battle, Whitebeard continued to press forward and fight, only stopping once almost all of the Blackbeard Pirates collectively shot and brutally stabbed him to death at point-blank range.[132] It was shown that even in his old age, in a heavily wounded state and without access to his Devil Fruit and Haki powers, he could near-effortlessly take down a Warlord of the Sea, as demonstrated in his fight against Blackbeard.[133]
During the Summit War, Whitebeard sustained 267 sword wounds, 152 gunshot wounds, and 46 wounds from cannonballs, and got a portion of his head blasted off, resulting in 465 injuries in total.[122] In addition, he received one of Kizaru's laser beams[134] and two of Akainu's magma blasts.[23][21] Whitebeard also received a brutal assault from the Blackbeard Pirates. However, even after taking so much damage in his already weakened state, he died standing, an impressive feat when compared to other characters. Even Teach was shocked by Whitebeard's tenacity.[135]
Tactical Skills
Besides his formidable power, Whitebeard was a brilliant leader and an incredibly skilled military strategist: a match for former Fleet Admiral Sengoku, one renowned as "The Resourceful General" for his famed acumen on the field of battle. The Emperor's tactical prowess was demonstrated when he saw through Sengoku's deliberate leak of information regarding a change of schedule for Ace's execution,[136] and when he foresaw the Pacifista's arrival at Marineford and scattered the pirates so that they would not be routed by the cyborgs.[137]
In addition, Whitebeard could easily adapt to rapidly-changing situations even in the heat of battle, as shown when he bypassed a siege wall impervious to his Devil Fruit powers by having Oars, who was in a near-death state, help carry the paddle ship into the Marineford plaza.[138] Even when he was on the brink of death, Whitebeard quickly thought of a countermeasure against Teach's Devil Fruit power's nullification abilities by using his naginata to cut Teach down, taking him off guard for him to use his quake powers to injure him.
Devil Fruit
Whitebeard ate the Gura Gura no Mi, a Paramecia-type Devil Fruit that allowed him to cause quakes and generate powerful shockwaves.[139] This power is considered to be the strongest Devil Fruit power within the Paramecia class.[140] According to Sengoku, Whitebeard had the power to destroy the world.[141]
He had the power to send incredibly powerful shockwaves through the air, creating cracks in the air itself in the process. These shockwaves possess devastating offensive might, being able to clash evenly with the Magu Magu no Mi, the Devil Fruit with the highest attack power out of all the Devil Fruits.[142] He could use these shockwaves to quickly take down multiple enemies over a widespread area or take down a single target with terrifying effectiveness, even Giants. He could also use his shockwaves defensively, as their vast raw power could easily stop incoming attacks. He could also generate strong vibrations from his body that could easily shatter ice.[143][144]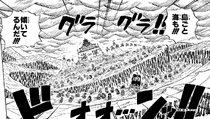 He could use his power to shake, rupture, and tilt the landscape itself. By striking at the general area with his quake powers, he could cause large earthquakes and, under the right circumstances, massive tsunamis.[145] His quakes would cause serious damage and alterations to the surrounding landscape, destroying buildings, creating large crevices in the ground, and pushing up fragments of the ground into new rock formations. He could even "grab" the surrounding area itself and tilt it, described as making the entire sea tilt.[146]
Whitebeard could use his power to enhance his physical attacks by surrounding his hands and feet with concentrated quake bubbles.[123] These quake bubbles would release a small but powerful shockwave on impact, greatly increasing the destructive power of his melee attacks. He could also surround the blade of his polearm with a quake bubble, greatly increasing its destructive power as well.[124]
Soon after Whitebeard's death, his power was stolen by Blackbeard through unknown means.[147]
Weapons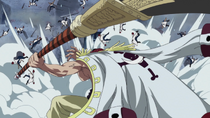 Whitebeard wielded a gigantic naginata called Murakumogiri, one of the 12 Supreme Swords.[148] He was immensely skilled with the blade even in old age. He could use Murakumogiri to fight off countless powerful Marines in Marineford, including Marine Admirals, and during his prime, he also clashed with Kozuki Oden who was one of the strongest samurais of Wano. When he was a child, he had a much smaller and less well crafted spear made up of a simple knife bound to a pole.
After Whitebeard's death, it became a marking for his burial site, with his coat, a bouquet of flowers, and the crew's flag hanging from it.[100]
Haki
Whitebeard was one of the very small number of people in the world who could use all three types of Haki.
Haoshoku Haki
Whitebeard possessed a high level of Haoshoku Haki.[149] During his initial encounter with Kozuki Oden 30 years ago, their sudden clash created a notable effect similar to lightning and released a large burst.[150] His Haoshoku Haki was displayed to a far greater extent against his longtime rival, Gol D. Roger, as their clashing Haoshoku Haki cracked the air, creating an effect akin to lightning and generating a shock wave that blew back everything and everyone on and near the island. Most notably, he was one of a select few people powerful enough to "infuse" his weapon in Haoshoku Haki, which exponentially increased his attack power further. He was shown using Haoshoku infusement during his clash with Roger, with it being signified by a stream of dark energy rising up from Murakumogiri's blade.[151][152]
During the Summit War, he was on the verge of using Haoshoku Haki against some of the World Government's executioners to protect Portgas D. Ace but failed because of a sudden illness attack.[153] He is capable of using this form of Haki in the video games One Piece: Pirate Warriors 2 and 3, as well as One Piece: Burning Blood.
Whitebeard infusing Murakumogiri with Haoshoku Haki.
Whitebeard and Roger clash with Haki-imbued weapons.
Busoshoku Haki
Whitebeard possessed a tremendous mastery of Busoshoku Haki, which he could imbue his weapon Murakumogiri with. Two decades ago in his prime, he was shown clashing evenly with the samurai Kozuki Oden who was a powerful Busoshoku Haki user in his own right.[150] Whitebeard could also utilize the advanced technique of projecting Haki out from his blade; this was shown during his fight with Roger where the duo's weapons met in a powerful clash without even making contact.[151]
Due to his age and worsening health, it was not as powerful compared to his prime, but he could still negate the intangibility of Logia-based Devil Fruits. In the past, he was able to defeat Crocodile (though it is unknown if the former Warlord of the Sea had eaten his Devil Fruit by that point)[154] and was able to defeat Ace more than one hundred times.[117] During the Summit War, Whitebeard successfully inflicted significant damage on Akainu,[155] whereas Marco, Vista, and Jinbe—highly skilled Busoshoku Haki users themselves—failed to do so.[156]

Kenbunshoku Haki
Whitebeard was also masterful in using Kenbunshoku Haki. It was first shown 30 years prior after both he and the Whitebeard Pirates shipwrecked in Wano, as he could sense Oden coming from a vast distance towards them.[61] He was even able to sense and counter Ace (when he was still new on the ship and was attempting to kill Newgate) while sleeping. In the bay of Marineford, he predicted Crocodile's sudden attack but did not move, knowing that Luffy would block it.[157] However, due to both his age and worsening health, he failed to predict Squard's betrayal and thus got injured,[158] something which, according to Marco, was totally unexpected from the Emperor.[131]
Major Battles
Filler Battles
Anime and Manga Differences
Appearance
In the manga and other related merchandise, the interior color of Whitebeard's coat was initially green. In the anime and other related merchandise, it is red. Later in the manga, however, this was changed to red.[159] In his initial appearance in the anime, his eyes were black like many male characters of the series, but this was changed to a golden yellow color by the Summit War of Marineford.
In the manga, Whitebeard has no hair showing, but in the anime, he initially had some brown hair; his hair was later retconned to follow the manga. His pants were also left hanging over his boots in his first appearance in the anime and during one of the scenes of his meeting with Shanks; in the manga, his pants were always tucked inside his boots.
War at Marineford
After Ace's death, Whitebeard tried to stop Akainu but was attacked by Kizaru. In Episode 484, instead of burning off a portion of Whitebeard's head, Akainu only managed to remove part of Whitebeard's mustache. Instead, Akainu successfully punched another hole in Whitebeard's torso and visibly filled him with magma. Also, the battle between Whitebeard and Akainu went on longer, with Whitebeard launching more vicious attacks against the Admiral.[160] The fight between Whitebeard and Blackbeard is extended in the anime. Blackbeard manages to land punches on Whitebeard's torso and chin. Even after the initial strike proved Whitebeard's quake punch has no effect on Blackbeard, Whitebeard continued to punch several more times before using his naginata. Whitebeard was unable to move after his last attack on Blackbeard, but managed to move forward with his body turned red with smoke coming out of it, similar to Luffy in Gear 2. This was likely done to signify his fury. Additionally, Whitebeard's speech about One Piece was longer in the anime.[161]
After Whitebeard's death, when the narrator lists all the injuries Whitebeard suffered, swords that have pierced his front and through his body could be seen with the tips protruding from his back. In the anime, there were no swords at all in his body.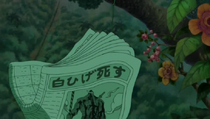 Later, in Episode 507, when Usopp dropped a newspaper covering the aftermath of the war, Whitebeard's body was shown to match the manga's depiction as opposed to the anime's censorships: his torso had swords sticking out, he was posed to make it looks like portion of his head was torn off, and the gaping hole on his stomach that Akainu inflicted on him in the anime was missing, leaving only the hole in his upper chest.

Translation and Dub Issues
Some minor debate exists as to whether Whitebeard is the "proper" translation of the epithet Shirohige (白ひげ, Shirohige?), as Newgate does not possess an actual beard. This discrepancy stems from the Japanese term Hige (髭, Hige?) being a generic term for facial hair that applies to both mustaches and beards; however, since few (if any) serious alternatives have been offered, both fans and professional translations continue to use Whitebeard, as does the quasi-canon One Piece Yellow databook.
While 4Kids Entertainment never dubbed any of his appearances in the anime proper, some promotional materials indicate that it planned to rename him Ward Newgate.[2]
Merchandise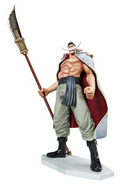 Several action figures of Edward Newgate have been produced. He has twice been featured as part of MegaHouse's Portrait of Pirates collection of a 1/8 scale figures: once in July 2011 in his present day appearance, and again in September 2013 in his youthful appearance (called "Ver. 0").[162] A 9" figure was featured as part of the Figuarts ZERO One Piece series.[163] Banpresto has released two Whitebeard figures as Ichiban Kuji prizes, one in August 2010 [164] and another in April 2012.[165] He is represented as a polar bear in the action figure series S.H.Figuarts ZERO 2013. [166]
Video Games
Playable Appearances
Support Appearances
Trivia
References
Active

5,000,000,000 to 1,000,000,000

:
Kaidou ?  •  Charlotte Linlin ?  •  Shanks  •  Monkey D. Luffy  •  Trafalgar Law  •  Eustass Kid  •  Marshall D. Teach  •  King  •  Marco  •  Queen  •  Charlotte Katakuri

1,000,000,000 to 500,000,000

:
Jack  •  Charlotte Smoothie  •  Charlotte Cracker  •  Charlotte Perospero  •  Sabo  •  Charlotte Snack  •  Little Oars Jr.  •  Who's-Who  •  Chinjao

500,000,000 to 100,000,000

:
Edward Weevil  •  Black Maria  •  Sasaki  •  Belo Betty  •  Jinbe  •  Tamago  •  Karasu  •  Ulti  •  Scratchmen Apoo  •  Capone Bege  •  Donquixote Doflamingo  •  Pekoms  •  Cavendish  •  Sanji  •  Basil Hawkins ?  •  Gecko Moria  •  Roronoa Zoro  •  Lindbergh  •  Charlotte Oven  •  Charlotte Daifuku  •  Caesar Clown  •  Bartholomew Kuma  •  Morley  •  Page One  •  X Drake  •  Squard  •  Caribou  •  Sai  •  Killer  •  Usopp  •  Bartolomeo  •  Bellamy  •  Coribou  •  Orlumbus  •  Jewelry Bonney  •  Nico Robin  •  Charlotte Mont-d'Or  •  Urouge  •  Bobbin

100,000,000 to 50,000,000

:
Dorry  •  Brogy  •  Kinoko  •  Trebol  •  Diamante  •  Pica  •  Vito  •  Rockstar  •  Franky  •  Albion  •  Gotti  •  Lip Doughty  •  Brook  •  Chadros Higelyges  •  Boa Hancock  •  Daz Bonez  •  Raccoon  •  Gyro  •  Doc Q  •  Suleiman  •  Gambia  •  Nami  •  Van Augur  •  Lao G  •  Devil Dias  •  Senor Pink  •  Kelly Funk  •  Peachbeard

50,000,000 to 10,000,000

:
Laffitte  •  Boa Sandersonia  •  Boa Marigold  •  Sarquiss  •  Shoujou  •  Mikazuki  •  Bobby Funk  •  Zala  •  Bentham  •  Gladius  •  Marianne  •  Mont Blanc Cricket  •  Galdino  •  Foxy  •  Charlotte Lola  •  Demaro Black  •  Masira  •  Arlong  •  Jesus Burgess  •  Yeti Cool Brothers  •  Krieg  •  Lacuba  •  Kuro  •  Buggy  •  Dellinger  •  Bluejam  •  Drophy  •  Gin  •  Machvise
10,000,000
and under:
Mr. 5  •  Wellington  •  Kuroobi  •  Hatchan  •  Curly Dadan  •  Mikita  •  Sham & Buchi  •  Chew  •  Alvida  •  Porchemy  •  Mr. 4  •  Bepo  •  Tony Tony Chopper

Unknown reward

:
Benn Beckman  •  Lucky Roux  •  Yasopp  •  Zeff  •  Dracule Mihawk  •  Crocodile *  •  Monkey D. Dragon  •  Crocus  •  Yorki  •  Jozu  •  Vista  •  Silvers Rayleigh  •  Emporio Ivankov  •  Inazuma  •  Shiryu  •  Sanjuan Wolf  •  Vasco Shot  •  Catarina Devon  •  Avalo Pizarro  •  Aladine  •  Charlotte Amande
Non-canon

1,000,000,000 to 100,000,000

:
Bounty  •  Prize  •  Byrnndi World ?  •  Panz Fry  •  Chameleone  •  Lambor Bukini  •  Puggy  •  Dopp

100,000,000 to 10,000,000

:
Puzzle  •  Gasparde  •  Tambu  •  Bobrad  •  Woonan †  •  Needless  •  Olive  •  Willy  •  Bigalo  •  Battler  •  Wetton  •  Bear King
10,000,000
and under:
Eldoraggo  •  Dick  •  Pin Joker  •  Golass  •  Honey Queen  •  Skunk One  •  Gally  •  Billy  •  Heaby  •  Hotdog  •  Spiel  •  Pandaman  •  Boo Jack  •  Billy  •  A A A  •  Wild Joe  •  D.R.  •  Hitokui  •  Henna Oyag  •  Koba K  •  Usanksai  •  Sard  •  Tohenbok  •  Tacobo

Unknown reward

:
Patrick Redfield  •  Mobu Head  •  Red Arrows Pirates †  •  Dareda  •  Dontacos

Others

:
Gill Bastar  •  Mikio Itoo