Jurassic World: Dominion Dominates Fandom Wikis - The Loop
Play Sound
"Oars Plus Moria - The Greatest Combination of Brains and Brawn" is the 369th episode of the One Piece anime.
Short Summary
Luffy finds that he has been chasing Gecko Moria's shadow the whole time, while the real Moria has escaped. Some strange people are also seemingly searching for Luffy. Moria meets with Kuma as they discuss Crocodile's replacement, Blackbeard. The Straw Hat Pirates are still fighting Oars, planning to defeat him so Luffy can get his shadow back. Suddenly, the Straw Hats discover Moria in Oars' stomach, sitting in a cockpit. Usopp rushes to the kitchen to get more salt, only to be targeted by Oars. Brook appears and saves Usopp at the last moment, holding a big bag of salt.
Long Summary
This is an empty section. Please help the wiki by adding information to it.
Characters in Order of Appearance
Anime Notes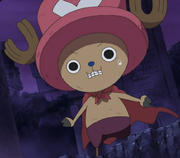 After Oars introduces himself as the Oars Bomber, Chopper can be seen in his Chopper Man costume, referencing Chopper Man and the Giant Luffy Bomber in the specials.