Doctor Strange in The Multiverse o Madness - The Loop
Play Sound
"Ticking Down to the Great Battle! The Straw Hats Go into Combat Mode" is the 956th episode of the One Piece anime.
Short Summary
Hiyori parted ways with Zoro and Kawamatsu, and the two later inform Momonosuke and the Scabbards with him of her survival.
Zoro receives Enma and sees its destructive power. Luffy continues training his Busoshoku Haki and Zoro trains with his new sword. Meanwhile, the Ninja-Pirate-Mink-Samurai Alliance adds more numbers to their cause and finish up with their preparations.
On the day before the Fire Festival, Momonosuke and his group of retainers march to the rendezvous point to meet up with their allies.
Long Summary
This is an empty section. Please help the wiki by adding information to it.
Characters in Order of Appearance
Anime Notes
This episode's "To Be Continued" end screen has sakura petals falling in front of the text. This is to mark the end of the second part of the Wano Country Arc.
The anime adds the following:
Trivia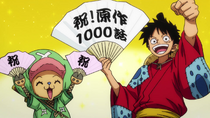 After this episode, a message featuring Luffy and Chopper announced that the upcoming January 4 issue of Shonen Jump would have the 1000th chapter of the manga and thanked the fans for their support up to the milestone.
The cover of Chapter 967 also appeared at the end of the episode to promote Arashi's song, A-ra-shi: Reborn.