Obi-Wan Finale - The Loop
Play Sound
Firs Island was one of the non-canon Endpoints and a Marine Base in the New World.[1]
Layout
Firs Island has a large volcano on the island, and underneath it houses a heavily armed Marine Base, containing a large bridge linking to the inside. Inside the heavy duty security chamber is where the Marines stored the Dyna Stones.[1]
As one of the three Endpoints, Firs Island acts as a seal to the vast quantities of subterranean magma underneath the New World. Should sufficient damage be inflicted onto this Endpoint, it will cause the volcano to erupt in a very devastating burst.[1]
Gallery
History
Z's Ambition Arc
Following Shuzo's defeat at the hands of Monkey D. Luffy and his imprisonment in Impel Down, the Neo Marines arrived at Firs Island.[2]
One Piece Film: Z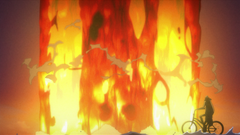 Upon landing on Firs Island at nighttime, the Neo Marines attacked the Marine base on this island, plowing a way for Z to steal the Dyna Stones, which he requires to execute his Grand Reboot plan. While loading the weapons of mass destruction onto his fleet, Z was intercepted by Admiral Borsalino. A brief but intense battle taking place, Z used one of the Dyna Stones to scare off Borsalino, and destroy the island at the same time, causing a massive volcanic eruption.[1]
Trivia
References