Cobra Kai Season 4 - The Loop
Play Sound
From the Decks of the World is the ninteenth Cover Story created as a side story on the title pages of each One Piece chapter, and the first to take place post-timeskip. The story can be set after the Return to Sabaody Arc.
Short Summary
The Straw Hats' return has been made known to the public, and News Coos travel the world to spread the news. Other people that the Straw Hats met have grown during the timeskip and have their whereabouts revealed
Chapter Titles
Gallery
News Coo Travelling the Ocean
Foosha Village
Mt. Colubo
Shells Town - Rika Trains as a Waitress in the Marine Base
Shimotsuki Village - Report to Kuina
Orange Town - The Grand Opening of Giant Pet Food Shop "Chouchou"
Island of Rare Animals - A New Inhabitant, the Barrel Woman, Sarfunkel
Syrup Village
Syrup Village - Medical Student Kaya
Cocoyasi Village - Brothers' Boat Yosaku and Johnny
Baratie - Baratie Head Office Under Renovation
Baratie - Coupled Dessert Ship "Sister Anko"
Baratie - Coupled Teppanyaki Ship "Nasugasira"
Cocoyashi Village
Loguetown
Twin Cape
Whisky Peak - A Bounty Hunting Family
Island of Giants, Little Garden
A Certain Corporation Chairman Recognized By the World Nobles: The Evil Black Drum Kingdom is Created
Drum Island - Sakura Kingdom Peace Corps
Drum Island - Medical Center Isshi-100
Arabasta Kingdom - Royal Minister of the Environment, Koza
Arabasta Kingdom - New Clothes for This Year's Levely
Arabasta Kingdom - Vivi, Age 18
Arabasta Kingdom - Cobra in a Sickbed
Saruyama Alliance - Romantic Journey Searching for the Island of Dreams, 'Nakrowa'
Jaya - South Bird ♥ North Bird → Western Bird & Eastern Bird
Skypiea - Wagomuland Admission Ticket Saleswoman Amazon
Skypiea - Wagomuland's Famous 'Nola-Bungee' & Aisa the Cloud Ball Girl
Skypiea - Raki and Conis Pumpkin Cafe's Famed Specialty, Pumpkin Noodles
Skypiea - God's Guards
Skypiea - God Is Pleased With This Year's Blessings As Well
Long Ring Long Land - Tonjit Has Grandchildren
Shift Station - Popular Sunday Stationmaster Chimney
Icefish Mermaid Kokoro-san's Splendid Holiday
Water 7 - Bartenders Mozu and Kiwi
Water 7 - The Galley-La Company's Genius Secretary is 10 Years Old
Water 7 - The Second Sea Train Is Finally Complete
Pucci the Gourmet Town - Purchase, Repair, Demolish: For All Your Ship Needs There's Zambai's Company Union
Wandering Thriller Bark - Found Kumashi
Sabaody Archipelago - The Fallen Slave-trader Disco
Impel Down - Warden Hannyabal and Head Jailer Domino
Impel Down - New Jailer Beast Minochihuahua
Impel Down - Little Sadi Has Recently Fallen in Love with the Newly Appointed Vice Warden
Impel Down - The Most Reliable Man in Hell, New Vice Warden Magellan
Impel Down Level 5.5 Newkama Land, New Queen Bon-sama
Kamabakka Kingdom - The Same-as-ever Okama King Confirms That Straw Hat Boy's Set Sail
Whitebeard and Ace's Graves
Trivia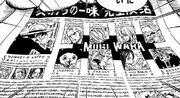 Trivia
This cover story currently has the most chapters, with its record of 48.