Jurassic World: Dominion Dominates Fandom Wikis - The Loop
Play Sound
Gazelleman is a Gifter in the Beasts Pirates.[1] After being tamed by Tama, he became an ally of the Ninja-Pirate-Mink-Samurai Alliance.[2]
Appearance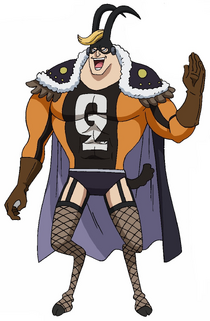 Gazelleman is a tall, muscular man with wide shoulders, a large chest, a thick neck, and a square jaw. He wears a skin tight dark shirt with a light colored stylized "G" with the letter's leg resembling a "z", with light colored long sleeves with a dark line through them. He also wears light colored gloves, a Gifter's cape and cowl, and fishnet stockings over his gazelle like legs.[1]

Personality
Gazelleman is somewhat cheerful, especially when he brags about his speed. He has no remorse when kidnapping a child.[1]
After he was tamed by Tama, he became loyal and supportive to her, aiding her in turning the other Gifters into allies of the Ninja-Pirate-Mink-Samurai Alliance.[2]
Like many other people, he has a distinct laugh: "Hohohoho".
Abilities and Powers
Devil Fruit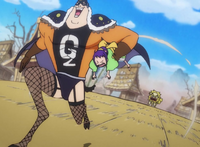 Gazelleman ate a Gazelle SMILE (ガゼルのSMILE, Gazeru no Sumairu?), which grants him the ability to transform his legs into that of a gazelle, enabling him to run at a great speed. He claims that he can go 200 kilometers in an hour.[1] He appears to be lacking in stamina as he was wheezing with exhaustion after delivering Tama to Holed'em.[3]
Anime-only Techniques
History
Four Emperors Saga
Wano Country Arc
Gazelleman and Batman were tasked with hunting down thieves when they came across Monkey D. Luffy, Roronoa Zoro, Tsuru, Kikunojo, and Tama at Okobore Town. While Batman shot arrows at Tsuru and the others after hearing Tsuru speak ill of Shogun Orochi, Gazelleman kidnapped Tama. He then reported to Holed'em that he had captured the girl who tamed their baboon, and Holed'em ordered Gazelleman to bring Tama to him.[5] Gazelleman later brought Tama to Holed'em as instructed, but he was extremely exhausted after the run.[3]
---
The following events are Non-Canon and therefore not considered part of the Canon story.
---
At Udon, Gazelleman and Batman participated in the Sumo Inferno. After Luffy defeated the Pleasures, the duo were the first Gifters to fight him, but they were defeated as well.[4]
---
Concludes non-canon section.
---
Prior to the Fire Festival, Gazelleman joined Holed'em in confronting the Okobore Town citizens concerning the Paradise Farm thefts.[6] Sometime later, Gazelleman was tamed by Tama. During the Fire Festival, Gazelleman, Speed, and Daifugo went to Onigashima with Tama on Speed's ship. After arriving, the three distributed Tama's dangos to the other Gifters.[2]
Major Battles
Filler Battles
Trivia
References
Governor-General

:
Kaidou ?

All-Stars

:
King  •  Queen  •  Jack

Tobiroppo

:
X Drake ‡  •  Page One  •  Ulti  •  Who's-Who  •  Black Maria  •  Sasaki

Shinuchi

:
Sheepshead ?  •  Ginrummy ?  •  Basil Hawkins ?  •  Holed'em  •  Speed ‡  •  Dobon  •  Babanuki ‡  •  Daifugo ‡  •  Solitaire  •  Bao Huang  •  Briscola ‡  •  Fourtricks ‡  •  Hamlet ‡  •  Mizerka ‡  •  Poker ‡

Gifters

:
Batman  •  Gazelleman ‡  •  Mouseman  •  Snakeman  •  Rabbitman  •  Sarahebi  •  Alpacaman  •  Madilloman  •  Dachoman  •  Tenjo-Sagari  •  Nure-Onna  •  Caimanlady  •  Wanyudo  •  Armored Division ‡  •  Trio the Grip ≠  •  Bearman ≠  •  Llamaman ≠  •  Tigerman ≠

Waiters

:
Massui  •  Pudos  •  Ibiributsu  •  Donannoyo  •  Uwattsura  •  Nokotti

Numbers

:
Inbi  •  Fuga  •  Zanki  •  Jaki  •  Goki  •  Rokki  •  Nangi  •  Hatcha  •  Kunyun  •  Juki

Samurai

:
Fukurokuju ‡  •  Daikoku  •  Raijin  •  Fujin  •  Hanzo  •  Chome  •  Jigoku Benten  •  Bishamon  •  Yazaemon  •  Kazekage  •  Sarutobi  •  Hotei  •  Jizo

Other Members

:
Scotch ?  •  Scratchmen Apoo  •  Hihimaru ‡  •  Kamijiro  •  Gorishiro ‡

Subordinate Crews

:
Drake Pirates *  •  On Air Pirates  •  Hawkins Pirates

Allies and Affiliates

:
Big Mom Pirates  •  Yamato ‡  •  Kurozumi Family (Kurozumi Orochi) ‡  •  Donquixote Pirates (Donquixote Doflamingo  •  Caesar Clown) ‡  •  Bounties Pirates ≠

Ships

:
Mammoth †  •  Liberal Hind ‡  •  Stay Tune  •  Grudge Dolph

Abilities

Devil Fruit Based

:
Uo Uo no Mi, Model: Seiryu  •  Ryu Ryu no Mi, Model: Pteranodon  •  Ryu Ryu no Mi, Model: Brachiosaurus  •  Zou Zou no Mi, Model: Mammoth  •  Ryu Ryu no Mi, Model: Allosaurus ‡  •  Ryu Ryu no Mi, Model: Spinosaurus  •  Ryu Ryu no Mi, Model: Pachycephalosaurus  •  Ryu Ryu no Mi, Model: Triceratops  •  Kumo Kumo no Mi, Model: Rosamygale Grauvogeli  •  Neko Neko no Mi, Model: Saber Tiger  •  Inu Inu no Mi, Model: Okuchi no Makami ‡  •  Wara Wara no Mi  •  Oto Oto no Mi  •  SMILE

Fighting Style Based

:
Haki  •  Shuron Hakke  •  Rokushiki  •  Alpaca Kenpo  •  Ninjutsu

Weapons Based

:
Hassaikai  •  Karakuri Sword  •  Karakuri Rasento  •  Takeru ‡

Support Based

:
Koro  •  Seastone  •  Excite Bullets (Mummy  •  Ice Oni)  •  Excite Shot
Abilities

Devil Fruit Based

:
Artificial Devil Fruit  •  Fuku Fuku no Mi  •  Fude Fude no Mi (Ryunosuke †  •  Kazenbo)  •  SMILE  •  Zou Zou no Mi, Model: Mammoth  •  Kibi Kibi no Mi  •  Inu Inu no Mi, Model: Tanuki  •  Wara Wara no Mi  •  Uo Uo no Mi, Model: Seiryu  •  Juku Juku no Mi  •  Maki Maki no Mi  •  Ryu Ryu no Mi, Model: Allosaurus  •  Ryu Ryu no Mi, Model: Spinosaurus  •  Ryu Ryu no Mi, Model: Pteranodon  •  Hito Hito no Mi, Model: Onyudo  •  Ryu Ryu no Mi, Model: Brachiosaurus  •  Oto Oto no Mi  •  Ryu Ryu no Mi, Model: Pachycephalosaurus  •  Ryu Ryu no Mi, Model: Triceratops  •  Kumo Kumo no Mi, Model: Rosamygale Grauvogeli  •  Neko Neko no Mi, Model: Saber Tiger  •  Hebi Hebi no Mi, Model: Yamata no Orochi  •  Inu Inu no Mi, Model: Okuchi no Makami  •  Toki Toki no Mi †  •  Mane Mane no Mi †  •  Bari Bari no Mi †  •  Tori Tori no Mi, Model: Nue ≠

Fighting Style Based

:
Haki (Ryuo)  •  Oden Two Sword Style  •  Foxfire Style  •  Ninjutsu  •  Kappa Style

Weapons

:
Shusui  •  Kitetsu (Shodai Kitetsu ?  •  Nidai Kitetsu  •  Sandai Kitetsu ‡)  •  Sukesan and Kakusan  •  Tsuji Shibai  •  Soto Muso  •  Hassaikai  •  Takeru  •  Ame no Habakiri  •  Karakuri Rasento  •  Enma ‡