Golass is the secondary antagonist in the first One Piece movie, working as a mercenary for Eldoraggo.[2]
Appearance
He is a large, well-built man, wielding a very large sword. His appearance strongly resembles that of the Native Americans.
Personality
Golass is not very talkative and hardly speaks at all, but during fights he will let out battle cries. He appears to be greedy, similar to Eldoraggo, which is why he always pays Golass some gold coins before giving him orders.
However, Zoro noticed some other aspects of his true personality, such as when he found out that Golass does not like to fight for money and deep down is ashamed of himself as a swordsman.
Abilities and Powers
Golass has immense physical strength. He could destroy a giant rock with his sword and managed to force Zoro back during their fight. He also caught the Marines' attention and received a bounty of

8,000,000. While this bounty is not very impressive in comparison to the high tiers of the Grand Line, it's still fearsome for a peaceful place like the East Blue, where he resides.

Sword
Befitting his strength, Golass wields a large katana. He is a proficient swordsman, being able to destroy large objects, such as rocks, with his sword. However, he was no match for Zoro and was defeated by him.[3]
History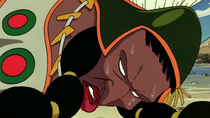 He and Roronoa Zoro had a duel before entering Woonan's house. Although Golass lost, Zoro allowed him to live, realizing that Golass did not want to fight for money, and told him to come back to challenge him if he ever regained his swordsmanship. Golass was last seen being carried away by Eldoraggo's crew. His current whereabouts are unknown.[4]
Merchandise
Video Games
Playable Appearances
Enemy Appearances
Trivia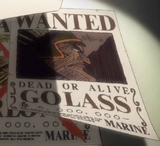 Golass' bounty poster is often hidden throughout the anime. His bounty is 8,000,000.

A bounty poster of his can be seen in the anime on Fullbody's ship in Episode 45.
Another bounty poster can also be seen in the Gold Roger bar in Loguetown, in Episode 48.
Another bounty poster of Golass can be seen in the anime, in one of the houses of Baroque Works agents, in episode 66.
Another bounty poster of Golass can be seen in the anime, in Episode 392.
Another bounty poster of Golass can be seen in the anime, in Episode 400 in Shakky's Rip-off Bar.
Another of his bounty posters can be seen in the very beginning of Movie 9, among others.
References
Active

5,000,000,000 to 1,000,000,000

:
Kaidou ?  •  Charlotte Linlin ?  •  Shanks  •  Monkey D. Luffy  •  Trafalgar Law  •  Eustass Kid  •  Marshall D. Teach  •  King  •  Marco  •  Queen  •  Charlotte Katakuri

1,000,000,000 to 500,000,000

:
Jack  •  Charlotte Smoothie  •  Charlotte Cracker  •  Charlotte Perospero  •  Sabo  •  Charlotte Snack  •  Little Oars Jr.  •  Who's-Who  •  Chinjao

500,000,000 to 100,000,000

:
Edward Weevil  •  Black Maria  •  Sasaki  •  Belo Betty  •  Jinbe  •  Tamago  •  Karasu  •  Ulti  •  Scratchmen Apoo  •  Capone Bege  •  Donquixote Doflamingo  •  Pekoms  •  Cavendish  •  Sanji  •  Basil Hawkins ?  •  Gecko Moria  •  Roronoa Zoro  •  Lindbergh  •  Charlotte Oven  •  Charlotte Daifuku  •  Caesar Clown  •  Bartholomew Kuma  •  Morley  •  Page One  •  X Drake  •  Squard  •  Caribou  •  Sai  •  Killer  •  Usopp  •  Bartolomeo  •  Bellamy  •  Coribou  •  Orlumbus  •  Jewelry Bonney  •  Nico Robin  •  Charlotte Mont-d'Or  •  Urouge  •  Bobbin

100,000,000 to 50,000,000

:
Dorry  •  Brogy  •  Kinoko  •  Trebol  •  Diamante  •  Pica  •  Vito  •  Rockstar  •  Franky  •  Albion  •  Gotti  •  Lip Doughty  •  Brook  •  Chadros Higelyges  •  Boa Hancock  •  Daz Bonez  •  Raccoon  •  Gyro  •  Doc Q  •  Suleiman  •  Gambia  •  Nami  •  Van Augur  •  Lao G  •  Devil Dias  •  Senor Pink  •  Kelly Funk  •  Peachbeard

50,000,000 to 10,000,000

:
Laffitte  •  Boa Sandersonia  •  Boa Marigold  •  Sarquiss  •  Shoujou  •  Mikazuki  •  Bobby Funk  •  Zala  •  Bentham  •  Gladius  •  Marianne  •  Mont Blanc Cricket  •  Galdino  •  Foxy  •  Charlotte Lola  •  Demaro Black  •  Masira  •  Arlong  •  Jesus Burgess  •  Yeti Cool Brothers  •  Krieg  •  Lacuba  •  Kuro  •  Buggy  •  Dellinger  •  Bluejam  •  Drophy  •  Gin  •  Machvise
10,000,000
and under:
Mr. 5  •  Wellington  •  Kuroobi  •  Hatchan  •  Curly Dadan  •  Mikita  •  Sham & Buchi  •  Chew  •  Alvida  •  Porchemy  •  Mr. 4  •  Bepo  •  Tony Tony Chopper

Unknown reward

:
Benn Beckman  •  Lucky Roux  •  Yasopp  •  Zeff  •  Dracule Mihawk  •  Crocodile *  •  Monkey D. Dragon  •  Crocus  •  Yorki  •  Jozu  •  Vista  •  Silvers Rayleigh  •  Emporio Ivankov  •  Inazuma  •  Shiryu  •  Sanjuan Wolf  •  Vasco Shot  •  Catarina Devon  •  Avalo Pizarro  •  Aladine  •  Charlotte Amande
Non-canon

1,000,000,000 to 100,000,000

:
Bounty  •  Prize  •  Byrnndi World ?  •  Panz Fry  •  Chameleone  •  Lambor Bukini  •  Puggy  •  Dopp

100,000,000 to 10,000,000

:
Puzzle  •  Gasparde  •  Tambu  •  Bobrad  •  Woonan †  •  Needless  •  Olive  •  Willy  •  Bigalo  •  Battler  •  Wetton  •  Bear King
10,000,000
and under:
Eldoraggo  •  Dick  •  Pin Joker  •  Golass  •  Honey Queen  •  Skunk One  •  Gally  •  Billy  •  Heaby  •  Hotdog  •  Spiel  •  Pandaman  •  Boo Jack  •  Billy  •  A A A  •  Wild Joe  •  D.R.  •  Hitokui  •  Henna Oyag  •  Koba K  •  Usanksai  •  Sard  •  Tohenbok  •  Tacobo

Unknown reward

:
Patrick Redfield  •  Mobu Head  •  Red Arrows Pirates †  •  Dareda  •  Dontacos

Others

:
Gill Bastar  •  Mikio Itoo