Doctor Strange in The Multiverse o Madness - The Loop
Play Sound
The Goru Goru no Mi is a non-canon Paramecia-type Devil Fruit that allows the user to telekinetically manipulate gold at will.[1] It was eaten by Gild Tesoro.[2]
Etymology
"Goru" is an abbreviation of gōrudo (

ゴールド

?

), the Japanese pronunciation for "gold".
In the FUNimation adaptations, it is called the Gol-Gol Fruit.
Appearance
The Goru Goru no Mi is a dark yellow fruit that appears to resemble a combination of a gourd and a pineapple. It has a few leaves on top, and expands at the middle. Like all natural Devil Fruits, its surface is covered with swirling patterns. It is about the same size as the palm of Tesoro's hand.[2]
Strengths and Weaknesses
The main strength of the fruit is that it allows the user to manipulate any gold that they touch. They can quickly change the gold from solid to liquid and vice-versa, allowing them to shape it in any way they desire. They can even encase living beings in gold, effectively turning them into statues.[1] The user is also able to cover their own body in golden armor for increased power, to the point where they can turn into a massive gold golem. Though gold is normally a relatively soft metal, if the user is actively manipulating it, the gold is hard enough to withstand extremely powerful attacks, including hits from Luffy's Gear 4 moves and cuts from Zoro's Three Sword Style techniques.[3]
If this power is "awakened", the range of the user's influence over gold will increase, extending their senses to the gold that are under their powers, potentially creating a complex sensory network. Any disturbances on such gold will be noticed.
The main weakness of this Devil Fruit power is that it cannot create gold and that its power is thus directly proportional to the amount of gold present in its user's surroundings. Furthermore, the user can only manipulate gold that they have previously touched, and contact with sea water will instantly nullify that effect: gold constructs will crack and crumble, and the user will need to touch the gold once more before being able to manipulate it again. Other than that, the user is also affected by the standard Devil Fruit weaknesses.
Usage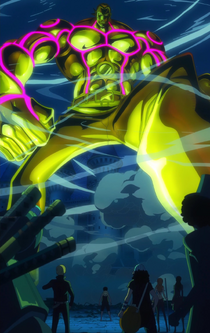 Tesoro can use this power to create huge fountains of liquid gold, trap his enemies, infuse gold dusts and flakes into other people's bodies and even slowly transform their skin into gold.[1] He is also able to create an armor of gold for increased power and defense, to the point where he can turn into a massive gold golem. The gold is strong enough to withstand a slash from Zoro's swords.[3] By showering his guests with gold dust when they enter his ship he is able to control the movements of everyone on-board and should he will it use the gold their bodies have absorbed to turn them into gold statues, cementing his authority in the city.
Since consuming his Devil Fruit he has been able to awaken its powers, furthering the range of his influence over gold and enabling him to use all of the gold in Gran Tesoro that he has touched as a complex sensory network. Through it he is able to detect attempted break-ins or attacks on the city. When utilizing large gold constructs he is also capable of unleashing explosive beams of metallic energy that have the power to destroy a Marine warship or critically injure an opponent from a single blow.
Techniques
Video Game Only
History
Past
Twelve years ago, the fruit was auctioned by the Donquixote Pirates, though they had no intention of actually selling it. However, it was acquired by Tesoro, who sent criminals to kill many people at the venue.[4]
Trivia
References
External links
Gold – Wikipedia article about the substance this fruit manipulates.
Zoan

Canon

:
Hito Hito no Mi, Model: Nika *  •  Ushi Ushi no Mi, Model: Bison  •  Hito Hito no Mi  •  Tori Tori no Mi, Model: Falcon  •  Inu Inu no Mi, Model: Dachshund  •  Mogu Mogu no Mi  •  Inu Inu no Mi, Model: Jackal  •  Uma Uma no Mi  •  Neko Neko no Mi, Model: Leopard  •  Zou Zou no Mi  •  Inu Inu no Mi, Model: Wolf  •  Ushi Ushi no Mi, Model: Giraffe  •  Ryu Ryu no Mi, Model: Allosaurus *  •  Hebi Hebi no Mi, Model: King Cobra  •  Hebi Hebi no Mi, Model: Anaconda  •  Tori Tori no Mi, Model: Phoenix *  •  Hito Hito no Mi, Model: Daibutsu *  •  Kame Kame no Mi  •  Sara Sara no Mi, Model: Axolotl  •  Mushi Mushi no Mi, Model: Kabutomushi  •  Mushi Mushi no Mi, Model: Suzumebachi  •  Zou Zou no Mi, Model: Mammoth *  •  Tama Tama no Mi  •  Tori Tori no Mi, Model: Albatross  •  Inu Inu no Mi, Model: Tanuki  •  Uo Uo no Mi, Model: Seiryu *  •  Inu Inu no Mi, Model: Kyubi no Kitsune *  •  Hebi Hebi no Mi, Model: Yamata no Orochi *  •  Ryu Ryu no Mi, Model: Spinosaurus *  •  Ryu Ryu no Mi, Model: Pteranodon *  •  Hito Hito no Mi, Model: Onyudo *  •  Ryu Ryu no Mi, Model: Brachiosaurus *  •  Ryu Ryu no Mi, Model: Pachycephalosaurus *  •  Ryu Ryu no Mi, Model: Triceratops *  •  Kumo Kumo no Mi, Model: Rosamygale Grauvogeli *  •  Neko Neko no Mi, Model: Saber Tiger *  •  Inu Inu no Mi, Model: Okuchi no Makami *

Non-Canon

:
Tori Tori no Mi, Model: Eagle  •  Inu Inu no Mi, Model: Bake-danuki *  •  Batto Batto no Mi, Model: Vampire *  •  Tori Tori no Mi, Model: Nue *

Artificial

:
Artificial Devil Fruit (SMILE)