One Piece: Grand Battle! 2
is a fighting game based on the
One Piece
manga
and
anime
, released for the Sony PlayStation. The direct sequel to
Grand Battle!
, it retains almost every element of the original while adapting new material from the
Alabasta Saga
and introducing many new mechanics.
Developed by Ganbarion and published by Bandai, Grand Battle! 2 was released in Japan on March 20, 2002. Like its predecessor, it met with great success, supporting its own line of action figures as well as a handheld spinoff covering much of the same material.
A direct sequel would be released the following year.
Grand Battle! 2 retains its predecessor's 2.5D combat mechanics, with three-dimensional character sprites interacting on a two-dimensional axis. Player characters can run, jump, double-jump, crouch, block, and pick up (as well as throw and catch) items around the battlefield.
The main combat attributes remain Offense, Defense, and Agility, varying on a scale of A through E for each character; the variations among preexisting characters are mostly unchanged, with a few exceptions (such as Shanks being raised to A-rank in all three attributes). Health is less standardized than before, with some characters possessing noticeably more than others.
Fighting consists of standard button combinations. Each player character can access at least 20 standard techniques, along with several Finisher (必殺, Hissatsu?) techniques that incorporate full cinematics. As in Grand Battle!, Finisher techniques follow a numbered level system, and are divided into five classes:
However, Finishers are no longer tied to health levels, instead relying on a newly-introduced Food Charge (メシチャージ, Meshichāji?) mechanic. Each character may carry a maximum of three Food Charges, as displayed by the circular gauge next to the health bar; performing a level-one Finisher requires one Food Charge, and so on.
Food Charges also facilitate a separate mechanic known as One Piece Heat (ONEピースヒート, ONE Pīsuhīto?), which activates when a character with three Food Charges receives what would otherwise be a finishing blow. One Piece Heat greatly raises the character's attack power and speed for a set period, but will instantly end with the next hit received, emptying the Food Charge gauge completely.
Characters
Edit
There are a total of twenty-four player characters, thirteen of which are assigned support characters. Most support characters are tied to Support Summon-class Finishers, which only permit one support character per battle; however, several are tied to other classes of Finisher, allowing them to coexist.
Combatants may be helped or hindered by a variety of items around the battlefield. All items can be picked up or caught, and are generally activated by either direct contact or the impact of a throw.
If attacked, most items vanish immediately, without activation; if left alone, they generally vanish after five seconds. Many items will also slide or roll of their own accord if set on a tilted surface.
Below is a table of items and their respective effects.
| Item | Effect |
| --- | --- |
| Sword | Raises attack power for approximately 10 seconds. |
| Shield | Raises defense power for approximately 10 seconds. |
| Shoes | Raises agility for approximately 10 seconds. |
| Jewel | Raises attack power, defense power, and agility for approximately five seconds. |
| Eternal Pose | Fills the Food Charge gauge completely. If picked up and put down (not thrown), will empty the gauge instead. |
| Food | Restores health - onigiri a small amount, tankards a moderate amount, and drumsticks a large amount - as well as one segment of the Food Charge gauge. Will spoil if left alone for more than three seconds. |
| Spoiled Food | Inflicts minor damage - as well as paralysis - for three seconds. |
| Bomb | Explodes to inflict damage. If left alone, usually explodes after five seconds. |
| Lantern | Releases several flames that inflict burn damage. |
| Poison Mushroom | Deals steady damage over a set period of time. |
| Shuriken | Inflicts damage; flies with completely straight trajectory when thrown. |
| Hot Pepper | Inflicts minor damage while forcing nonstop running and disabling the block function. |
| Gaimon | Fires a pistol that inflicts damage. |
Items are generally found by breaking the containers positioned around each stage - barrels release food, crates release attack items, and treasure chests release power-ups. These containers can also be picked up, caught, or thrown for minor damage.
Battle Stages
Edit
There are a total of twelve stages, all based on canon locations, each with unique music, features, and background spectators.[1]
List of Stages
Foosha Village: Consists of grassland, a windmill, and a dirt road leading to a harbor with a docked Going Merry. Spectators include various villagers (including Makino and Woop Slap).
The windmill's blades can be used as (temporary) platforms.

A girl will periodically emerge from the windmill and throw out a random power-up item.
Syrup Village: Consists of forests and a rocky slope - half-coated by an oil barrel - leading to the ocean, with the Bezan Black looming in the background. Spectators include various Black Cat Pirates (including Jango, Sham, and Buchi), Ninjin, Piiman, Tamanegi, and Kaya.
The Bezan Black will periodically fire several bombs onto the stage; their landing spots will be marked by red shadows.
Baratie: Consists of the three-tiered restaurant and a half-sunken Dreadnaught Sabre, bridged - and surrounded - by ocean. Spectators include various Krieg Pirates (including Pearl) and Baratie staff (including Zeff, Patty, and Carne).
The Dreadnaught Sabre will constantly tilt back and forth, serving as an unstable foothold for both combatants and items.
Arlong Park: Consists of two stone walkways separated by a corner of the main harbor, bound on one end by the demolished Arlong Park and the other by a smaller gazebo. Spectators include various Arlong Pirates (including Hachi, Kuroobi, and Chew), Conomi Islanders (including Nojiko, Genzo, Chabo, and Dr. Nako), Johnny, and Yosaku.
Crates may release a Tooth Gum item, exclusive to this stage, that inflicts a small amount of damage and disables all attack inputs for approximately five seconds.
Loguetown: Consists of a small, stormy area before Gold Roger's scaffold. Spectators include various townspeople and Buggy Pirates, as well as Dragon.
Lightning will periodically strike the stage, inflicting damage on any combatant it touches; its area of impact will be marked by a blue shadow.
Laboon: Consists of the main stomach chamber, with two small islands - one holding Crocus' cabin, the other holding a beach chair - and a Royal Squid blocking the exit gates, its tentacles providing several extra (constantly moving) footholds.
Crocus will periodically leave the cabin and shoot harpoons at any nearby combatants.
A gale will periodically blow across the stage, pushing both combatants to one side.
Whisky Peak: Consists of a section dominated by a three-story church, bound on one end by ocean and the other by a cliff topped with a Baroque Works mailbox; an overfed Luffy sleeps just below this cliff. Spectators include various Baroque Works agents, among them Mr. 8, Miss Monday, Miss Catherina, and Mr. Beans.
Little Garden: Consists of a jungle valley bisected by a river (and "bridged" by a tree branch), with Dead Center Mountain in the background. Spectators include Dorry, Brogy, Mr. 3, Miss Goldenweek, Mr. 5, and Miss Valentine.
Dead Center Mountain will periodically erupt, causing Dorry and Brogy to start fighting; invariably, one of their weapons will strike the ground, creating a new foothold for approximately 20 seconds.
Item containers may release a lava bomb item, exclusive to this stage, that cannot be destroyed or moved by any attack; if thrown, it will ricochet wildly, inflicting damage on contact.
Drum Castle: Consists of a side-section of the main bedchamber and adjoining tower, with a two-tiered balcony above, bound on one side by a sheer drop; above the drop hangs one of the island trams, occupied by Dalton. Spectators include Tony Tony Chopper, Dr. Kureha, Chess, Kuromarimo, and the Hiking Bear.
Dalton will periodically throw power-up items.
Dr. Kureha will periodically throw bombs over the tower.
The fireplace in the bedchamber will inflict burn damage on contact.
A Lapahn cub will periodically appear on the castle's upper levels; if struck, it will summon its parent, who will send a giant snowball across the castle roof.
Moving Crab: Consists of an endlessly-scuttling Hasami, bound on both ends by sheer drops into the desert. Spectators include Matsuge and a pack of Kung-Fu Dugongs (who will flock to whichever combatant has more health).
Item containers may release a cactus item, exclusive to this stage, that scrambles directional controls on contact.
Alubarna: Consists of a side-section of the royal tomb and the city street immediately above. Spectators include Nefertari Cobra, various royal and rebel soldiers (including the Tsumegeri Guards and Koza), Mr. 7, and Miss Father's Day.
Marine Headquarters: Consists of a completely level training ground with no hazards or item containers. Spectators include Koby, Helmeppo, Bogard, Garp, and Hina (with Jango and Fullbody appearing at random intervals).
Game Modes
Edit
Three modes may be accessed from the Top Menu.
Grand Battle
Edit
Grand Battle (グランドバトル, Gurando batoru?) mode allows players to participate in classic arcade-style battles against each other or against the CPU. CPU opponents may be set at three different difficulties. Time limits may be set at 60 seconds, at 99 seconds, or completely disabled. Stages may be preset or randomly selected.
Event Battle
Edit
Event Battle (イベントバトル, Ibento batoru?) mode puts the player character through a gauntlet of five 99-second battles against five semi-randomly selected CPU opponents.
If the combatants have any basis for canon interaction, the battle will typically be framed by a short cutscene. The stage for each battle also generally follows canon; Chopper will always be fought at Drum Castle, Crocodile will always be fought at Alubarna, and so on.[3]
Combat progression is greatly simplified from that of Grand Battle!; the player character need not fully defeat each opponent, but merely have greater health when time runs out. Once all five battles are cleared, a short ending cinematic unique to the player character is played, followed by the game's development credits.
Outright losing a battle will present the player with a continue option; a total of five continues are allowed before Event Battle automatically ends.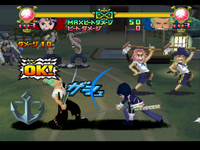 Training (修行, Shugyō?) mode allows the player to test a character's controls and capabilities on the hazard-free Marine Headquarters stage. Here, food charges and health regenerate automatically, One Piece Heat may be activated at will, and damage output is visibly recorded. The opponent character stands idle by default, but may be programmed to fight back as one in Event Battle or Grand Battle would.
A training session is declared "complete" when the player character has performed every available technique successfully.
Bonus Features
Edit
A number of bonus features can be unlocked by meeting various victory conditions, typically in Event Mode.
Treasure (お宝, O-takara?) features:
The Option (オプション, Opushon?) menu, in addition to standard sound and system settings, allows players to adjust the following:
Grand Battle! 2, like its predecessor, retains almost every voice-casting from the TV anime (including Mahito Ōba's succession of Ginzō Matsuo as Smoker). Unlike its predecessor, it casts most of its support characters as well as player characters, though those introduced in the East Blue Saga remain - apart from Jango - unvoiced.
Notably, the game features Rin Mizuhara's last performance as Miss Doublefinger.
Main menu. Each selection rotates the view of the
Going Merry
.
Treasure theater. Selecting an unavailable clip will drop an empty film-can on
Chopper
.
References
Edit
↑

Some background spectators double as support or even player characters; if used in battle, they will disappear from their background positions.

↑

If Luffy is one of the combatants, his place on the ground will be taken by a tarp with identical effects.
External Links
Edit
Community content is available under
CC-BY-SA
unless otherwise noted.