Obi-Wan Finale - The Loop
Play Sound
The Guru Guru no Mi is a Paramecia-type Devil Fruit that allows the user to become a Rotation Human (回転人間, Kaiten Ningen?), creating propellers around their body giving them the ability of flight. It was eaten by Buffalo.[2]
Etymology
"Guruguru" (

ぐるぐる/グルグル

?

) is a Japanese onomatopoeia that means (turning) round and round/in circles (or wrapping/winding around).
In the Viz Manga and FUNimation subs, it is called the Spin-Spin Fruit.
Strengths and Weaknesses
The Guru Guru no Mi grants its eater the power to transform any part of their body or piece of worn clothing into propellers capable of rotation at high speed. The force of the spinning is strong enough to enable propelled flight by the user over very long distances, to assist in the carrying or thrown launch of objects and other people, and to create powerful windstorms.[1]
A person of sufficient strength can grab onto the user's rotational parts and stop the spinning, and can even do damage by twisting the parts themselves.[3] Besides that, the user is also vulnerable to the standard Devil Fruit weaknesses.
Usage
Buffalo mastered the Guru Guru no Mi to the point where he can turn his whole body into a mode of transportation. He also uses his power to execute team-attacks with his partner Baby 5, who uses her Buki Buki no Mi powers.
He also uses this to rapidly rotate his legs in a vertical fashion, allowing him to use them like rollerskates.[4]
Techniques
Toppu: Matasaburo (

突風 又三郎

Toppū: Matasaburō

?

, literally meaning "Gust: Matasaburo"): Buffalo spins around to create a gust of wind powerful enough to disperse Shinokuni.[1] Matasaburo is a character from Kenji Miyazawa's story "Matasaburo of the Wind" (

風の又三郎

Kaze no Matasaburō

?

), who can control and ride on wind. In the Viz manga and FUNimation subs, this is called Gust - Matasaburo.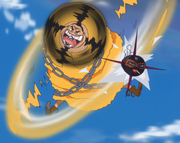 Guru Guru Toshaho (

グルグル投射砲

Guru Guru Tōshahō

?

, literally meaning "Spin Spin Projectile Cannon"): After Baby 5 transforms into a large missile with her abilities, Buffalo spins his arms around his body to throw her against the enemy. The momentum and speed gained from the spinning, combined with Baby 5's ability to move in midair to dodge incoming enemy fire, makes this technique very hard to avoid and very powerful. It was used for the first time against Franky in his General Franky.[5] In the Viz manga and FUNimation subs, this is called Spin-Spin Projectile Cannon.
History
Buffalo ate the Guru Guru no Mi at no older than age 17, as he was seen using its powers above the Birdcage on Minion Island.[6]
Trivia
The Guru Guru no Mi is very similar to the Shari Shari no Mi, as both fruits revolve around rotation.
References
External Links
Rotation – Wikipedia article on the property of this fruit.
Zoan

Standard

:
Ushi Ushi no Mi, Model: Bison  •  Hito Hito no Mi  •  Tori Tori no Mi, Model: Falcon  •  Inu Inu no Mi, Model: Dachshund  •  Mogu Mogu no Mi  •  Inu Inu no Mi, Model: Jackal  •  Uma Uma no Mi  •  Neko Neko no Mi, Model: Leopard  •  Zou Zou no Mi  •  Inu Inu no Mi, Model: Wolf  •  Ushi Ushi no Mi, Model: Giraffe  •  Hebi Hebi no Mi, Model: King Cobra  •  Hebi Hebi no Mi, Model: Anaconda  •  Kame Kame no Mi  •  Sara Sara no Mi, Model: Axolotl  •  Mushi Mushi no Mi, Model: Kabutomushi  •  Mushi Mushi no Mi, Model: Suzumebachi  •  Tama Tama no Mi  •  Tori Tori no Mi, Model: Albatross  •  Inu Inu no Mi, Model: Tanuki  •  Tori Tori no Mi, Model: Eagle ≠

Ancient

:
Ryu Ryu no Mi, Model: Allosaurus  •  Zou Zou no Mi, Model: Mammoth  •  Ryu Ryu no Mi, Model: Spinosaurus  •  Ryu Ryu no Mi, Model: Pteranodon  •  Ryu Ryu no Mi, Model: Brachiosaurus  •  Ryu Ryu no Mi, Model: Pachycephalosaurus  •  Ryu Ryu no Mi, Model: Triceratops  •  Kumo Kumo no Mi, Model: Rosamygale Grauvogeli  •  Neko Neko no Mi, Model: Saber Tiger

Mythical

:
Hito Hito no Mi, Model: Nika *  •  Tori Tori no Mi, Model: Phoenix  •  Hito Hito no Mi, Model: Daibutsu  •  Uo Uo no Mi, Model: Seiryu  •  Inu Inu no Mi, Model: Kyubi no Kitsune  •  Hebi Hebi no Mi, Model: Yamata no Orochi  •  Hito Hito no Mi, Model: Onyudo  •  Inu Inu no Mi, Model: Okuchi no Makami  •  Inu Inu no Mi, Model: Bake-danuki ≠  •  Batto Batto no Mi, Model: Vampire ≠  •  Tori Tori no Mi, Model: Nue ≠

Artificial

:
Artificial Devil Fruit (SMILE)