Jurassic World: Dominion Dominates Fandom Wikis - The Loop
Play Sound
For Nico Robin's Devil Fruit, see Hana Hana no Mi.
O-Hana[2] is a citizen of Wano Country, residing in the Flower Capital.[1]
Appearance
Hana is an average size woman with fair skin and blonde hair tied up in a shimada with a hairpin. She wears a blue flower over her right temple, and a light teal kimono with a purple obi.[1]
Personality
Not much is known about Hana's personality since she was only shown in dire situations, during which she was timid and frightful.[1][3]

History
Past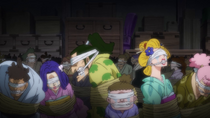 Twenty-five years ago, Hana was one of the people abducted by Kurozumi Orochi and was meant to be used as a slave until being freed thanks to Kozuki Oden.[1]
Five years later, she was present at Oden's execution, and heard Shinobu's outburst at the spectators, and learned the truth about her capture, release, and Oden.[3]

References
Abilities

Devil Fruit Based

:
Artificial Devil Fruit  •  Fuku Fuku no Mi  •  Fude Fude no Mi (Ryunosuke †  •  Kazenbo)  •  SMILE  •  Zou Zou no Mi, Model: Mammoth  •  Kibi Kibi no Mi  •  Inu Inu no Mi, Model: Tanuki  •  Wara Wara no Mi  •  Uo Uo no Mi, Model: Seiryu  •  Juku Juku no Mi  •  Maki Maki no Mi  •  Ryu Ryu no Mi, Model: Allosaurus  •  Ryu Ryu no Mi, Model: Spinosaurus  •  Ryu Ryu no Mi, Model: Pteranodon  •  Hito Hito no Mi, Model: Onyudo  •  Ryu Ryu no Mi, Model: Brachiosaurus  •  Oto Oto no Mi  •  Ryu Ryu no Mi, Model: Pachycephalosaurus  •  Ryu Ryu no Mi, Model: Triceratops  •  Kumo Kumo no Mi, Model: Rosamygale Grauvogeli  •  Neko Neko no Mi, Model: Saber Tiger  •  Hebi Hebi no Mi, Model: Yamata no Orochi  •  Inu Inu no Mi, Model: Okuchi no Makami  •  Toki Toki no Mi †  •  Mane Mane no Mi †  •  Bari Bari no Mi †  •  Tori Tori no Mi, Model: Nue ≠

Fighting Style Based

:
Haki (Ryuo)  •  Oden Two Sword Style  •  Foxfire Style  •  Ninjutsu  •  Kappa Style

Weapons

:
Shusui  •  Kitetsu (Shodai Kitetsu ?  •  Nidai Kitetsu  •  Sandai Kitetsu ‡)  •  Sukesan and Kakusan  •  Tsuji Shibai  •  Soto Muso  •  Hassaikai  •  Takeru  •  Ame no Habakiri  •  Karakuri Rasento  •  Enma ‡