Jurassic World: Dominion Dominates Fandom Wikis - The Loop
Play Sound
Hihimaru is a baboon that was formerly a guard for the Beasts Pirates before being tamed by Tama.[2]
Appearance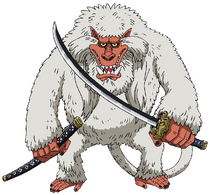 Hihimaru is an extremely large baboon that towers over average-sized humans. It has white fur.[1]

Personality
Hihimaru is very ferocious and is eager to get into fights. It is difficult to tame, but Tama managed to tame it with her powers.[2]
Abilities and Powers
Hihimaru possesses a great amount of strength, and is well-known for it by the residents of Kuri, being called the "raging baboon of the mountain". It had developed a great reputation while serving the Beasts Pirates, and its keepers were concerned at it being tarnished when the komainu Komachiyo put up a fight against it.[2] Its loss was seen as significant by the Beasts Pirates, and caused them to take an interest in Tama and her taming powers.[3] Tama is confident enough that he can delay both Page One and Ulti at the same time for three minutes.
Weapons
Hihimaru wields a very large katana.[1]
History
Four Emperors Saga
Wano Country Arc
A group of Beasts Pirates and Hihimaru threatened a young girl named Tama when she ended up mentioning the Kozuki Family, and the komainu Komachiyo attacked Hihimaru to protect her. The two fought viciously, and Hihimaru threw Komachiyo into the Thousand Sunny. The Beasts Pirates told Hihimaru to go after the nearby Monkey D. Luffy after Luffy attacked them, but Hihimaru quickly became subdued when facing Luffy. Tama then offered Hihimaru some kibi-dango, which tamed the baboon. Hihimaru and Komachiyo then took Luffy and Tama to the home of Tama and her master.[2]
Hihimaru remained in the village after Tama, Kiku, Kozuki Momonosuke, and Tony Tony Chopper left the village to go for a walk to Kuri Beach. The baboon listened as Hitetsu spoke to them through a Smart Tanishi.[4]
On the day before the raid on Onigashima, Hihimaru watched as Momonosuke and his group left Amigasa Village.[5] The next day, Hihimaru boarded an enemy ship with Tama and Komachiyo and headed to Onigashima. Hihimaru followed the other two into the Skull Dome, and on Tama's command, he attacked the Tobiroppo Page One and Ulti as Tama and Komachiyo fled with Usopp and Nami.[6] The baboon was later defeated by the two Tobiroppo.[7]
Major Battles
Trivia
Despite being identified as a baboon, Hihimaru's anime coloration with red skin and white fur is more reminiscent of a Japanese macaque.
References
Abilities

Devil Fruit Based

:
Artificial Devil Fruit  •  Fuku Fuku no Mi  •  Fude Fude no Mi (Ryunosuke †  •  Kazenbo)  •  SMILE  •  Zou Zou no Mi, Model: Mammoth  •  Kibi Kibi no Mi  •  Inu Inu no Mi, Model: Tanuki  •  Wara Wara no Mi  •  Uo Uo no Mi, Model: Seiryu  •  Juku Juku no Mi  •  Maki Maki no Mi  •  Ryu Ryu no Mi, Model: Allosaurus  •  Ryu Ryu no Mi, Model: Spinosaurus  •  Ryu Ryu no Mi, Model: Pteranodon  •  Hito Hito no Mi, Model: Onyudo  •  Ryu Ryu no Mi, Model: Brachiosaurus  •  Oto Oto no Mi  •  Ryu Ryu no Mi, Model: Pachycephalosaurus  •  Ryu Ryu no Mi, Model: Triceratops  •  Kumo Kumo no Mi, Model: Rosamygale Grauvogeli  •  Neko Neko no Mi, Model: Saber Tiger  •  Hebi Hebi no Mi, Model: Yamata no Orochi  •  Inu Inu no Mi, Model: Okuchi no Makami  •  Toki Toki no Mi †  •  Mane Mane no Mi †  •  Bari Bari no Mi †  •  Tori Tori no Mi, Model: Nue ≠

Fighting Style Based

:
Haki (Ryuo)  •  Oden Two Sword Style  •  Foxfire Style  •  Ninjutsu  •  Kappa Style

Weapons

:
Shusui  •  Kitetsu (Shodai Kitetsu ?  •  Nidai Kitetsu  •  Sandai Kitetsu ‡)  •  Sukesan and Kakusan  •  Tsuji Shibai  •  Soto Muso  •  Hassaikai  •  Takeru  •  Ame no Habakiri  •  Karakuri Rasento  •  Enma ‡
Governor-General

:
Kaidou ?

All-Stars

:
King  •  Queen  •  Jack

Tobiroppo

:
X Drake ‡  •  Page One  •  Ulti  •  Who's-Who  •  Black Maria  •  Sasaki

Shinuchi

:
Sheepshead ?  •  Ginrummy ?  •  Basil Hawkins ?  •  Holed'em  •  Speed ‡  •  Dobon  •  Babanuki ‡  •  Daifugo ‡  •  Solitaire  •  Bao Huang  •  Briscola ‡  •  Fourtricks ‡  •  Hamlet ‡  •  Mizerka ‡  •  Poker ‡

Gifters

:
Batman  •  Gazelleman ‡  •  Mouseman  •  Snakeman  •  Rabbitman  •  Sarahebi  •  Alpacaman  •  Madilloman  •  Dachoman  •  Tenjo-Sagari  •  Nure-Onna  •  Caimanlady  •  Wanyudo  •  Armored Division ‡  •  Trio the Grip ≠  •  Bearman ≠  •  Llamaman ≠  •  Tigerman ≠

Waiters

:
Massui  •  Pudos  •  Ibiributsu  •  Donannoyo  •  Uwattsura  •  Nokotti

Numbers

:
Inbi  •  Fuga  •  Zanki  •  Jaki  •  Goki  •  Rokki  •  Nangi  •  Hatcha  •  Kunyun  •  Juki

Samurai

:
Fukurokuju ‡  •  Daikoku  •  Raijin  •  Fujin  •  Hanzo  •  Chome  •  Jigoku Benten  •  Bishamon  •  Yazaemon  •  Kazekage  •  Sarutobi  •  Hotei  •  Jizo

Other Members

:
Scotch ?  •  Scratchmen Apoo  •  Hihimaru ‡  •  Kamijiro  •  Gorishiro ‡

Subordinate Crews

:
Drake Pirates *  •  On Air Pirates  •  Hawkins Pirates

Allies and Affiliates

:
Big Mom Pirates  •  Yamato ‡  •  Kurozumi Family (Kurozumi Orochi) ‡  •  Donquixote Pirates (Donquixote Doflamingo  •  Caesar Clown) ‡  •  Bounties Pirates ≠

Ships

:
Mammoth †  •  Liberal Hind ‡  •  Stay Tune  •  Grudge Dolph

Abilities

Devil Fruit Based

:
Uo Uo no Mi, Model: Seiryu  •  Ryu Ryu no Mi, Model: Pteranodon  •  Ryu Ryu no Mi, Model: Brachiosaurus  •  Zou Zou no Mi, Model: Mammoth  •  Ryu Ryu no Mi, Model: Allosaurus ‡  •  Ryu Ryu no Mi, Model: Spinosaurus  •  Ryu Ryu no Mi, Model: Pachycephalosaurus  •  Ryu Ryu no Mi, Model: Triceratops  •  Kumo Kumo no Mi, Model: Rosamygale Grauvogeli  •  Neko Neko no Mi, Model: Saber Tiger  •  Inu Inu no Mi, Model: Okuchi no Makami ‡  •  Wara Wara no Mi  •  Oto Oto no Mi  •  SMILE

Fighting Style Based

:
Haki  •  Shuron Hakke  •  Rokushiki  •  Alpaca Kenpo  •  Ninjutsu

Weapons Based

:
Hassaikai  •  Karakuri Sword  •  Karakuri Rasento  •  Warabide Sword  •  Takeru ‡

Support Based

:
Koro  •  Seastone  •  Excite Bullets (Mummy  •  Ice Oni)  •  Excite Shot