Hitaki was the patriarch of the Hitaki Family, the daimyo of Yo and Kikuhime's father.[1]
Appearance
Hitaki was a short, middle-aged man with a slouch. He has a wide mouth, thin lips, pointed eyebrows, and an angular chin. He wears a dark-colored robe with a long, light-colored tail, as well as a large, paint splatter-shaped hat.
Personality
Not much is known about Hitaki's personality, but he was shocked by Lark's betrayal.
Relationships
Toratsugu and Kikuhime were devastated by Hitaki's murder, showing their strong relationship. Lark did not respect Hitaki as his superior. Rather, Lark cared enough about gaining power that he chose to murder him.
History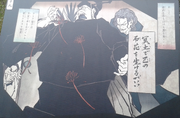 Hitaki was serving as daimyo of Yo when he was approached by Lark, a prince from a neighboring region and the second-in-line to the daimyo position. Lark murdered Hitaki and framed the murder on Toratsugu, one of Hitaki's loyal subjects and his daughter's fiancé.

References
Wano Country
Abilities

Devil Fruit Based

:
Toki Toki no Mi †  •  Artificial Devil Fruit  •  Fuku Fuku no Mi  •  SMILE  •  Zou Zou no Mi, Model: Mammoth  •  Inu Inu no Mi, Model: Tanuki  •  Wara Wara no Mi  •  Uo Uo no Mi, Model: Seiryu  •  Juku Juku no Mi  •  Maki Maki no Mi  •  Ryu Ryu no Mi, Model: Allosaurus  •  Ryu Ryu no Mi, Model: Spinosaurus  •  Ryu Ryu no Mi, Model: Pteranodon  •  Ryu Ryu no Mi, Model: Brachiosaurus  •  Ryu Ryu no Mi, Model: Pachycephalosaurus  •  Ryu Ryu no Mi, Model: Triceratops  •  Kumo Kumo no Mi, Model: Rosamygale Grauvogeli  •  Neko Neko no Mi, Model: Saber Tiger  •  Hebi Hebi no Mi, Model: Yamata no Orochi  •  Mane Mane no Mi †  •  Bari Bari no Mi †  •  Tori Tori no Mi, Model: Nue ≠

Fighting Style Based

:
Ryuo  •  Oden Nitoryu  •  Kitsunebi-ryu  •  Ninjutsu  •  Kappa-ryu

Weapons

:
Shusui  •  Kitetsu (Shodai Kitetsu *  •  Nidai Kitetsu  •  Sandai Kitetsu ‡)  •  Soto Muso  •  Enma  •  Ame no Habakiri
Community content is available under
CC-BY-SA
unless otherwise noted.