Hitaki was the patriarch of the Hitaki Family, the daimyo of Yo and Kikuhime's father.[1]
Appearance
Edit
Hitaki was a short, middle-aged man with a slouch. He has a wide mouth, thin lips, pointed eyebrows, and an angular chin. He wears a dark-colored robe with a long, light-colored tail, as well as a large, paint splatter-shaped hat.
Personality
Edit
Not much is known about Hitaki's personality, but he was shocked by Lark's betrayal.
Relationships
Edit
Toratsugu and Kikuhime were devastated by Hitaki's murder, showing their strong relationship. Lark did not respect Hitaki as his superior. Rather, Lark cared enough about gaining power that he chose to murder him.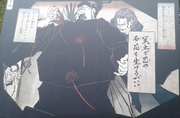 Hitaki was serving as Daiymo of Yo when he was approached by Lark, a prince from a neighboring region and the second-in-line to the daimyo position. Lark murdered Hitaki and framed the murder on Toratsugu, one of Hitaki's loyal subjects and his daughter's fiancé.

References
Edit
↑ 1.0 1.1 1.2 1.3 One Piece Art NUE - Hitaki makes his debut.
Community content is available under
CC-BY-SA
unless otherwise noted.