She-Hulk Trailer Dropped - The Loop
Play Sound
Hitokui ("Cannibal") was a monster that terrorized villagers in Oda's one-shot Ikki Yako.[1]
Appearance

Hitokui was a wild looking person with a shaggy, light-colored short hair, pointed ears, wild eyes, and a very large mouth. He wore a short-sleeved, light-colored shirt, with dark-colored shorts, and a dark-colored vest, which he took from Guko's master Koshin after he killed him.[1]

Personality
Hitokui has an insane personality, killing and eating Koshin and attempting to kill Guko.
After fighting with Koshin, Hitokui hates monks, because Koshin tried to kill him when he had let his guard down.[1]
Abilities and Powers
Hitokui was stronger and more agile than an average human, as shown when he was able to avoid Guko's attacks by jumping over him, jump from tree to tree, and slam Guko into the ground like a rag doll, while only using one hand.
History
Ikki Yako
Hitokui killed Guko's master Koshin, and was killed by Guko.
Trivia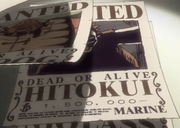 He has – along with several other non-canonical characters such as Wild Joe, D.R., and Golass – made numerous cameos in the One Piece anime through a series of wanted posters that first appeared in Episode 45.[2]

While his bounty is illegible in most of these cameos, the ninth movie places it at 1,500,000.[3]

The term "Hitokui" was eventually reused in One Piece proper, as the epithet of Bartolomeo (though this use is strictly metaphorical, referring to Bartolomeo's abrasive personality instead of any actual cannibalism).
References
Active

5,000,000,000 to 1,000,000,000

:
Kaidou *  •  Charlotte Linlin *  •  Shanks *  •  Marshall D. Teach *  •  Monkey D. Luffy *  •  King *  •  Marco *  •  Queen *  •  Charlotte Katakuri *

1,000,000,000 to 500,000,000

:
Jack *  •  Charlotte Smoothie *  •  Charlotte Cracker *  •  Charlotte Perospero *  •  Sabo *  •  Charlotte Snack *  •  Little Oars Jr. *  •  Who's-Who *  •  Chinjao *  •  Izou *

500,000,000 to 100,000,000

:
Trafalgar Law *  •  Edward Weevil *  •  Black Maria *  •  Sasaki *  •  Eustass Kid *  •  Belo Betty *  •  Jinbe *  •  Tamago *  •  Karasu *  •  Ulti *  •  Scratchmen Apoo *  •  Capone Bege *  •  Donquixote Doflamingo *  •  Pekoms *  •  Cavendish *  •  Vinsmoke Sanji *  •  Basil Hawkins *  •  Gecko Moria *  •  Roronoa Zoro *  •  Lindbergh *  •  Charlotte Oven *  •  Charlotte Daifuku *  •  Caesar Clown *  •  Morley *  •  Page One *  •  X Drake *  •  Squard *  •  Caribou *  •  Sai *  •  Killer *  •  Usopp *  •  Bartolomeo *  •  Bellamy *  •  Coribou *  •  Orlumbus *  •  Jewelry Bonney *  •  Nico Robin *  •  Charlotte Mont-d'Or *  •  Urouge *  •  Bobbin *

100,000,000 to 50,000,000

:
Dorry *  •  Brogy *  •  Trebol *  •  Diamante *  •  Pica *  •  Vito *  •  Rockstar *  •  Franky *  •  Albion *  •  Gotti *  •  Lip Doughty *  •  Brook *  •  Chadros Higelyges *  •  Boa Hancock *  •  Daz Bonez *  •  Raccoon *  •  Gyro *  •  Doc Q *  •  Suleiman *  •  Gambia *  •  Nami *  •  Van Augur *  •  Lao G *  •  Devil Dias *  •  Senor Pink *  •  Kelly Funk *  •  Peachbeard *

50,000,000 to 10,000,000

:
Laffitte *  •  Boa Sandersonia *  •  Boa Marigold *  •  Sarquiss *  •  Shoujou *  •  Mikazuki *  •  Bobby Funk *  •  Miss Doublefinger *  •  Mr. 2 Bon Kurei *  •  Gladius *  •  Miss Goldenweek *  •  Mont Blanc Cricket *  •  Mr. 3 *  •  Foxy *  •  Charlotte Lola *  •  Demaro Black *  •  Masira *  •  Arlong *  •  Jesus Burgess *  •  Yeti Cool Brothers *  •  Krieg *  •  Lacuba *  •  Kuro *  •  Buggy *  •  Dellinger *  •  Bluejam *  •  Miss Merry Christmas *  •  Gin *  •  Machvise *
10,000,000
and under:
Mr. 5 *  •  Wellington *  •  Kuroobi *  •  Hatchan *  •  Curly Dadan *  •  Miss Valentine *  •  Sham & Buchi *  •  Chew *  •  Alvida *  •  Porchemy *  •  Mr. 4 *  •  Bepo *  •  Tony Tony Chopper *

Unknown reward

:
Benn Beckman  •  Lucky Roux  •  Yasopp  •  Zeff  •  Dracule Mihawk  •  Crocodile *  •  Monkey D. Dragon  •  Crocus  •  Yorki  •  Jozu  •  Vista  •  Silvers Rayleigh  •  Emporio Ivankov  •  Inazuma  •  Shiryu  •  Sanjuan Wolf  •  Vasco Shot  •  Catarina Devon  •  Avalo Pizarro  •  Aladine  •  Charlotte Amande
Non-canon

1,000,000,000 to 100,000,000

:
Bounty *  •  Prize *  •  Byrnndi World * ?  •  Panz Fry *  •  Chameleone *  •  Lambor Bukini *  •  Puggy *  •  Dopp *

100,000,000 to 10,000,000

:
Puzzle *  •  Gasparde *  •  Tambu *  •  Bobrad *  •  Woonan * †  •  Needless *  •  Olive *  •  Willy *  •  Bigalo *  •  Battler *  •  Wetton *  •  Bear King *
10,000,000
and under:
Eldoraggo *  •  Dick *  •  Pin Joker *  •  Golass *  •  Honey Queen *  •  Skunk One *  •  Gally *  •  Billy (Bandit) *  •  Heaby *  •  Hotdog *  •  Spiel *  •  Pandaman *  •  Boo Jack *  •  Billy (Pirate) *  •  A A A *  •  Wild Joe *  •  D.R. *  •  Hitokui *  •  Henna Oyag *  •  Koba K *  •  Usanksai *  •  Sard *  •  Tohenbok *  •  Tacobo *

Unknown reward

:
Patrick Redfield *  •  Mobu Head *  •  Red Arrows Pirates * †  •  Dareda  •  Dontacos

Others

:
Gill Bastar *  •  Mikio Itoo *