Wiki Targeted (Entertainment)
Play Sound
The Hobi Hobi no Mi is a Paramecia-class Devil Fruit that allows the user to transform living people into toys, and erase memories of their existence from others.[3] It has a secondary side effect of granting the eater eternal youth. It was eaten by Sugar.[2]
Etymology
"Hobi" comes from hobī (

ホビー

?

), the Japanese way of pronouncing the word "hobby". The word reflects on how playing with toys is a hobby.
In the Viz Manga and FUNimation adaptations, it is called the Hobby-Hobby Fruit.
Strengths and Weaknesses
Strengths
The main strength of this fruit's power is that it allows the user to transform other people or animals into toys by touching them, while also erasing people's memories of their existence.
The memory erasure effect is instantaneous, as even spectators who witness the transformation first hand instantly forget the victims' existence, instead believing the toy suddenly appeared out of nowhere.[4] No matter how famous the victim was or how close they were to other people, the victim will be completely forgotten by everyone. The toys are still able to remember their own identities, but they will not remember anyone else who has been turned into a toy as well.
Upon transforming a person into a toy, the user can create a contract with the victims, forcing them to follow every order given at that point, against their will.[3][5] Given the fact that the victims are completely forgotten, this makes them much easier to enslave as there would be no-one to remember and thus attempt to rescue them.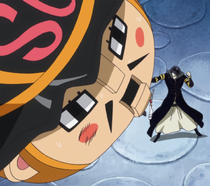 They also appear to lose their physical strength in the process, being limited to the capacities of whatever body they now may have, and any weapons they may have on them also disappear. However, their fighting knowledge is still retained, and the user can command toys who were skilled warriors in their true form to protect them. The victims who became toys are considered inorganic, being vulnerable to the likes of the Pamu Pamu no Mi,[6] as well as suffering from deterioration caused by continuous strain to their bodies, leading to easier breakdown.[7]
The user can also control what form of toy that the victim will become, such as when Sugar chose to transform all the dwarves that attacked her into small, black teddy bears. The user can also transform their victims into parts of even bigger toys in order to create powerful soldiers.
Another effect of this fruit is that it halts the user's aging process upon consumption, effectively granting eternal youth.[2] This effect applies to those turned into toys as well as they do not age beyond the point of transformation; Kyros remained the same age and state he was when first transformed, despite 10 years having passed since then.[8]
Weaknesses
Knocking the user unconscious, whether through pain or fear, will immediately cancel out all the transformation and memory modification effects.[2] Depending on the number of victims as well as their strength, the backfiring effect can be enormous since the state of being a toy and forgotten by others can fuel sentiments of rage and revenge on them. For this reason, Sugar was under constant protection by the Elite Officer, Trebol, and the purpose of Operation SOP was to exploit this in order to make the rebellion against the Donquixote Pirates easier to start.
Despite the memory erasure being powerful, it does not affect physical evidence of those transformed such as an inscribed name[9] or an engraved statue,[10] and highly perceptive individuals can pinpoint that something is amiss, even if they cannot acknowledge what it is. Mukkashimi Tower was able to remember Kyros' fighting style when Ricky demonstrated it during Block B, but not the fighter himself,[11] and Riku Doldo III felt that there was a gap in his memories, having met and conversed with several Corrida Colosseum gladiators before they were eventually transformed and thus erased from his mind.[5]
As the contract must be manually created immediately after the transformation, the toy can retain their own free will if they manage to escape Sugar before it is issued.[12] Furthermore, it was hinted that the contract can only be made once per toy created, making subsequent contracts impossible. Also, despite being bound by the contract, the toys can circumvent it via loopholes, allowing them to act against certain conditions. Esta, for example, was pestered by a toy who managed to find a way around his contract, allowing him to express his human side and Milo could still reveal his true identity to others as long as he was directly asked about it by someone else. As a way to counter those, any loophole-abusing toy would be branded as "defective" and then discarded away into an underground scrap heap.[3] If a toy was a skilled fighter while in their true form and has not been bound to a contract, they can prove to be quite troublesome for the user.
On top of that, the opponent will not transform unless the user touches them with their hand and their hand only.[13] The user has to deliberately make people they touch transform too.[14]
Another possible weakness is since the aging process stops the moment the fruit is consumed, the user's age at the moment of consumption may be taken into consideration for the rest of their lives. The current user, Sugar, is consistently underestimated due to her little girl stature despite being an adult in terms of mental age.[2]
Other than all that, the user is also susceptible to the standard Devil Fruit weaknesses.
Usage
Sugar used her powers to transform the citizens of Dressrosa and losers of the Corrida Colosseum into toys, with Trebol acting as her bodyguard and assisting her in general. This was an essential part of Donquixote Doflamingo's Underworld trade business as it not only allowed Doflamingo to erase inconvenient people from existence, but also gave his crew a continuous flux of slaves to work for them. As a central figure in those operations, Sugar was granted the role of special officer within the crew, with her safety being of utmost priority.
The toys, in turn, have all memories of their existence forgotten by any who knew of them, even of each other. As such, the power is known by its victims as the Hobi Hobi Curse (ホビホビの呪い, Hobi Hobi no Noroi?).[8]
Sugar also gained eternal youth, not having aged for twelve years since age ten.[3][2][15] This gave her a method to pass herself off as a harmless little girl, being able to approach and almost trick Monkey D. Luffy and Trafalgar D. Water Law into becoming toys if Usopp hadn't interfered.[16]
Techniques
Keiyaku (

契約

Keiyaku

?

, literally meaning "Contract"): After transforming a target into a toy, Sugar sets specific rules that the toy is physically incapable of disobeying, such as "you will not harm humans" or "you will obey all orders given to you". It has been implied that only one contract can be made per toy and making subsequent contracts are impossible. Furthermore, the contract must be made immediately after a victim is transformed, giving the user only a small window of opportunity to subjugate them, lest the victim keep their free will while they are trapped as a toy. This was first seen binding Cavendish to her command. This move is named Contract in the FUNimation dub.[17][4]
Little Black Bears (小熊玩具

Ritoru Burakku Beāzu

?

, literally meaning "Little Bear Toys"): Sugar moves her hands with great speed to touch multiple targets, transforming them into black teddy bears. This was first seen used against many Tontatta Kingdom Dwarves. This attack retains its name in the FUNimation dub.[4]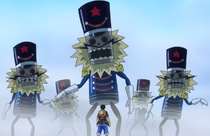 Atamawari Ningyo (

頭割り人形

Atamawari Ningyō

?

, literally meaning "Headcracker Doll"): Sugar transforms her victims into giant nutcracker dolls. Their large size comes from the fact that each one is made up of eight people: one for the head, one for the jaws, one for each arm, two for the body and one for each leg. They possess tremendous durability, as seen when one was first punched by Monkey D. Luffy and later decapitated by Cavendish, with the toy simply standing back up, picking up its head and putting it back on its neck. They also possess great biting power thanks to their enormous jaws, with one bite easily crushing Farul's skull.[18] They first appeared blocking the road past Level 2 of the royal plateau,[19] and were named when Sugar turned a soldier into one. In the FUNimation dub, this technique is called Headcracker Dolls. [20]
History
After joining the Donquixote Pirates, Donquixote Doflamingo gave Sugar and her sister Monet Devil Fruits. Sugar was given the Hobi Hobi no Mi.[21] At age 10, Sugar ate the Hobi Hobi no Mi, which ceased her aging process, remaining at such a youthful body for 12 years to come.[15]
Trivia
This Devil Fruit is one of only two known to grant multiple, completely unrelated abilities: the ability to transform people into toys, erasing memories, bounding people to contracts, and halting the user's aging process. The first is the Hito Hito no Mi that grants the three usual Zoan transformations, and the ability of human language.
The orders Sugar issues after transforming a target into a toy may be a reference to Asimov's Three Laws of Robotics.
It is currently unknown whether the user's memories of the ones that he or she turns into toys are erased, but it is known that everybody else's are, even if they watched the transformation themselves.
The Hobi Hobi no Mi is one of three known devil fruits that can create a race, in this case Toys. The others are the Kage Kage no Mi with Zombies, and the Soru Soru no Mi with Homies.
This is the second of three Devil Fruits that allow its user to use memory manipulations. The other two are the Nemu Nemu no Mi and Memo Memo no Mi.
References
Devil Fruits
Zoan

Canon (Natural)

:
Ushi Ushi no Mi, Model: Bison  •  Hito Hito no Mi  •  Tori Tori no Mi, Model: Falcon  •  Inu Inu no Mi, Model: Dachshund  •  Mogu Mogu no Mi  •  Inu Inu no Mi, Model: Jackal  •  Uma Uma no Mi  •  Neko Neko no Mi, Model: Leopard  •  Zou Zou no Mi  •  Inu Inu no Mi, Model: Wolf  •  Ushi Ushi no Mi, Model: Giraffe  •  Ryu Ryu no Mi, Model: Allosaurus  •  Hebi Hebi no Mi, Model: King Cobra  •  Hebi Hebi no Mi, Model: Anaconda  •  Tori Tori no Mi, Model: Phoenix  •  Hito Hito no Mi, Model: Daibutsu  •  Kame Kame no Mi  •  Sara Sara no Mi, Model: Axolotl  •  Mushi Mushi no Mi, Model: Kabutomushi  •  Mushi Mushi no Mi, Model: Suzumebachi  •  Zou Zou no Mi, Model: Mammoth  •  Tama Tama no Mi  •  Tori Tori no Mi, Model: Albatross  •  Inu Inu no Mi, Model: Tanuki  •  Uo Uo no Mi, Model: Seiryu  •  Inu Inu no Mi, Model: Kyubi no Kitsune  •  Hebi Hebi no Mi, Model: Yamata no Orochi  •  Ryu Ryu no Mi, Model: Spinosaurus  •  Ryu Ryu no Mi, Model: Pteranodon  •  Hito Hito no Mi, Model: Onyudo‎‎  •  Ryu Ryu no Mi, Model: Brachiosaurus  •  Ryu Ryu no Mi, Model: Pachycephalosaurus  •  Ryu Ryu no Mi, Model: Triceratops  •  Kumo Kumo no Mi, Model: Rosamygale Grauvogeli  •  Neko Neko no Mi, Model: Saber Tiger  •  Inu Inu no Mi, Model: Okuchi no Makami

Canon (Artificial)

:
Artificial Devil Fruit (SMILE)

Non-Canon

:
Tori Tori no Mi, Model: Eagle  •  Inu Inu no Mi, Model: Bake-danuki  •  Batto Batto no Mi, Model: Vampire  •  Tori Tori no Mi, Model: Nue