She-Hulk Trailer Dropped - The Loop
Play Sound
Hyoutauros[3] is a jaguar centaur and member of the Centaur Patrol Unit on Punk Hazard.[1]
Appearance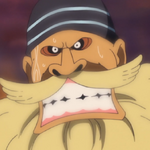 Hyoutauros is a large, muscular jaguar centaur with tan skin and a long blond beard. He has small dark eyes, a wide nose, and predominant cheekbones. He wears a striped blue cap and a jaguar print top over his left shoulder.
Personality
Hyoutauros is a bit absent-minded, as he mistook Monkey D. Luffy for a centaur (when Luffy had Kin'emon's legs attached to him).[1] He is also persistent, which was shown when he pursued Luffy, threw a boulder at him from a distance, and called to his comrades after being injured for the sake of stopping invaders.[4]
Abilities and Powers
Despite his stature, Hyoutauros is not very strong compared to Luffy, who defeated him with a single hit.[1] Regardless, he was able to regain consciousness quickly, pursue Luffy and his crew, and throw a boulder a decent distance at them, showing that he still had some strength despite being injured.[4]
Weapons
Hyoutauros fights with a metal spiked club, but it is unknown how skilled he is at using it. The club was destroyed by Luffy.[1]
History
Dressrosa Saga
Punk Hazard Arc
Hyoutauros was patrolling the Burning Lands when he came across Luffy. Mistakening him for another centaur, Hyoutauros struck up a conversation and laughed with him. Suddenly, he realized that Luffy was not a centaur and tried to attack him. However, Luffy caught his club and kicked him down, defeating the centaur.[1]
After he regained consciousness, Hyoutauros pursued the Straw Hat Pirates to the edge of the lake that separates the two halves of the island. He tried to throw a boulder at the crew's Banana Raft but barely missed. He then blew into a horn and called out to his Boss to signal that the invaders were on their way.[4]
Major Battles
Anime and Manga Differences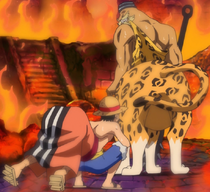 In the anime, the initial interaction between Hyoutauros and Luffy is shown, and their conversation is extended. They are shown racing each other, and Hyoutauros's realization that Luffy is an intruder is spurred by a Den Den Mushi call from Kirintauros. In the manga, the reason for his realization is unknown. Luffy also refers to the centaur as "Hyoutauros."[3]
Merchandise
Video Games
Enemy Appearances
Trivia
Hyoutauros' name seems to be a combination of the Japanese word for "leopard" (

ヒョウ

Hyō

?

) and the Japanese word for "centaur" (

ケンタウロス

Kentaurosu

?

). However, his fur pattern closer resembles a jaguar's, having central spots in the rosette markings.
References