Obi-Wan Finale - The Loop
Play Sound
A Jolly Roger, also known as a Skull Mark (ドクロのマーク, Dokuro no Māku?, often shortened to simply Mark or Skull) or a Symbol (印, Shinboru?), is the primary emblem of a pirate crew. It exists in countless variations across the world, distinguishing hundreds—if not thousands—of different crews as well as their respective property, ships, and territories.
Overview
The basic Jolly Roger consists of a human skull above "crossbones"—femurs intersecting at diagonal angles. This design may be expanded and/or modified in any number of ways, usually to reflect the appearance or interests of an individual captain (e.g. the Whitebeard Pirates' bearing Edward Newgate's distinctive mustache, or the Straw Hat Pirates' bearing Monkey D. Luffy's Straw Hat); some variations may even exclude both skull and crossbones, though these typically substitute other violent imagery.[1]
In some cases, a Jolly Roger is designed to send a message, such as the Krieg Pirates Jolly Roger displaying a pair of hourglasses so as to let people know that their time has run out.
While Jolly Rogers are most often placed on the flags and sails of pirate ships (hence "Pirate Flag" (海賊旗, Kaizoku-ki?) being another common synonym), they are also commonly worn by individual pirates, as both clothing designs and body tattoos.
Ideals and Implications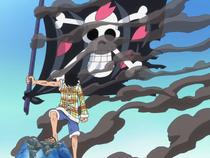 As pirates themselves can vary widely in beliefs, actions, and reputations, the Jolly Roger has been linked with many different—sometimes conflicting—ideas.
For many, the Jolly Roger is nothing more than a symbol of power, showing off a pirate crew's strength to intimidate enemies and victims. Well-established pirates—most notoriously the Four Emperors—have been known to mark entire towns and even islands with their Jolly Roger, deeming such locations their "territories" and promising protection and retribution against outside attack.
More idealistic pirates—and sympathizers—have used the mark to espouse wider principles of freedom, personal conviction, and even friendship. Monkey D. Luffy, for instance, painted a crude replica of the Straw Hat Pirates' Jolly Roger on Laboon after befriending him; on a larger scale, Fisher Tiger's Sun Pirates adopted a sun-like Jolly Roger to obscure the brands on the slaves they routinely freed.
(The Davy Back Fight goes so far as to equate the Jolly Roger with a living crewman, treating it as a fair wager for any game. Its "Articles of Defeat" stipulate that losing a Jolly Roger will forever strip its (former) crew the right to display it—and implicitly allows the winning crew to confiscate any displaying flags, sails, or other equipment.)
Different crews react differently to these ideals. For example, Wapol did not see what was so important about the pirate flag in comparison to Luffy. Donquixote Doflamingo does not like the idea of anyone tarnishing his flag's name and punished Bellamy for losing under it.
Certain individuals, groups, and even nations who understand the ideals of the Jolly Roger, or have turned against ideas of the World Government, also raise the skull and crossbones; an example of this is the former Drum Kingdom, later renamed the Sakura Kingdom, who flew Dr. Hiriluk's Jolly Roger as their national flag after the fall of Wapol.
Of course, any kind of Jolly Roger tends to be strongly opposed by the Marines and other World Government figures. Though apparently not illegal per se (as the Sakura Kingdom, which uses one as the national flag, is recognized at Levely), its presence on any ship has been known to spark immediate attacks.[3][4]
Smileys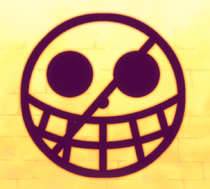 Following the introduction of Donquixote Doflamingo, a different type of Jolly Roger has appeared. Rather than the traditional skull and crossbones, the flag is a smiley of a grinning person. The significance of this type of Jolly Roger has yet to be revealed. In some cases, such as Doflamingo's flag and the Human Auctioning House, the smiley has a line painted over it.
While some of the smiling Jolly Rogers are connected to Doflamingo, another smiley has been seen on Whitebeard's life support equipment. Ace also wore two smileys on his hat, one sad and the other happy. The Kid Pirates' secondary Jolly Roger is a smiley style with a stitched-up mouth. The Heart Pirates also have a smiley style Jolly Roger, only this one has 6 branches extending outwards in all directions, as a tribute to Donquixote Rosinante.
Flags
Pirate Crews
Unnamed Pirate Crews
Other Organizations
Anime-Only Flags
Personal Jolly Rogers
A few characters sport their own personal Jolly Roger. The reasons for that differ, as do the sources of the flags. While some are exclusively shown in the SBS (members of the Straw Hat Pirates), others appear in the series without further information (like Perona's) or are part of a "what if" scenario (Igaram's nightmare picturing Nefertari Vivi as a pirate).
Straw Hat Pirates
Other Characters
Other Jolly Rogers
Different styles of Jolly Rogers shown in the volumes and covers of the manga.
Early Concepts
In the first draft of Romance Dawn, Luffy's Jolly Roger was depicted with a somewhat flatter skull, accompanied by two horizontally parallel arms instead of crossbones. This prototypical version of Luffy also made a habit of collecting flags from rival pirates he defeated.
References
External Links