Jurassic World: Dominion Dominates Fandom Wikis - The Loop
Play Sound
Kappa Style is a swordsmanship style developed by the fish-man samurai Kawamatsu. As noted by Raizo and Kikunojo, this style is Kawamatsu's signature fighting style.[1]
Overview
According to Kawamatsu, fighting against the Kappa Style is like trying to swim against raging waters which makes full use of his fish-man strength to inflict powerful blows. When wielding his Soto Muso, Kawamatsu was able to blow away several men charging against him, taking them down with a single blow.[1]
Techniques
Menamu-gawa (滅南無川

Menamu-gawa

?

, literally meaning "Destructive Hailing River): Kawamatsu lunges toward his opponents and quickly cuts them down. In the anime, he spins rapidly while charging towards his opponents, creating a small but potent horizontal whirlwind around himself while cutting them. It was first used against several Beasts Pirates guards in the Prisoner Mine.[1] Namu (

南無

?

) is a transliteration of Sanskrit नमस् (námas, literally "to bow") and it is used in Buddhist salutations or expressions of faith. In the VIZ manga, this is called River of Retribution.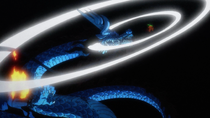 Trivia
Kawamatsu named this swordsmanship style after the mythological Kappa.
References
Abilities

Devil Fruit Based

:
Artificial Devil Fruit  •  Fuku Fuku no Mi  •  Fude Fude no Mi (Ryunosuke †  •  Kazenbo)  •  SMILE  •  Zou Zou no Mi, Model: Mammoth  •  Kibi Kibi no Mi  •  Inu Inu no Mi, Model: Tanuki  •  Wara Wara no Mi  •  Uo Uo no Mi, Model: Seiryu  •  Juku Juku no Mi  •  Maki Maki no Mi  •  Ryu Ryu no Mi, Model: Allosaurus  •  Ryu Ryu no Mi, Model: Spinosaurus  •  Ryu Ryu no Mi, Model: Pteranodon  •  Hito Hito no Mi, Model: Onyudo  •  Ryu Ryu no Mi, Model: Brachiosaurus  •  Oto Oto no Mi  •  Ryu Ryu no Mi, Model: Pachycephalosaurus  •  Ryu Ryu no Mi, Model: Triceratops  •  Kumo Kumo no Mi, Model: Rosamygale Grauvogeli  •  Neko Neko no Mi, Model: Saber Tiger  •  Hebi Hebi no Mi, Model: Yamata no Orochi  •  Inu Inu no Mi, Model: Okuchi no Makami  •  Toki Toki no Mi †  •  Mane Mane no Mi †  •  Bari Bari no Mi †  •  Tori Tori no Mi, Model: Nue ≠

Fighting Style Based

:
Haki (Ryuo)  •  Oden Two Sword Style  •  Foxfire Style  •  Ninjutsu  •  Kappa Style

Weapons

:
Shusui  •  Kitetsu (Shodai Kitetsu ?  •  Nidai Kitetsu  •  Sandai Kitetsu ‡)  •  Sukesan and Kakusan  •  Tsuji Shibai  •  Soto Muso  •  Hassaikai  •  Takeru  •  Ame no Habakiri  •  Karakuri Rasento  •  Enma ‡