She-Hulk Trailer Dropped - The Loop
Play Sound
For other uses, see Karakuri (Disambiguation).
The Karakuri Rasento is a special, mechanized sword wielded by Sasaki.[2]
Appearance
From the outside, the Karakuri Rasento looks like a broad-bladed, Japanese-style nandao with light, greenish-gray tsuka-ito forming rhombus gaps on the hilt and being gold-colored below (while in the anime having bluish-turquoise tsuka-ito), and which has an orange pair of tufted cords tied to it, as well as a gold kashira, a rectangular gold tsuba, and a saya colored the same as the tsuka-ito (green in the manga, blue in the anime).[1]
Only unsheathed does the sword show what makes it so distinct: it has a plain, single-edged blade with several smaller, blade-like flaps (each with its own wavy temper line) that are attached to one of its sides in diagonal segments. When Sasaki activates the rotating mechanism of his weapon, the flaps open up into a perpendicular position relative to the main blade before they start spinning at high speeds. In this active form, the sword ends up resembling a drill.[2]
Abilities
The Karakuri Rasento is a powerful weapon while active, since the drilling rotation produced by the sword's mechanisms naturally enhance the strength of Sasaki's attacks. With this weapon, Sasaki was able to overwhelm the General Franky in sword combat and cut its Franken in half.[3]
Sasaki can also use his sword while airborne in half-triceratops form, giving him a method of aerial combat.
Techniques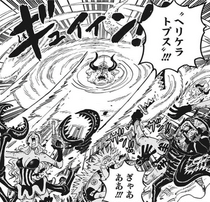 Heliceratops (

ヘリケラトプス

Herikeratopusu

?

): While airborne thanks to his propeller frills, Sasaki approaches his enemy from above and uses his Karakuri Rasento to repeatedly slice them with diagonal swings. It was first used against the Gifters of his Armored Division, who had changed sides because of Tama's ability.[4]

Trivia
Holed'em, Sasaki's fellow Headliner in the Beasts Pirates, also owns a mechanized sword, which he refers as Karakuri-to. Unlike Sasaki's, however, Holed'em's sword capabilities are unknown, although the anime gives it whip-like stretching abilities.
References
Governor-General

:
Kaidou

All-Stars

:
King  •  Queen  •  Jack

Tobiroppo

:
X Drake ‡  •  Page One  •  Ulti  •  Who's-Who  •  Black Maria  •  Sasaki

Shinuchi

:
Sheepshead ?  •  Ginrummy ?  •  Basil Hawkins  •  Holed'em  •  Speed ‡  •  Dobon  •  Babanuki ‡  •  Daifugo ‡  •  Solitaire  •  Bao Huang  •  Briscola ‡  •  Fourtricks ‡  •  Hamlet ‡  •  Mizerka ‡  •  Poker ‡

Gifters

:
Batman  •  Gazelleman ‡  •  Mouseman  •  Snakeman  •  Rabbitman  •  Sarahebi  •  Alpacaman  •  Madilloman  •  Dachoman  •  Tenjo-Sagari  •  Nure-Onna  •  Caimanlady  •  Wanyudo  •  Armored Division ‡  •  Trio the Grip ≠  •  Bearman ≠  •  Llamaman ≠  •  Tigerman ≠

Waiters

:
Massui  •  Pudos  •  Ibiributsu  •  Donannoyo  •  Uwattsura  •  Nokotti

Numbers

:
Inbi  •  Fuga  •  Zanki  •  Jaki  •  Goki  •  Rokki  •  Nangi  •  Hatcha  •  Kunyun  •  Juki

Samurai

:
Fukurokuju ‡  •  Daikoku  •  Raijin  •  Fujin  •  Hanzo  •  Chome  •  Jigoku Benten  •  Bishamon  •  Yazaemon  •  Kazekage  •  Sarutobi  •  Hotei

Other Members

:
Scotch ?  •  Scratchmen Apoo  •  Hihimaru ‡  •  Kamijiro  •  Gorishiro ‡

Subordinate Crews

:
Drake Pirates *  •  On Air Pirates  •  Hawkins Pirates

Allies and Affiliates

:
Big Mom Pirates  •  Yamato ‡  •  Kurozumi Family (Kurozumi Orochi) ‡  •  Donquixote Pirates (Donquixote Doflamingo  •  Caesar Clown) ‡  •  Bounties Pirates ≠

Ships

:
Mammoth †  •  Liberal Hind ‡  •  Stay Tune  •  Grudge Dolph

Abilities

Devil Fruit Based

:
Uo Uo no Mi, Model: Seiryu  •  Ryu Ryu no Mi, Model: Pteranodon  •  Ryu Ryu no Mi, Model: Brachiosaurus  •  Zou Zou no Mi, Model: Mammoth  •  Ryu Ryu no Mi, Model: Allosaurus ‡  •  Ryu Ryu no Mi, Model: Spinosaurus  •  Ryu Ryu no Mi, Model: Pachycephalosaurus  •  Ryu Ryu no Mi, Model: Triceratops  •  Kumo Kumo no Mi, Model: Rosamygale Grauvogeli  •  Neko Neko no Mi, Model: Saber Tiger  •  Inu Inu no Mi, Model: Okuchi no Makami ‡  •  Wara Wara no Mi  •  Oto Oto no Mi  •  SMILE

Fighting Style Based

:
Haki  •  Shuron Hakke  •  Rokushiki  •  Alpaca Kenpo  •  Ninjutsu

Weapons Based

:
Hassaikai  •  Karakuri Sword  •  Karakuri Rasento  •  Takeru ‡

Support Based

:
Koro  •  Seastone  •  Excite Bullets (Mummy  •  Ice Oni)  •  Excite Shot
Abilities

Devil Fruit Based

:
Artificial Devil Fruit  •  Fuku Fuku no Mi  •  Fude Fude no Mi (Ryunosuke †  •  Kazenbo)  •  SMILE  •  Zou Zou no Mi, Model: Mammoth  •  Kibi Kibi no Mi  •  Inu Inu no Mi, Model: Tanuki  •  Wara Wara no Mi  •  Uo Uo no Mi, Model: Seiryu  •  Juku Juku no Mi  •  Maki Maki no Mi  •  Ryu Ryu no Mi, Model: Allosaurus  •  Ryu Ryu no Mi, Model: Spinosaurus  •  Ryu Ryu no Mi, Model: Pteranodon  •  Hito Hito no Mi, Model: Onyudo  •  Ryu Ryu no Mi, Model: Brachiosaurus  •  Oto Oto no Mi  •  Ryu Ryu no Mi, Model: Pachycephalosaurus  •  Ryu Ryu no Mi, Model: Triceratops  •  Kumo Kumo no Mi, Model: Rosamygale Grauvogeli  •  Neko Neko no Mi, Model: Saber Tiger  •  Hebi Hebi no Mi, Model: Yamata no Orochi  •  Inu Inu no Mi, Model: Okuchi no Makami  •  Toki Toki no Mi †  •  Mane Mane no Mi †  •  Bari Bari no Mi †  •  Tori Tori no Mi, Model: Nue ≠

Fighting Style Based

:
Haki (Ryuo)  •  Oden Two Sword Style  •  Foxfire Style  •  Ninjutsu  •  Kappa Style

Weapons

:
Shusui  •  Kitetsu (Shodai Kitetsu ?  •  Nidai Kitetsu  •  Sandai Kitetsu ‡)  •  Sukesan and Kakusan  •  Tsuji Shibai  •  Soto Muso  •  Hassaikai  •  Takeru  •  Ame no Habakiri  •  Karakuri Rasento  •  Enma ‡