Doctor Strange in The Multiverse o Madness - The Loop
Play Sound
For other uses, see Karakuri (Disambiguation).
The Karakuri Sword is a katana wielded by Holed'em.[1]
Appearance
It is a large katana with a golden guard in the shape of a star, the scabbard is gray with a circular pattern of a lighter shade, while the handle is the same color imprinted with numerous black diamonds.[1]
Abilities
Holed'em considers it a special sword.[2]
---
The following events are Non-Canon and therefore not considered part of the Canon story.
---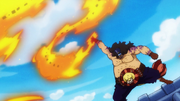 In fact it can divide into very small parts to form a whip, as well as being very durable, so much so that it can be set on fire by Kamijiro.[3]
Non-Canon Techniques
---
Concludes non-canon section.
---
References
Governor-General

:
Kaidou

All-Stars

:
King  •  Queen  •  Jack

Tobiroppo

:
X Drake ‡  •  Page One  •  Ulti  •  Who's-Who  •  Black Maria  •  Sasaki

Shinuchi

:
Sheepshead ?  •  Ginrummy ?  •  Basil Hawkins  •  Holed'em  •  Speed ‡  •  Dobon  •  Babanuki ‡  •  Daifugo ‡  •  Solitaire  •  Bao Huang  •  Briscola ‡  •  Fourtricks ‡  •  Hamlet ‡  •  Mizerka ‡  •  Poker ‡

Gifters

:
Batman  •  Gazelleman ‡  •  Mouseman  •  Snakeman  •  Rabbitman  •  Sarahebi  •  Alpacaman  •  Madilloman  •  Dachoman  •  Tenjo-Sagari  •  Nure-Onna  •  Caimanlady  •  Wanyudo  •  Armored Division ‡  •  Trio the Grip ≠  •  Bearman ≠  •  Llamaman ≠  •  Tigerman ≠

Waiters

:
Massui  •  Pudos  •  Ibiributsu  •  Donannoyo  •  Uwattsura  •  Nokotti

Numbers

:
Inbi  •  Fuga  •  Zanki  •  Jaki  •  Goki  •  Rokki  •  Nangi  •  Hatcha  •  Kunyun  •  Juki

Samurai

:
Fukurokuju ‡  •  Daikoku  •  Raijin  •  Fujin  •  Hanzo  •  Chome  •  Jigoku Benten  •  Bishamon  •  Yazaemon  •  Kazekage  •  Sarutobi  •  Hotei

Other Members

:
Scotch ?  •  Scratchmen Apoo  •  Hihimaru ‡  •  Kamijiro  •  Gorishiro ‡

Subordinate Crews

:
Drake Pirates *  •  On Air Pirates  •  Hawkins Pirates

Allies and Affiliates

:
Big Mom Pirates  •  Yamato ‡  •  Kurozumi Family (Kurozumi Orochi) ‡  •  Donquixote Pirates (Donquixote Doflamingo  •  Caesar Clown) ‡  •  Bounties Pirates ≠

Ships

:
Mammoth †  •  Liberal Hind ‡  •  Stay Tune  •  Grudge Dolph

Abilities

Devil Fruit Based

:
Uo Uo no Mi, Model: Seiryu  •  Ryu Ryu no Mi, Model: Pteranodon  •  Ryu Ryu no Mi, Model: Brachiosaurus  •  Zou Zou no Mi, Model: Mammoth  •  Ryu Ryu no Mi, Model: Allosaurus ‡  •  Ryu Ryu no Mi, Model: Spinosaurus  •  Ryu Ryu no Mi, Model: Pachycephalosaurus  •  Ryu Ryu no Mi, Model: Triceratops  •  Kumo Kumo no Mi, Model: Rosamygale Grauvogeli  •  Neko Neko no Mi, Model: Saber Tiger  •  Inu Inu no Mi, Model: Okuchi no Makami ‡  •  Wara Wara no Mi  •  Oto Oto no Mi  •  SMILE

Fighting Style Based

:
Haki  •  Shuron Hakke  •  Rokushiki  •  Alpaca Kenpo  •  Ninjutsu

Weapons Based

:
Hassaikai  •  Karakuri Sword  •  Karakuri Rasento  •  Takeru ‡

Support Based

:
Koro  •  Seastone  •  Excite Bullets (Mummy  •  Ice Oni)  •  Excite Shot