The Kurozumi Family is the family of Kurozumi Orochi, the shogun of Wano Country.[2] Several decades ago, they were one of the six ruling families in Wano, but lost their power after a failed attempt to seize the shogunate.[3] However, they successfully conspired another coup on the shogunate two decades ago, resulting in Orochi becoming shogun.[4]
Members
See also the associated category: Kurozumi Family.
[Click here to see the legend of the symbols used][Hide the legend]
 †: the character is deceased.
 *: the character's status is unknown, or show additional information. Hovering the symbol may give further details.
 ≠: the character is non-canon.
 ‡: the character is no longer part of this group. Hovering the symbol may give further details.

As the family of Wano's shogun, the Kurozumi Family has numerous allies and retainers. In addition to the Orochi Oniwabanshu and Mimawarigumi, the Kurozumi Family is closely allied with both Kaido's Beasts Pirates and the Flower Capital's leading yakuza organization, the Kyoshiro Family. Kyoshiro himself works as a money changer for the Kurozumi shogunate, though his respect for Orochi appears to be questionable at best until he completely defected along with his family during the Fire Festival.[2] The Kurozumi Family lost all connection and support when Kaido betrayed and killed the shogun, and the latter took all of his forces through an ultimatum.
History
Past
— Orochi described his family persecution to Oden.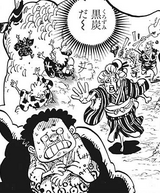 A few generations ago, the Kurozumi Family was one of the six most prominent families in Wano, with their leaders serving the Kozuki Family by ruling as daimyo over an unknown region. When the current shogun had not fathered an heir, the five daimyo became the top candidates for the position. The head of the Kurozumi Family proceeded to work toward gaining the shogunate by poisoning the other daimyo. However, his plans were foiled when the shogun suddenly fathered an heir, Kozuki Sukiyaki. At some point afterwards, the Kurozumi Family's plot was then brought to light, and they lost all of their power and possessions as their leader was sentenced to commit seppuku.[3]
In the following years, the remaining family members were hunted and lynched by a majority of Wano's extrajudical citizens out of self-righteousness and revenge for the deaths of the daimyo Kurozumi's leader had poisoned. For many years, everyone with the name Kurozumi was targeted, regardless of having any involvement in the crime, and were brutally beaten and killed.[5] Kanjuro's parents were also killed as a result of this persecution.[6] In turn, this bias persecution gave many originally innocent Kurozumi clan members such as Orochi and Kanjuro a legitimate reason to resent and hate Wano Country, having their childhood ruined and destroyed by self righteous citizens.
Several decades later, the grandson of the treasonous leader, Kurozumi Orochi, was approached by Kurozumi Higurashi, a fellow member of the family, who offered to help him become shogun, desiring power and wealth from his poverty along with a murderous obsession to take revenge on the Wano citizens, Orochi agreed. In the next 15 years, Orochi gathered up money and recruited Kanjuro to infiltrate the Kozuki Family and spy for the Kurozumi Family. Higurashi used her Devil Fruit ability to pose as Sukiyaki and declare that Orochi would temporarily succeed him.[3] Orochi succeeded Sukiyaki after his death, and he would use his position as shogun to carry out his vengeance on Wano's citizens with Kaido's support. In the following years, Orochi had weapon factories constructed througout Wano. After Oden returned from his voyage, he tried to kill Orochi only to be stopped by Kurozumi Semimaru. Orochi and Kaido then made a deal with Oden, who followed their terms for five years to spare the citizens. Once a week, Oden danced naked in the streets of the Flower Capital, enduring humiliation and scorning from the citizens. On the fifth year, Orochi captured Hyogoro and killed his wife. While Oden battled Kaido 20 years before the present day, Higurashi distracted Oden by disguising as Momonosuke, causing Oden to be defeated. Sometime later, Kaido killed Higurashi for her interference. After Oden's execution, Toki sent her son Kozuki Momonosuke forward in time, leaving Momonosuke as a rival to the Kurozumi Family for the shogunate.[2][3][7]
Sometime after Oden's death, Orochi accepted Kyoshiro into his services.[8]
20 years later, Orochi was made aware of Momonosuke's return thanks to a letter from Kanjuro.[6]
Wano Country Arc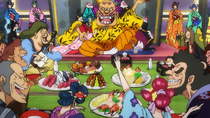 After CP-0 tried to negotiate a deal with him, Orochi held a banquet.[9] While warning his guests about the return of the Nine Red Scabbards, Orochi became enraged at Toko for laughing at him and then at Komurasaki for defending her, causing chaos at the banquet that led to Komurasaki's "death" and Orochi wanting Toko dead.[10]
Thanks to information provided by Kanjuro,[11] Orochi had all the Kozuki supporters in the Flower Capital arrested.[12] After Yasuie got himself captured to cover for the Scabbards, Orochi saw to Yasuie's execution personally.[13]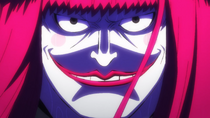 Kanjuro informed Orochi of Yasuie's ruse and all rebel activity.[14] On the night before the Fire Festival, Orochi ordered the bombings of bridges to prevent the rebels from gathering at their meeting place.[15] On the day of the Fire Festival, Orochi departed to Onigashima[16] and Kanjuro revealed his allegiance to Orochi[14] before taking Momonosuke hostage.[17]
Despite Kanjuro's efforts to warn Orochi, the rebels still gathered at the wharf of Habu, due to a mistake of Kin'emon saying to rendezvous at Tokage Port.[18] Seeing the odds stacked against him but resolving to take the young lord, Kanjuro then drew a crane on the ground and after easily evading attempts by Kawamatsu to stand in his way, Kanjuro conjured the crane and escaped on its back. As he fled, Kanjuro claimed that he would find Hiyori and dispose of her. As the Straw Hats tried to hinder him, he used his Ukiyo Yudachi Ezu technique in order to cause disarray among the alliance. He then mocked Oden and Toki's legacy as well as Momonosuke's cowardice before flying away to Onigashima.[19]
Kanjuro later delivered Momonosuke to Orochi and Kaido. With the boy in his clutches, Orochi put Momonosuke on display by tying him to a crucifix. When some of the Scabbards arrived at Onigashima's back entrance, Kanjuro confronted them and Kikunojo clashed with him. As Kaido was announcing his New Onigashima Project, he decapitated Orochi, ending his alliance with the shogun.[20] Kanjuro was defeated by his former allies, with his fate unknown.[21]

Trivia
Kurozumi literally means "black charcoal" in Japanese.
The Kurozumi Family is the second family in which all known named members are Devil Fruits users, the first being the Gorgon Sisters.

Interestingly, both families have at least one member with a model of a fruit from the Hebi Hebi no Mi series, and all members having only Paramecia and/or Zoan type abilities.
References
Wano Country
Abilities

Devil Fruit Based

:
Toki Toki no Mi †  •  Artificial Devil Fruit  •  Fuku Fuku no Mi  •  SMILE  •  Zou Zou no Mi, Model: Mammoth  •  Inu Inu no Mi, Model: Tanuki  •  Wara Wara no Mi  •  Uo Uo no Mi, Model: Seiryu  •  Juku Juku no Mi  •  Ryu Ryu no Mi, Model: Allosaurus  •  Ryu Ryu no Mi, Model: Spinosaurus  •  Ryu Ryu no Mi, Model: Pteranodon  •  Ryu Ryu no Mi, Model: Brachiosaurus  •  Ryu Ryu no Mi, Model: Pachycephalosaurus  •  Ryu Ryu no Mi, Model: Triceratops  •  Kumo Kumo no Mi, Model: Rosamygale Grauvogeli  •  Neko Neko no Mi, Model: Saber Tiger  •  Hebi Hebi no Mi, Model: Yamata no Orochi  •  Mane Mane no Mi †  •  Bari Bari no Mi †  •  Tori Tori no Mi, Model: Nue ≠

Fighting Style Based

:
Ryuo  •  Oden Nitoryu  •  Kitsunebi-ryu  •  Ninjutsu  •  Kappa-ryu

Weapons

:
Shusui  •  Kitetsu (Shodai Kitetsu *  •  Nidai Kitetsu  •  Sandai Kitetsu ‡)  •  Soto Muso  •  Enma ‡  •  Ame no Habakiri
Community content is available under
CC-BY-SA
unless otherwise noted.