Jurassic World: Dominion Dominates Fandom Wikis - The Loop
Play Sound
Lindbergh, or "Lind" for short, is a cat mink[3] and the commander of the South Army in the Revolutionary Army.[4]
Appearance
Lindbergh is a short cat mink, standing about half as tall as Belo Betty. He has somewhat dark-blue cyan colored hair, a pink nose and cream-colored fur.
He wears a light buttoned shirt, light pants, dark boots, and a dark buttoned coat. He also wears goggles over his eyes that have light-blue lenses, a top hat with another set of goggles that have orange lenses and a curved rim, jetpack on his back.[1]

Gallery
Personality
Lindbergh seems to greatly enjoy combat, as he was excited to hear about the Revolutionary Army's upcoming fight against the World Nobles. He likes to test his new weapons out in battle and was annoyed when Morley started attacking first.[1]
Abilities and Powers
As an executive of the Revolutionary Army, Lindbergh holds a very powerful position in the organization, and as the commander of the South Army, he has control over all its soldiers.[1]
Physical Abilities
As a member of the Mink Tribe, Lindbergh is a natural-born warrior and is capable of using Electro.[5] He is also able to transform into his Sulong form when he sees the full moon, though it is unknown if he can control it.[6]
Inventions
Lindbergh is a highly skilled and talented inventor, having created weapons and gadgets of advanced technology that he uses for combat.
Lindbergh has a jetpack that enables him to fly.[1]
Marksmanship
Lindbergh has expert marksmanship with his Cool Shooter, able to aim precisely only at the weapons of the Peachbeard Pirates, leaving them unharmed for the Lulusia citizens to defeat themselves.[1]
Weapons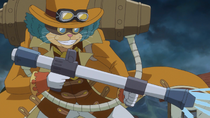 Lindbergh debuted a weapon called "Cool Shooter" (クールシューター, Kūru Shūtā?) while fighting the Peachbeard Pirates in the Lulusia Kingdom. The Cool Shooter can fire rapid bullets that freeze small sections of its targets' bodies.[7]

Haki
Further information: Haki
Lindbergh possesses the ability to use Busoshoku and Kenbunshoku Haki.[3]
History
Four Emperors Saga
Levely Arc
Lindbergh and his fellow executives Morley, Belo Betty, and Karasu went to the Lulusia Kingdom to save it from the pillaging Peachbeard Pirates. Lindbergh contacted Sabo through a Den Den Mushi, informing him that he and his fellow executives would be arriving late for Dragon's meeting. He got annoyed at Morley for attacking first, and when Betty mobilized the citizens against the pirates, Lindbergh and Karasu went to back them up. Lindbergh shot his Cool Shooter at the pirates, freezing their hands to their guns. The pirates were swiftly defeated, and the executives headed toward Momoiro Island to meet with the revolutionaries about their upcoming declaration of war on the World Nobles. Lindbergh told Karasu to turn on the loudspeaker as they left, but Karasu had forgotten.[1]
After the meeting at Momoiro Island, Lindbergh infiltrated Mary Geoise alongside Sabo, Morley, and Karasu. While hiding underground, the executives discussed about Kuma's fate as Sabo planned to rescue him.[8]
Wano Country Arc
On the fourth day of the Levely, Lindbergh and his fellow executives battled Fujitora and Ryokugyu to rescue Kuma.[9]

Major Battles
Merchandise
Video Games
Playable Appearances
Trivia
His name possibly comes from Charles Lindbergh, who was an aviator, military officer, and inventor much like Lindbergh.
Lindbergh is currently the only known named mink in the Revolutionary Army.
His hobby is board games.[10]
Lindbergh's favorite food are hamburgers, and his least favorite food are cookies.[10]
References
Active

5,000,000,000 to 1,000,000,000

:
Kaidou ?  •  Charlotte Linlin ?  •  Shanks  •  Monkey D. Luffy  •  Trafalgar Law  •  Eustass Kid  •  Marshall D. Teach  •  King  •  Marco  •  Queen  •  Charlotte Katakuri

1,000,000,000 to 500,000,000

:
Jack  •  Charlotte Smoothie  •  Charlotte Cracker  •  Charlotte Perospero  •  Sabo  •  Charlotte Snack  •  Little Oars Jr.  •  Who's-Who  •  Chinjao

500,000,000 to 100,000,000

:
Edward Weevil  •  Black Maria  •  Sasaki  •  Belo Betty  •  Jinbe  •  Tamago  •  Karasu  •  Ulti  •  Scratchmen Apoo  •  Capone Bege  •  Donquixote Doflamingo  •  Pekoms  •  Cavendish  •  Sanji  •  Basil Hawkins ?  •  Gecko Moria  •  Roronoa Zoro  •  Lindbergh  •  Charlotte Oven  •  Charlotte Daifuku  •  Caesar Clown  •  Bartholomew Kuma  •  Morley  •  Page One  •  X Drake  •  Squard  •  Caribou  •  Sai  •  Killer  •  Usopp  •  Bartolomeo  •  Bellamy  •  Coribou  •  Orlumbus  •  Jewelry Bonney  •  Nico Robin  •  Charlotte Mont-d'Or  •  Urouge  •  Bobbin

100,000,000 to 50,000,000

:
Dorry  •  Brogy  •  Kinoko  •  Trebol  •  Diamante  •  Pica  •  Vito  •  Rockstar  •  Franky  •  Albion  •  Gotti  •  Lip Doughty  •  Brook  •  Chadros Higelyges  •  Boa Hancock  •  Daz Bonez  •  Raccoon  •  Gyro  •  Doc Q  •  Suleiman  •  Gambia  •  Nami  •  Van Augur  •  Lao G  •  Devil Dias  •  Senor Pink  •  Kelly Funk  •  Peachbeard

50,000,000 to 10,000,000

:
Laffitte  •  Boa Sandersonia  •  Boa Marigold  •  Sarquiss  •  Shoujou  •  Mikazuki  •  Bobby Funk  •  Zala  •  Bentham  •  Gladius  •  Marianne  •  Mont Blanc Cricket  •  Galdino  •  Foxy  •  Charlotte Lola  •  Demaro Black  •  Masira  •  Arlong  •  Jesus Burgess  •  Yeti Cool Brothers  •  Krieg  •  Lacuba  •  Kuro  •  Buggy  •  Dellinger  •  Bluejam  •  Drophy  •  Gin  •  Machvise
10,000,000
and under:
Mr. 5  •  Wellington  •  Kuroobi  •  Hatchan  •  Curly Dadan  •  Mikita  •  Sham & Buchi  •  Chew  •  Alvida  •  Porchemy  •  Mr. 4  •  Bepo  •  Tony Tony Chopper

Unknown reward

:
Benn Beckman  •  Lucky Roux  •  Yasopp  •  Zeff  •  Dracule Mihawk  •  Crocodile *  •  Monkey D. Dragon  •  Crocus  •  Yorki  •  Jozu  •  Vista  •  Silvers Rayleigh  •  Emporio Ivankov  •  Inazuma  •  Shiryu  •  Sanjuan Wolf  •  Vasco Shot  •  Catarina Devon  •  Avalo Pizarro  •  Aladine  •  Charlotte Amande
Non-canon

1,000,000,000 to 100,000,000

:
Bounty  •  Prize  •  Byrnndi World ?  •  Panz Fry  •  Chameleone  •  Lambor Bukini  •  Puggy  •  Dopp

100,000,000 to 10,000,000

:
Puzzle  •  Gasparde  •  Tambu  •  Bobrad  •  Woonan †  •  Needless  •  Olive  •  Willy  •  Bigalo  •  Battler  •  Wetton  •  Bear King
10,000,000
and under:
Eldoraggo  •  Dick  •  Pin Joker  •  Golass  •  Honey Queen  •  Skunk One  •  Gally  •  Billy  •  Heaby  •  Hotdog  •  Spiel  •  Pandaman  •  Boo Jack  •  Billy  •  A A A  •  Wild Joe  •  D.R.  •  Hitokui  •  Henna Oyag  •  Koba K  •  Usanksai  •  Sard  •  Tohenbok  •  Tacobo

Unknown reward

:
Patrick Redfield  •  Mobu Head  •  Red Arrows Pirates †  •  Dareda  •  Dontacos

Others

:
Gill Bastar  •  Mikio Itoo