Maidy[3] is a servant of the Nefertari Family, working as a lady's maid in Alubarna Palace.[2]
Appearance
Maidy is a middle-aged woman with short brown hair and dark eyes. She wears a purple short-sleeved dress with white frills around the neck and sleeves, a white hat with an intricate cream-colored design on the front, and round cream-colored earrings.[2]
After the timeskip, her hair is longer and she wears a bracelet on her right wrist.[4]
Personality
Maidy appears to be a diligent worker and is often seen cheerfully assisting Terracotta in her duties.[2]
History
Arabasta Saga
Arabasta Arc
Maidy and Terracotta helped Vivi get dressed the morning of the speech she was to give at her coming-of-age ceremony, with Maidy doing Vivi's makeup and hair. She commented on the fact that the speech was going to be broadcast around the whole country via Den Den Mushi.[2]
Fish-Man Island Saga
From the Decks of the World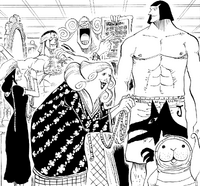 In preparation for the upcoming Levely, Maidy and Terracotta took Pell and Chaka's measurements to fit them for new clothes.[4]

References