Jurassic World: Dominion Dominates Fandom Wikis - The Loop
Play Sound
Massui[2] is a Waiter in the Beasts Pirates.[1]
Appearance
Massui is a muscular man with tan skin and a square jaw. He has a scar on the right side of his neck. Massui wears a dark blue cape with a brown fur collar, blue pants, and a brown belt with a gold and green buckle. He also wears a mask with bat ears on it, as he is not yet a Gifter.[1]
Personality
Massui has the desire of becoming a Gifter someday, which is why he wears a bat ear mask since he wants to get used to the look of a SMILE user.[2]
Massui is as cruel as his crewmates, wanting to capture Luffy and make him a slave. He also looks down on comrades who cannot complete tasks quickly and commented that his bodyguard Hihimaru's reputation had sunk for not finishing off one Komainu.[1]
Abilities and Powers
Weapons
Massui uses a tranquilizer rifle with a scope to line up his shots.[2] He was skilled enough to perfectly aim at Luffy's head while riding on a moving Madsaurus, but he was not fast enough to defeat the pirate.[1]
History
Four Emperors Saga
Wano Country Arc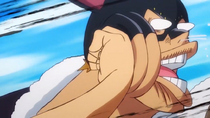 Massui and another Waiter captured Tama and put her in a bag after she had mentioned the Kozuki Family to them. The two followed their baboon who was chasing down Komachiyo. When they reached Kuri Beach, they noticed a the Thousand Sunny, so Massui reported to Basil Hawkins that a ship had illegally entered the country with one passenger. He aimed his rifle to snipe Monkey D. Luffy, but Luffy had already sensed him and punched Massui from afar, knocking him out. He laid unconscious on the beach while Luffy and Tama defeated the other Waiter and tamed Hihimaru.[1]
Major Battles
Trivia
His name is a pun on masui-jū (麻酔銃), meaning "tranquilizer gun", which is a reference to his preferred weapon.
References
Governor-General

:
Kaidou ?

All-Stars

:
King  •  Queen  •  Jack

Tobiroppo

:
X Drake ‡  •  Page One  •  Ulti  •  Who's-Who  •  Black Maria  •  Sasaki

Shinuchi

:
Sheepshead ?  •  Ginrummy ?  •  Basil Hawkins ?  •  Holed'em  •  Speed ‡  •  Dobon  •  Babanuki ‡  •  Daifugo ‡  •  Solitaire  •  Bao Huang  •  Briscola ‡  •  Fourtricks ‡  •  Hamlet ‡  •  Mizerka ‡  •  Poker ‡

Gifters

:
Batman  •  Gazelleman ‡  •  Mouseman  •  Snakeman  •  Rabbitman  •  Sarahebi  •  Alpacaman  •  Madilloman  •  Dachoman  •  Tenjo-Sagari  •  Nure-Onna  •  Caimanlady  •  Wanyudo  •  Armored Division ‡  •  Trio the Grip ≠  •  Bearman ≠  •  Llamaman ≠  •  Tigerman ≠

Waiters

:
Massui  •  Pudos  •  Ibiributsu  •  Donannoyo  •  Uwattsura  •  Nokotti

Numbers

:
Inbi  •  Fuga  •  Zanki  •  Jaki  •  Goki  •  Rokki  •  Nangi  •  Hatcha  •  Kunyun  •  Juki

Samurai

:
Fukurokuju ‡  •  Daikoku  •  Raijin  •  Fujin  •  Hanzo  •  Chome  •  Jigoku Benten  •  Bishamon  •  Yazaemon  •  Kazekage  •  Sarutobi  •  Hotei  •  Jizo

Other Members

:
Scotch ?  •  Scratchmen Apoo  •  Hihimaru ‡  •  Kamijiro  •  Gorishiro ‡

Subordinate Crews

:
Drake Pirates *  •  On Air Pirates  •  Hawkins Pirates

Allies and Affiliates

:
Big Mom Pirates  •  Yamato ‡  •  Kurozumi Family (Kurozumi Orochi) ‡  •  Donquixote Pirates (Donquixote Doflamingo  •  Caesar Clown) ‡  •  Bounties Pirates ≠

Ships

:
Mammoth †  •  Liberal Hind ‡  •  Stay Tune  •  Grudge Dolph

Abilities

Devil Fruit Based

:
Uo Uo no Mi, Model: Seiryu  •  Ryu Ryu no Mi, Model: Pteranodon  •  Ryu Ryu no Mi, Model: Brachiosaurus  •  Zou Zou no Mi, Model: Mammoth  •  Ryu Ryu no Mi, Model: Allosaurus ‡  •  Ryu Ryu no Mi, Model: Spinosaurus  •  Ryu Ryu no Mi, Model: Pachycephalosaurus  •  Ryu Ryu no Mi, Model: Triceratops  •  Kumo Kumo no Mi, Model: Rosamygale Grauvogeli  •  Neko Neko no Mi, Model: Saber Tiger  •  Inu Inu no Mi, Model: Okuchi no Makami ‡  •  Wara Wara no Mi  •  Oto Oto no Mi  •  SMILE

Fighting Style Based

:
Haki  •  Shuron Hakke  •  Rokushiki  •  Alpaca Kenpo  •  Ninjutsu

Weapons Based

:
Hassaikai  •  Karakuri Sword  •  Karakuri Rasento  •  Takeru ‡

Support Based

:
Koro  •  Seastone  •  Excite Bullets (Mummy  •  Ice Oni)  •  Excite Shot
Abilities

Devil Fruit Based

:
Artificial Devil Fruit  •  Fuku Fuku no Mi  •  Fude Fude no Mi (Ryunosuke †  •  Kazenbo)  •  SMILE  •  Zou Zou no Mi, Model: Mammoth  •  Kibi Kibi no Mi  •  Inu Inu no Mi, Model: Tanuki  •  Wara Wara no Mi  •  Uo Uo no Mi, Model: Seiryu  •  Juku Juku no Mi  •  Maki Maki no Mi  •  Ryu Ryu no Mi, Model: Allosaurus  •  Ryu Ryu no Mi, Model: Spinosaurus  •  Ryu Ryu no Mi, Model: Pteranodon  •  Hito Hito no Mi, Model: Onyudo  •  Ryu Ryu no Mi, Model: Brachiosaurus  •  Oto Oto no Mi  •  Ryu Ryu no Mi, Model: Pachycephalosaurus  •  Ryu Ryu no Mi, Model: Triceratops  •  Kumo Kumo no Mi, Model: Rosamygale Grauvogeli  •  Neko Neko no Mi, Model: Saber Tiger  •  Hebi Hebi no Mi, Model: Yamata no Orochi  •  Inu Inu no Mi, Model: Okuchi no Makami  •  Toki Toki no Mi †  •  Mane Mane no Mi †  •  Bari Bari no Mi †  •  Tori Tori no Mi, Model: Nue ≠

Fighting Style Based

:
Haki (Ryuo)  •  Oden Two Sword Style  •  Foxfire Style  •  Ninjutsu  •  Kappa Style

Weapons

:
Shusui  •  Kitetsu (Shodai Kitetsu ?  •  Nidai Kitetsu  •  Sandai Kitetsu ‡)  •  Sukesan and Kakusan  •  Tsuji Shibai  •  Soto Muso  •  Hassaikai  •  Takeru  •  Ame no Habakiri  •  Karakuri Rasento  •  Enma ‡