Obi-Wan Finale - The Loop
Play Sound
Meito is a term for a blade which has been given a name. These blades are typically quite famous and powerful and are ranked by the grade of their quality.[1] While most Meito are swords, a great variety of blades fall under this term, as well as non-bladed melee weapons including polearms and clubs.[2]
Overview
While the term "Meito" only really indicates that a blade has a name, it generally appears that a blade being recognized by a name is indicative of its high quality and prestige, resulting in them being quite valuable, with the Grade Sword Sandai Kitetsu being valued at

1,000,000 and the Great Grade Sword Wado Ichimonji valued at

10,000,000[1] In contrast to unnamed mass-produced bladed weapons, Meito tend to be uniquely designed and individually created by skilled swordsmiths. Because of this, Meito are generally wielded by powerful combatants skilled in the ways of the blade, who bring fame to their blade along with themselves; it is said that a blade chooses its wielder. Blade wielding skill is an absolute necessity with the highest-graded Meito, which are known for being notoriously difficult to wield with some being labeled as "cursed".[3][4][2]
There are currently four known grades of Meito. Supreme Grade, of which there are 12; Great Grade, of which there are 21; Skillful Grade of which there are 50; and Grade, of which there is a currently unknown number. Some Meito are ungraded, but still renowned.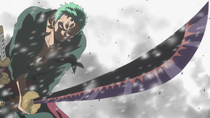 There is a circumstance where, after countless battles, a sword's blade will permanently turn black, thus it will become what is known as a "Black Blade" (黒刀, Kokutō?). Black Blades are stronger than ordinary swords and are well known for their impressive resilience; a dinosaur could step on one and it would not bend at all.[5] It has been indicated that Busoshoku Haki is necessary to turn a blade black, given that a Black Blade has the same coloration as weapons imbued with the Haki, but it is uncertain if there are other steps needed to achieve the effect permanently.[2] It is said that should a swordsman be able to turn their blade into a Black Blade, its grade would increase by a rank.[6]

Meito
See also the associated category: Meito.
12 Supreme Grade Blades
The twelve Supreme Grade Blades (最上大業物, Saijō Ō Wazamono?)[1] are the twelve highest-quality blades in the world. The blades have displayed incredible feats through their usage, such as being exposed to the harshest elements without losing their edge and slashing through enormous structures.
21 Great Grade Blades
The twenty-one Great Grade Blades (大業物, Ō Wazamono?)[1] are among the highest-quality blades in the world, second only to the twelve Supreme Grade swords. These blades are well known for their incredible power and outstanding balance in strength, sharpness, and durability. In the hands of capable swordsmen, they can even stand up to the Supreme Grade Swords in combat.
50 Skillful Grade Blades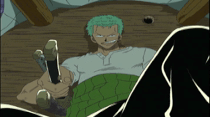 The fifty Skillful Grade Blades (良業物, Ryō Wazamono?)[1] are blades of a very high quality, outclassed only by the twelve Supreme Grade swords and the twenty-one Great Grade swords. These swords yield exceptional strength, sharpness, durability, with their light weight being a key factor for speed-based swordsmanship.
Grade Blades
The Grade Blades (業物, Wazamono?)[1] are blades of a high quality, outclassed only by the twelve Supreme Grade Swords, twenty-one Great Grade Swords, and fifty Skillful Grade Swords. The total number of Grade Swords is unknown. They are the lowest classification for a Meito. However, despite their lower quality, they still yield far superior attributes and strength than regular blades, such as exceptional resilience and cutting power against sturdy foes.
Unknown Grade
Names Unknown
These swords are confirmed to be Meito, but their names are currently unknown.[2]
Ungraded Blades
These blades are not recognized for any special quality, but this does not mean they are not powerful weapons; it has been stated that the kanabo Hassaikai, though ungraded, would be renowned as legendary for the many feats Kaidou has performed with it.[10]
Trivia
References