Doctor Strange in The Multiverse o Madness - The Loop
Play Sound
Mikazuki[3] is the captain and only named member of the Big Helmet Pirates. He has a bounty of

36,000,000.[1]
Appearance
He wears a large spherical helmet similar to Kokoro's, apart from the fact that it has a crescent moon on it. He also has large canine teeth resembling a demon. His facial appearance is that of a middle aged man and his hair color is white.[1]
Gallery
Personality
He was shown to be arrogant, demanding and ungrateful when he refused to pay for his ship repairs, because of the length of time it took to repair it. He tried to threaten the shipwrights with brute force when they tried to make him pay.[1]
Abilities and Powers
With a bounty of

36,000,000 and having made it through the Grand Line to Water 7, Mikazuki is a considerable pirate by the first half of the Grand Line's standards. However, he stood no chance whatsoever against the workers of Galley-La.[1]
Weapons
Mikazuki used a sword to threaten Paulie.[1]
History
Water 7 Arc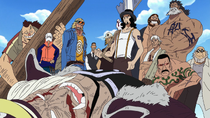 Mikazuki first appeared at Galley-La Dock 1 when the company had finished their work on his ship. Although he said that he was grateful that they had repaired his ship, he claimed that the repairs were overpriced, and as such, refused to pay the fees. He then threatened Paulie with his sword and thanked him for the free repairs. Paulie then warned him that he should be careful of who he was threatening, and the shipwrights swiftly knocked Mikazuki and his crew out.[1]

---
The following events are Non-Canon and therefore not considered part of the Canon story.
---
Post-Enies Lobby Arc
Although he had been defeated by Galley-La, Mikazuki was not handed over to the authorities to collect the bounty for the repair fees. Instead, he was forced to work under the loansharks to earn enough money to pay for the repairs. As such, when the loansharks encountered Zoro during their first attempt to collect money from the orphanage's Aunt, they hired Mikazuki to act as their fighter in case they would encounter him again.
During the loansharks second attempt, Mikazuki was ordered to threaten Aunt and make her pay. He and Aunt engaged in a battle, but were then interrupted by Zoro. Seeing the swordsman, Mikazuki attempted to attack him, but was easily blown away by Zoro's Nanajuni Pound Ho.[4]
---
The following events are Non-Canon and therefore not considered part of the Canon story.
---
Major Battles
Filler Battles
Trivia
"Mikazuki" (

三日月

Mikazuki

?

) is Japanese for "crescent moon".
References
Active

5,000,000,000 to 1,000,000,000

:
Kaidou *  •  Charlotte Linlin *  •  Shanks *  •  Marshall D. Teach *  •  Monkey D. Luffy *  •  King *  •  Marco *  •  Queen *  •  Charlotte Katakuri *

1,000,000,000 to 500,000,000

:
Jack *  •  Charlotte Smoothie *  •  Charlotte Cracker *  •  Charlotte Perospero *  •  Sabo *  •  Charlotte Snack *  •  Little Oars Jr. *  •  Who's-Who *  •  Chinjao *  •  Izou *

500,000,000 to 100,000,000

:
Trafalgar Law *  •  Edward Weevil *  •  Black Maria *  •  Sasaki *  •  Eustass Kid *  •  Belo Betty *  •  Jinbe *  •  Tamago *  •  Karasu *  •  Ulti *  •  Scratchmen Apoo *  •  Capone Bege *  •  Donquixote Doflamingo *  •  Pekoms *  •  Cavendish *  •  Vinsmoke Sanji *  •  Basil Hawkins *  •  Gecko Moria *  •  Roronoa Zoro *  •  Lindbergh *  •  Charlotte Oven *  •  Charlotte Daifuku *  •  Caesar Clown *  •  Morley *  •  Page One *  •  X Drake *  •  Squard *  •  Caribou *  •  Sai *  •  Killer *  •  Usopp *  •  Bartolomeo *  •  Bellamy *  •  Coribou *  •  Orlumbus *  •  Jewelry Bonney *  •  Nico Robin *  •  Charlotte Mont-d'Or *  •  Urouge *  •  Bobbin *

100,000,000 to 50,000,000

:
Dorry *  •  Brogy *  •  Trebol *  •  Diamante *  •  Pica *  •  Vito *  •  Rockstar *  •  Franky *  •  Albion *  •  Gotti *  •  Lip Doughty *  •  Brook *  •  Chadros Higelyges *  •  Boa Hancock *  •  Daz Bonez *  •  Raccoon *  •  Gyro *  •  Doc Q *  •  Suleiman *  •  Gambia *  •  Nami *  •  Van Augur *  •  Lao G *  •  Devil Dias *  •  Senor Pink *  •  Kelly Funk *  •  Peachbeard *

50,000,000 to 10,000,000

:
Laffitte *  •  Boa Sandersonia *  •  Boa Marigold *  •  Sarquiss *  •  Shoujou *  •  Mikazuki *  •  Bobby Funk *  •  Miss Doublefinger *  •  Mr. 2 Bon Kurei *  •  Gladius *  •  Miss Goldenweek *  •  Mont Blanc Cricket *  •  Mr. 3 *  •  Foxy *  •  Charlotte Lola *  •  Demaro Black *  •  Masira *  •  Arlong *  •  Jesus Burgess *  •  Yeti Cool Brothers *  •  Krieg *  •  Lacuba *  •  Kuro *  •  Buggy *  •  Dellinger *  •  Bluejam *  •  Miss Merry Christmas *  •  Gin *  •  Machvise *
10,000,000
and under:
Mr. 5 *  •  Wellington *  •  Kuroobi *  •  Hatchan *  •  Curly Dadan *  •  Miss Valentine *  •  Sham & Buchi *  •  Chew *  •  Alvida *  •  Porchemy *  •  Mr. 4 *  •  Bepo *  •  Tony Tony Chopper *

Unknown reward

:
Benn Beckman  •  Lucky Roux  •  Yasopp  •  Zeff  •  Dracule Mihawk  •  Crocodile *  •  Monkey D. Dragon  •  Crocus  •  Yorki  •  Jozu  •  Vista  •  Silvers Rayleigh  •  Emporio Ivankov  •  Inazuma  •  Shiryu  •  Sanjuan Wolf  •  Vasco Shot  •  Catarina Devon  •  Avalo Pizarro  •  Aladine  •  Charlotte Amande
Non-canon

1,000,000,000 to 100,000,000

:
Bounty *  •  Prize *  •  Byrnndi World * ?  •  Panz Fry *  •  Chameleone *  •  Lambor Bukini *  •  Puggy *  •  Dopp *

100,000,000 to 10,000,000

:
Puzzle *  •  Gasparde *  •  Tambu *  •  Bobrad *  •  Woonan * †  •  Needless *  •  Olive *  •  Willy *  •  Bigalo *  •  Battler *  •  Wetton *  •  Bear King *
10,000,000
and under:
Eldoraggo *  •  Dick *  •  Pin Joker *  •  Golass *  •  Honey Queen *  •  Skunk One *  •  Gally *  •  Billy (Bandit) *  •  Heaby *  •  Hotdog *  •  Spiel *  •  Pandaman *  •  Boo Jack *  •  Billy (Pirate) *  •  A A A *  •  Wild Joe *  •  D.R. *  •  Hitokui *  •  Henna Oyag *  •  Koba K *  •  Usanksai *  •  Sard *  •  Tohenbok *  •  Tacobo *

Unknown reward

:
Patrick Redfield *  •  Mobu Head *  •  Red Arrows Pirates * †  •  Dareda  •  Dontacos

Others

:
Gill Bastar *  •  Mikio Itoo *