Mobambi is a character that appears in the third movie, and is currently the king of Crown Island.[1]
Appearance
Before he came to the island, he once wore a blue shirt and pants. He has red hair with a ponytail sticking up and a scar on his chest.
He wears a beige loincloth. He also has on an armband and a locket with a picture of his father inside.[1]
Personality
Mobambi is a very caring boy, worrying when Chopper sacrificed himself. He is also quite faithful, trying to rally the rest of the island's citizens to save their new king.
Mobambi used to be quite afraid of fighting, due to an attack that killed his father and gave him the scar on his chest. He developed bravery when Chopper was injured by Battler and fought against him.[1]
Relationships
M. Danbo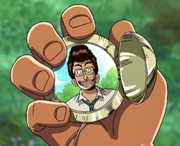 Mobambi seems to love his dad and he was deeply sad when he was killed. His dad also cared about him since he wanted to protect his son, even if he had to sacrifice himself.

Abilities and Powers
Mobambi is quite weak, barely being able to injure Battler in their fight. He seems to fight primarily with his fists.[1]
History
He is a young boy who is the sole human resident of the animal-inhabited Crown Island. His father, a zoologist, was killed by a pirate (later revealed to be Count Battler who also gave Mobambi the scar on his chest and left him for dead) and he was washed ashore where the animal king, Kirin Lion, took him in and raised him like his own son. Mobambi regards Kirin Lion as a father figure. His best friend is Karasuke.[1]
Years later, Kirin Lion had passed on and Mobambi believes Tony Tony Chopper, who fell from a cliff, to be their new animal king, thinking he fell from the heavens. Even though it is eventually revealed that Chopper was not to be the king, Mobambi tries to help him regardless, even when the other animals abandon Chopper. It is through this act that he is dubbed the new animal king of Crown Island when Battler is defeated.

Major Battles
References
Straw Hat Pirates' Allies
Non-Canon Allies

One Shots

:
Silk  •  Ann and Balloon  •  Dragon Team  •  Toriko and his allies

Specials

:
Medaka, Herring, and Skid  •  Meroie and Hamu  •  Maccus, Bonney, Amanda, Milia, and Holy  •  Randolph Theater members  •  Toriko and his allies  •  Dragon Team  •  Diego and Regis  •  Foxy Pirates  •  Kinoconda  •  Myskina Olga, Myskina Acier, Elizabeth, and Chavez

Movies

:
Ganzo and Tobio  •  Akisu and Borodo  •  Mobambi and Karasuke  •  Adelle and Shuraiya Bascùd  •  Maya  •  Izaya  •  Lacos  •  Brief  •  Tearoom Pirates  •  Roba and Gonzo  •  Billy  •  Schneider and Buzz  •  Kuzan  •  Mobston and Gari  •  Z  •  Carina  •  Raise Max  •  Rikka  •  Worst Generation's Super Rookies  •  Smoker  •  Buggy  •  Boa Hancock  •  Sabo  •  Crocodile

Filler Arcs

:
Apis and Ryu  •  Tajio  •  Kodama  •  Zenny Pirates  •  Pumpkin Pirates  •  Mekao and Kobato  •  Foxy, Porche, and Hamburg  •  Phoenix Pirates  •  Sayo, Lina, and Nukky  •  Yoko and Boss  •  Little East Blue residents  •  Panz Fry and Lily Enstomach  •  Sea Animal Pirates  •  Desire

Games

:
Gejitsu Pirates  •  Atoli and Dias  •  Coe, Otsu, Hey, Tay, and Wadatsumi (Non-Canon)  •  Popora  •  Gaburi  •  Pato  •  Yadoya  •  Jeanne  •  John (Non-Canon)

Events

:
Dragon Team and Astro Boy and his team  •  Dragon Team and Kankichi Ryotsu  •  Hakuto  •  Toratsugu  •  Igaram Jr.  •  Ann  •  Lance and Taylor
Community content is available under
CC-BY-SA
unless otherwise noted.