Ahoy! This here is the 1st Featured Article.

"Monkey D. Luffy" has been featured, meaning it was chosen as an article of interest.
Past
Shanks and the Straw Hat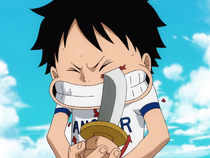 Luffy was born in Foosha Village in the East Blue, to his father Monkey D Dragon and an unknown woman. When he was seven years old,[26] he met and befriended a crew of pirates led by a captain named Red Haired Shanks. Luffy was inspired to become a pirate by Shanks and his crew.[27] He once stabbed himself with a knife under his left eye to prove himself to Shanks so that he could join them in their adventures.[26] However, later, Shanks refused to bring Luffy, stating that he was still too young to join Shanks' crew.[28]
During a scene with Shanks and Higuma, a local mountain bandit that insulted Shanks and his crew, Luffy accidentally ate a Devil Fruit known as the Gomu Gomu no Mi and unwittingly turned himself into a rubber human. Initially, this situation affected Luffy badly as it means he will never be able to swim again, which is a great weakness to anyone who wishes to journey the seas. This, however, does not deter Luffy's dream and he continued aspiring to become a pirate.[29]
Later, Luffy stood up to Higuma on behalf of Shanks. However, he was easily defeated and became a hostage. His captors were easily defeated by the Red-Haired Pirates, but the bandit leader Higuma had fled out to sea with Luffy.[30]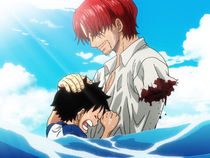 While out at sea, Higuma threw Luffy in the ocean, only to be attacked by a sea king. Moments later while he was laughing at Luffy, Higuma was eaten. Though Shanks managed to save Luffy, he paid a high price: his left arm was lost to the sea king.[31]
Shortly after, Shanks set sail along with his crew, but before leaving, he and Luffy promised each other that one day Luffy will surpass Shanks and become the Pirate King. Shanks then leaves Luffy his straw hat as a parting gift, telling him to return it once he surpasses him.[32]
Luffy's New Family: Bandits and Brothers
Sometime later, Monkey D. Garp took Luffy into the care of Curly Dadan, which was the first time Luffy meets Portgas D. Ace. Garp took him to Dadan, while Luffy refused. Garp picked him up, knocked on the door and put him down. He then got spit on by the newly arrived Ace, and the two angrily glare at each other.[33]
Thinking back about the recent incident with Higuma, he told Dadan and the rest of the bandits that he hates bandits. Dadan bitterly scolded him for saying something like that, telling him he can stay at their hideout or starve to death. Luffy took a look at the meat-eating Ace, asking if he can have a piece. He then got scolded by Dadan, telling him he can do fine with just rice and water, but he saw Ace leave and followed him. Luffy said to Ace that he was not angry at Ace for spitting on him (since it was not something to get worked up about, and he is also thinking about Shank's behavior) and wanted to be friends. Ace responded by knocking a tree down at Luffy. Luffy then followed Ace across a bridge. Ace noticed him and knocked him off of the bridge. Luffy returned to Dadan's house a week later and told Dadan that he was being chased by wolves and fell off a cliff. Luffy got sent to bed without any treatment for his wounds. The next day, Ace went out again and Luffy followed, wanting to start a friendship, only to get shunned by Ace. After three months of persistently trying to follow Ace, Luffy eventually came across the Gray Terminal. Luffy overheard Ace and Sabo's conversation about buying a pirate ship. Luffy showed up to them and said that he wanted to be a pirate too. Ace and Sabo then tied Luffy to a tree and decided that they should kill Luffy to keep their secret safe. While Luffy panicked, Ace and Sabo have a hard time deciding who should kill Luffy since both Ace and Sabo have never killed anyone before. They heard someone coming and they untied Luffy and hid in the bushes. Porchemy of the Bluejam Pirates arrived searching for stolen money. Luffy then wandered off and got caught by Porchemy. Luffy yelled out Ace's name. Porchemy, recognizing that name, took Luffy away for interrogation.[34]
Porchemy then dragged Luffy into a small house and tied him up. Luffy stated that he was not going to say anything. Porchemy then hit Luffy with a giant hammer, and discovered Luffy's Devil Fruit powers that prevent him from getting harmed by the hammer. Porchemy then used spiked gloves that are effective against Luffy. However, Luffy refused to yield. Porchemy lost his patience, drew a sword and was about to kill Luffy when Ace and Sabo arrived. They cut Luffy loose and defeated Porchemy. Out in the woods, Ace asked Luffy why he did not tell Porchemy about the whereabouts of Ace and Sabo's treasure. Luffy then told Ace that he wanted a friend, that he had no parents who can take care of him, and most importantly, that he did not want to be alone. After that, Ace and Sabo started to trust Luffy and he joined the two and the trio started making a name for themselves.[35][36]
Later on, Luffy was shown fighting Ace with the former losing (for the 50th time). After that, along with Sabo, they went to hunt gators, look for trash in the Gray Terminal, and eat and run. However, while they were running from the restaurant, they saw a man that called out Sabo's name. After they escape, Ace and Luffy started questioning him by choking him and forcing him to tell them who the man was. Sabo said that the man who called out to him was his dad, a noble. He told Ace and Luffy that at the time when he was a noble, even though he had parents, he was still lonely. He later joined Ace and Luffy when they shout out their dreams, and said that he wanted to draw a map of the world. However, the trio soon realized that they could not agree to be subordinates of the brother who might become captain on their pirate ship. Ace came up with an idea, telling Luffy and Sabo that they all could become brothers by exchanging sake that he stole from Dadan. As long as they have this bond, it will not matter where they are.[37] The trio had many misadventures together.[38]
The Sabo Incident
One day, the Bluejam Pirates captured the trio, and Bluejam told the trio that Sabo's father hired Captain Bluejam to get rid of Ace and Luffy and bring Sabo back to him. Sabo pleaded with his father to stop hurting his brothers. He said that he will do whatever his father commanded him to do if they stop hurting Ace and Luffy. Ace and Luffy protested, but his father agreed to the deal and ordered Sabo to come home. Sabo agreed to the deal. As he walked away, Ace and Luffy begged him to stay. As Sabo walked away with his father, tears were running down his face.[39]
Luffy and Ace were carried away by the pirates, and they agreed to a deal that the Bluejam Pirates will let them go if they carried cargo to a marked location in Gray Terminal.[40] After a nights rest, Bluejam later revealed to Luffy and Ace that the cargo that they had carried was oil and gunpowder and that the Gray Terminal will be engulfed with flames. Luffy and Ace reacted angrily but were quickly apprehended by the pirates while Bluejam asked Ace where the brother's treasure was stored.[41] Later that night, the flames started and Luffy and Ace managed to cut themselves loose after being tied up.[42] Luffy and Ace then ran for their lives.[43]
While trying to escape, the two ran into Bluejam once more. Bluejam decided that if he was to die, that he will take the two with him; however, he first asked Ace one last time to reveal the location of their treasure. While Luffy was against it, Ace was willing to let the pirates have the treasure to ensure Luffy's safety. However, after Ace told Bluejam where the treasure was, Bluejam had his crew restrain Ace and Luffy. As Bluejam began to badmouth Sabo, Ace verbally retaliated, spurring Luffy to bite his captor's arm. The pirate responded by slashing him across the face with his sword; before the pirate could finish Luffy off, though, Ace let out a scream of rage, unbeknown to everyone there (including himself) that he was wielding Haki. The blast knocked everyone out, aside from Luffy and Bluejam. Bluejam almost killed Ace, but then Dadan appeared to rescue the two boys. Although she said that they should all run away, Ace refused to run from his enemy. Luffy decided to stay and fight as well, but Dadan forbad it, remaining in his place. Luffy was then taken back by the bandits to recover at home.[44]
Luffy awoke the next day, crying and saying that he wanted to know if Ace, Dadan, and Sabo were all right.[45] After Dogura went to check the remaining ashes of Gray Terminal, Luffy was very upset for not being allowed to go look for Ace and Dadan.[46] Suddenly, Ace arrived carrying Dadan on his back, Luffy jumped over to Ace, crying in relief for Ace being alive. He said that Luffy should not worry about him being dead, because he won't die, hitting Luffy on his head. Ace told how he and Dadan got out of the burning Terminal after beating Bluejam, and Dadan rested while getting healed with the medicines Ace stole from the town.[47] Later that day, while outside playing with two beetles, Luffy saw Dogura coming back from the forest, and told him that Dadan and Ace were already home. Dogura then told them[48] that while looking for Ace and Dadan, he went to the city, and saw Sabo setting sail on a boat, and then get shot by a ship.[49] Ace attacked Dogura, accusing him for lying, but he replied he's not lying, nor dreaming, and he saw it with his own eyes. Luffy realized that Sabo was not happy at all for coming back to the city, and started to cry, Ace tried to go to the city to avenge him, but was stopped by Dadan, because she was afraid of Ace being killed, blaming the country for killing Sabo, not only the nobles. Since Ace was still too angry, he was tied up to a tree, while Luffy cried the whole night.[50]
A while later, Luffy, still mourning Sabo, asked Ace to never die, to which Ace made the promise to Luffy that he would not leave his "crybaby brother" alone. Luffy then decided that he wanted to become stronger.[51] After years of training, stealing food from the royal town and growing with Ace, Luffy witnessed Ace's departure at seventeen when he himself was fourteen.[52]
The Start of Luffy's Adventure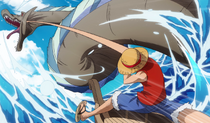 Waiting three more years, Luffy decided to train some more, finally mastering his Gomu Gomu no Pistol and other various attacks. Ready to depart when he turned seventeen, he thanked Dadan and the bandits before leaving. As he was departing Foosha Village, Luffy waved goodbye to the rest of the village, saying that he was the third, after Sabo and Ace, to depart.[53]
Luffy left his village on a small boat with a barrel. He then waited out upon the open sea for the Lord of the Coast. With his attack named "Gomu Gomu no Pistol", he punched the Sea King in the face. With plans to create his own Jolly Roger and to get at least ten crew members, he then decided to begin his journey as a pirate and sailed on. Luffy declared that he will become the Pirate King.[54]

East Blue Saga
Romance Dawn Arc
Luffy's First Battles and Crewmembers
While sailing across the ocean, Luffy accidentally came across a whirlpool. To escape from it, Luffy hid inside the barrel he brought into his boat as the whirlpool sucked his boat in.[55] He and his barrel were recovered some time later by some pirates who were in the service of Alvida. Luffy then jumped out from his barrel, much to their surprise, and met up with Koby. Luffy encouraged Koby to follow his dreams of becoming a Marine. After defeating Alvida, Luffy freed Koby from his servitude and acquired a small boat. As he and Koby were sailing to the next island so that Koby could enlist in the Marines, Luffy decided to seek an infamous pirate hunter who was imprisoned there. Luffy decided to ask the fore-mentioned pirate hunter, Roronoa Zoro, to become the first to join his crew.[56]
Upon arriving at Shells Town, Luffy and Koby learned the truth about Zoro through a small girl named Rika. Rika stated that Zoro was imprisoned for false reasons, and that Zoro had rescued her mother and herself from Helmeppo, who was harassing the customers in the bar with his pet wolf. With this in mind, Luffy decided to free Zoro from Captain Morgan and Helmeppo.[57][58] With the promise of giving Zoro's swords back if he would join Luffy's crew, Luffy went into the Marine Base and earned Morgan's wrath.[59][60] After witnessing Zoro's unique fighting style, Luffy fought with Morgan and defeated the Marine captain.[61] The Marines, seeing their corrupt leader finally defeated, rejoiced and allowed Luffy and Zoro to go unpunished. However, since Luffy and Zoro were pirates, the Marines asked them to leave the island.
As they were leaving, Commander Ripper asked about Koby's past. To help Koby fulfill his dream, Luffy pretended that they were not friends and provoked Koby into starting a brief fight between them. After Luffy beat Koby, Luffy and Zoro left the island and they were saluted by Koby and the Marines for their efforts. Luffy and Zoro then sailed on to their next destination.[62]
Orange Town Arc
The Encounter with the Clown
While sailing, Luffy was enlightened that neither he nor Zoro knew how to navigate. With this, they decided to get a navigator for their crew. While pondering on this, Luffy decided to get them some food. Luffy spotted a bird named Pinky flying above and decided to catch it. Unfortunately, the bird instead caught him and flew away with Luffy in his beak.[63] Luckily, the bird was shot at and Luffy was dropped in the middle of Orange Town. While in Orange Town, Luffy met up with Nami[64] and asked her to become the navigator of his crew when he learned of her abilities. Nami was initially not thrilled at first at Luffy's offer and instead tricked him into being captured. Nami tied Luffy up and brought him before Buggy The Clown. Nami lied and said that Luffy was her boss and ordered her to steal Buggys charts and asked if she could join his crew, which he agreed. Then a confused Luffy was locked in a cage[65] while the crew partied. Buggy then ordered Nami to fire a cannon ball at Luffy which Nami refused. Just as she was about to be attacked, Zoro came to Luffy's rescue.[66] Zoro then defeated most of the crew. Luffy and his companions were able to escape from Buggy. Unfortunately, Luffy had been locked in a cage and the three had learned that Buggy had eaten the Bara Bara no Mi, as well as Zoro gaining a not-quite-lethal stab wound.[67]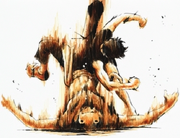 Later, Mohji and his lion Richie show up and battles Luffy. Luffy easily takes out Ritchie with Gomu Gomu no Tsuchi. Luffy is then angry with Mohji for destroying Chouchou's treasure and defeats Mohji with one punch.[68][69] Luffy decided to battle against Buggy and his crew.[70] Using one of Buggy's cannonballs against him, Luffy was able to take out most of Buggy's crew.[71] With most of Buggy's crew defeated, Luffy and Zoro battled against Buggy and his second mate, Cabaji, respectively.[72][73] During the battle, Luffy's hat got torn and Luffy learned of Buggy and Shanks serving together on the same pirate ship in the past.[74][75] With fierce determination for his treasure, Buggy decided to attack Nami as well. Luckily during the fray however, Nami was able tie Buggy's body parts up so that Luffy could deliver the final blow.[76]
After defeating Buggy, Luffy and his companions found themselves in a situation. Due to Luffy knocking out the village chief, Boodle, the villagers got mad at them and decided to chase them. Luckily for Luffy and his companions, Chouchou decided to repay his debt with Luffy by stopping the angry villagers. As Luffy and his companions decided to sail on to the next island, they were thanked by Boodle for all their hard work. Luffy, with his new navigator, Nami, then sailed on to the next destination.[77]
Syrup Village Arc
The Man in a Chest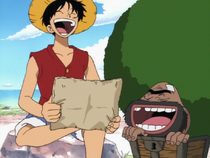 After sailing for awhile and getting his hat re-stitched thanks to Nami, Luffy and his crew then went to an island in hopes of finding some food and possibly a new crew member. The island they came however was deserted and was apparently filled with all sorts of strange animals. As Luffy and Nami explored the forest, a mysterious voice called out to them. This voice threatened them with forest judgment unless they left the island. Luffy was then shot at but was unaffected due to his powers. Nami and Luffy then found that the shot came from a man with a large green afro in a box, Gaimon. After sorting out the misunderstandings, Gaimon, Luffy, and Nami talked about One Piece and the Grand Line. Gaimon then explained his predicament and his past.[78] Luffy, learning about this, decided to help Gaimon. Luffy, with his powers, scaled the hill where Gaimon's treasure was supposedly located. However when he found the treasure boxes, Luffy revealed that they were unfortunately empty. Gaimon however, was grateful that he was able to learn the truth before he died. Afterwards, Luffy then decided to continue on his journey. As Luffy and his crew were leaving, Luffy asked Gaimon if he could come along too. Gaimon replied however that could not join them as he had some responsibility for the animals on the island. With some thanks from Gaimon, Luffy then sailed off to the next island.[79]
Meeting a Liar
Luffy and his crew then came upon Gecko Islands.[80] Upon landing, they met Usopp, the local troublemaker of Syrup Village. After some misunderstanding about coming to the island, Usopp told Luffy and his crew that they could get a ship from the owner of the large mansion in town.[81] Luffy and his crew, following Usopp, then learned of Usopp's father and his relationship with the mansion's owner, Kaya.[82] Later while talking with Usopp about his father on a cliff, Luffy and Usopp overheard a scheme to both kill Kaya and steal her fortunes being discussed by the caretaker, Klahadore, and Jango.[83] They learned that the caretaker was actually Captain Kuro and he had been planning this for the past three years. Luffy, not liking this, revealed himself to Kuro and Jango, and accidentally got hypnotized by Jango. Luffy then fell off the cliff. Luckily, because of his rubber body, Luffy was able to survive.[84]
Later upon learning that no one would believe Usopp, Luffy and his crew decided to help Usopp defend his village.[85] They then set a trap for Kuro's crew at the coast where Kuro and Jango discussed their plans.[86] Early the next day however, they suddenly realized that the pirates would attack from the other coast. Luffy realizing this, asked Usopp for directions and dashed ahead.[87] Unfortunately, Luffy misinterpreted on where to go and ended up going back to the village.[88] Luffy, along with Zoro, were then luckily able to find the right coast and give Nami and Usopp a hand.[89]
In the midst of the battle, Luffy accidentally got hypnotized by Jango again. Luckily, this was a good thing as Luffy was able to beat most of the pirates. Just as Luffy was about to crush the pirates with the figurehead of Kuro's ship, he was hypnotized once again and fell asleep.[90][91] Luffy was then awoken by Nami and got one of Jango's rings lodged at the back of his head.[92]
Luffy then seeing Usopp's determination to save Kaya and his village, decided to fight Kuro who had gotten there.[93] Kuro questions why Luffy, an outside to the village, would fight upon their behalf. Luffy responds, telling him that there is someone in the village he doesn't want to die.[94][95]
In the midst of the fight with Kuro, he and the caretaker discussed briefly on what a pirate was. With firm belief, Luffy boldly told Kuro that Usopp was better than him. After witnessing Kuro's ability and the slaughter of some of Kuro's own crew,[96] Luffy defeated Kuro.[97] Luffy then threw an unconscious Kuro back to his crew and told them to remember him.[98]
Later, after everything settled down, Luffy and his crew were given a ship for helping save Kaya.[99] The ship, the Going Merry, impressed Luffy a lot. Luffy and his crew then saw Usopp rolling down the hill with a large backpack. They then offered Usopp a place on the crew for which Usopp accepted. Luffy, his crew, and his new crewmate, Usopp, then sailed off on their new ship.[100]
While sailing on the Going Merry, Luffy decided to draw his Jolly Roger. His drawing, however, was poorly executed. Everyone aboard joked about it failing to strike fear into opponents hearts when they see Luffy's flag. Fortunately, Usopp was able to draw a better version of Luffy's design. With this, Luffy's crew decided to paint it on the sails.[101]

Great Gold Pirate
---
The following events are Non-Canon and therefore not considered part of the Canon story.
---
On the Going Merry, while Luffy and Zoro was starving to death, a group of thieves came to steal their treasure supplies. Luffy wrecked their getaway boat, which had a kid who was the hostage of the thieves. Suddenly, a pirate ship lead by a large, ferocious, Aztec Indian like man named El Drago, appeared. The thieves worked for his pirate crew, so, El Drago, using his Devil Fruit ability, while aiming at Luffy, destroyed the thieves' getaway boat. Luffy and the kid fell in the sea and Zoro jumped in to save them. As a result, Luffy and Zoro were separated from Nami and Usopp.[102]
The kid's name was Tobio and he wanted to become a pirate like Woonan, the Great Gold Pirate, who according to the legend obtained almost one third of the world's gold and disappeared with it to a remote island. Tobio lived with his grandfather, Ganzo, who owned a floating Oden stand, so Luffy and Zoro went there hastily to eat. There, Luffy and Zoro learned from Tobio that El Drago was determined to find Woonan's loot, too. And he had the treasure map which had the coordinates of the location of Woonan's treasure in possession. So, Luffy decided he also wanted to meet Woonan. When Luffy and Zoro were about to leave, Gonzo told them that it would cost them for all the Oden they ate. And they so happened not to have any money on them at all. So they were stuck with the bill and Gonzo tied them in chains.[102]
Then, while Tobio was daydreaming in the soars of the island they believed Woonan disappeared to, a small breeze threw Luffy's hat to him. Then, Tobio argued with his grandfather and ran in the forest with Luffy's hat. As a result, Luffy, while chained with Zoro, ran after Tobio and when they found him, they were all lost in the forest. Meanwhile, El Drago, who Usopp and Nami as hostages, found Woonan's castle and tried to bring it down so he could find the treasure. With all the ruckus, Luffy was able to find El Drago and his crew and while still chained with Zoro he escaped with Usopp, Nami and Tobio. Nami managed to steal the treasure map from El Drago, unlocked the chains and the crew realized where the treasure actually was. They all went to find it and while climbing a mountain, they found Ganzo, who turned out to be a childhood friend of Woonan's and realized where the treasure was. Luffy and company eventually found a house at the top of the mountain, but shortly afterwards they were attacked by El Drago and his pirate crew. Luffy fought with El Drago and managed to defeat him by throwing back his own attack.[102]
Finally, with El Drago's pirate crew defeated, Luffy and the others went inside the house hoping to find Woonan and the treasure at a hidden chamber inside. It turned out it was the resting place of Woonan himself and that he returned all the gold he stole to its rightful owners. So, Luffy and the Straw Hats bid farewell to Tobio and Gonzo and sailed away to their next adventure.[102]
---
Concludes non-canon section.
---
Baratie Arc
Battle for the Baratie
A short time after Jolly Roger was painted, Luffy began practicing firing the cannon. Luffy's shots were horribly misplaced and he missed hitting the island all together. Usopp helped Luffy and they were able to shoot a nearby island on their first try. Later, as Luffy and his crew were discussing who they should get next, somebody had climbed aboard the ship and called out to them.[103]
After a brief bout with Luffy, Johnny, the one who had climbed aboard, revealed that he came aboard to get at people who fired at him and Yosaku while they were on the nearby island. Luffy and Usopp, realizing their mistake, asked for forgiveness. Johnny explains Yosaku had become sick and was bleeding from previous injuries. Nami explained that Yosaku was suffering from scurvy. Luffy and Usopp helped Yosaku gain his strength back by giving him lime juice. Seeing this, it was mutually agreed amongst Luffy's crew that they need a chef to supply them during their long voyage. Johnny, grateful for their help, told Luffy where he could get a chef. With this info, Luffy and crew then sailed to the sailing restaurant, Baratie.[104]
Upon arrival at the Baratie, Luffy and his crew unfortunately met up with the Marine Lieutenant, Ironfist Fullbody. With orders from Fullbody, his men shot a cannonball at Luffy and his crew. Luffy luckily diverted it away with his Gomu Gomu no Fusen technique. Unfortunately, he redirected the shot to the restaurant ship.[105] For damaging the ship, Luffy was brought before the restaurant's owner, Zeff. Since Luffy had no money at the time to repay for the damages done, Zeff asked Luffy to repay him by working in the restaurant for one year.[106]
Luffy, not wanting to wait for a whole year, tried to negotiate with Zeff. Unfortunately the negotiations did not go so well and the two of them ended up creating and falling through a hole in the restaurant.[107] The two then landed in between an argument between the second head chef, Sanji, and Fullbody. Luffy then watched as Gin, one of Fullbody's prisoners demanded food, but was instead denied and kicked out. After witnessing Sanji give the pirate some food despite having no money, Luffy declared that he had found a good chef for his crew.[108]
As Luffy argued with Sanji about the latter joining the former's crew, Gin interrupted and warned Luffy not to go to the Grand Line.[109] Later, after Gin left, Luffy was put to work. Only making things more difficult in the kitchen, Luffy was told to take some orders from the customers. Upon encountering the rest of his crew relaxing in the restaurant, he tried to dirty Zoro's drink with his booger. This scheme however failed as Zoro easily saw through this plot and shoved the tainted water down Luffy's throat.[110][111]
Two days of work later, the Dreadnaught Sabre, the flagship of Don Krieg, the most feared pirate of the East Blue and Gin's captain, came to the Baratie. Its owner demanded food and, after he was fed by Sanji, claimed that he would take over the restaurant ship.[112] As he announced his plans, Chef Zeff appeared and offered food in exchange for a peaceful agreement to leave.[113] Krieg was shocked to learn "Red Leg" Zeff was still alive and told Luffy and all aboard about his past as a famous pirate who successfully sailed the Grand Line.[114]
The Baratie was suddenly attacked and they headed topside to investigate.[115] Luffy learns that Nami has stolen their treasure and has escaped on their boat. He heads back to the Baratie with Zoro.[116]
After witnessing a fight between Zoro and Dracule Mihawk,[117] Luffy told Usopp, Johnny, Yosaku and Zoro to try to catch up with Nami. Luffy then decided to repay his debt to Zeff by fighting off Krieg's pirates which Zeff accepted.[118][119]
While Sanji battled a man claiming to be invincible and to have never bled in battle, Pearl, Luffy is attacked by Don Krieg. He is sent reeling from an attack and is tossed into the back of Pearl's head, causing him to bleed for the first time ever.[120] Scared at the sight of his own blood, Pearl then threatened to burn everyone including Luffy due to fear. Luckily, with Sanji's help and one of Don Krieg's attacks redirected by Luffy's Gomu Gomu Bazooka, Pearl was knocked out.[121]
Gin, who had taken Zeff hostage,[122] tried to reason with everyone to back down from the fight.[123] After hearing Sanji's explanation for why he would die for the Baratie,[124] Luffy destroys the Baratie's fin in order to stop the pirates from attacking. Luffy then explained to Sanji that he was not repaying Zeff at all by letting himself die.[125]
As Gin and Sanji battled, Don Krieg decided to fight Luffy. He fired a shuriken bomb and impaled Luffy with several sharp spikes. However, Luffy continued to assert that he believed he was stronger than Krieg.[126][127] As Krieg prepared to launch his poison bomb, MH5, Luffy stole two gas masks from two of Krieg's men for Sanji and Gin. Unable to find one for himself, Luffy found a gas mask laying beside him. After the bomb was fired and the gas subsided, it was revealed that Gin had given his mask to Luffy. Enraged by Krieg's act,[128] Luffy then charged at Krieg and resumed their fight.[129]
Although Krieg revealed another secret weapon, a spear with an explosive tip, Luffy still managed to press on, shattering the tip of the spear.[130] He finally managed to crack Krieg's armor with a Gomu Gomu no Bazooka.[131] However, Krieg had one last trick up his sleeve. With a net, Krieg attempted to drag Luffy with him into the ocean.[132]
In retaliation, Luffy grabbed Kreig's face with his legs and slammed him onto the porch of the Baratie. With this, Luffy finally defeated Don Krieg. However, despite Luffy defeating Krieg, he still fell into the ocean, making it more of a stalemate. Luckily, Sanji then dove in after Luffy and thus saved him from drowning.[133]
After awakening from being knocked out conscious by falling into the ocean, Luffy was told by Sanji of Gin's final words to Luffy. Seeing as his debt to Zeff was finally repaid, Luffy then once again tried to convince Sanji to join his crew. Though rejected once again by the chef, Luffy and Sanji talk about Sanji's dream of finding All Blue. After discussing about Sanji's dream for awhile, Luffy and Sanji decide to join the other chefs for a meal.[134]
During the meal, Zeff and the other chefs angered Sanji by saying the soup he made was bad. Luffy on the other hand, thought the soup was good and asked them why they acted as such. Zeff and the others then explained themselves to Luffy and asked him to take Sanji along with him.[135] Luffy however, refused to take Sanji along unless he agreed to go by his own free will. Just as Luffy and the chefs were discussing, a half eaten Yosaku came barging into the restaurant.[136]
After Luffy freed Yosaku from the Panda Shark, Yosaku explained to Luffy that the others needed his abilities to deal with the situation with Nami. Just as Luffy and Yosaku were about to leave, Sanji decided to join Luffy's crew. After making some preparations,[137] acquiring the Shimashima Shopping to travel on, and witnessing Sanji's farewell to Zeff and the other chefs, Luffy, Yosaku, and Luffy's new chef, Sanji, sailed on to find Nami.[138]
Arlong Park Arc
Encounter with the Worst Man of the East Blue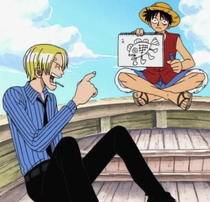 Luffy sailed to the last known location of Nami. On their journey, he was informed by Yosaku that Nami was headed to a place called Arlong Park, which was ruled by a fish-man named Arlong. Arlong was originally under one of the great lords of the sea, Jinbe a fish-man Shichibukai, who was very strong compared to Don Krieg. Luffy however did not pay much attention to what Yosaku was saying and instead attempted to draw some interpretations of what a fish-man would look like. Being unable to grasp the situation fully any further, Luffy then simply just stated that they will understand it when they get there. With that, Luffy decided to join in a meal prepared by Sanji.[139] As Luffy and company were enjoying the meal, a giant sea cow called Momoo appeared before them and attacked them. The monster however was beaten off easily by Luffy and Sanji. With the monster subdued, Luffy and company decided to continue their meal.[140] After finishing their meal, they hooked Momoo up to the ship and used him to travel on further to Arlong Park.[141]
Eventually Luffy and company reached Commi Island where Arlong Park was located.[142] However, due to some unfortunate events, the Shimashima Shopping was hurled further into the island, through a forest, and onto Zoro. After recovering from the wreckage, Luffy was then informed by Zoro and further by Johnny about the current situation, that Usopp had been captured and then killed by Nami.[143] Nami then suddenly showed up where Luffy and company were.[144] With her on the scene, Luffy tried to reason with Nami to come back to his crew. Nami however refused Luffy's pleas and told him and the rest of his crew to get out before it is too late. Unable to reason any further, Luffy simply then decided to fall asleep in the middle of the road with the intention of not leaving the island without Nami.[145] After a while, Luffy woke up to find out that Usopp was alive and in actuality saved by Nami. Luffy and crew were then greeted by Nami's sister, Nojiko, who decided to tell them why Nami was with Arlong's crew. This she hoped would explain things to them so they could then leave.[146] Luffy however refused to listen to Nami's past as it would mean that he would then have to leave. With that in mind, Luffy alone left as Nojiko told about Nami's past to the rest of his crew.[147]
As Luffy wandered into Cocoyasi Village, he noticed a pinwheel on top of Genzo, a town officer.[148] After a while, Luffy noticed a commotion in town. Seeing Nami amongst the other people, Luffy offered to help. However much to his confusion, she once again told at him to leave and hurriedly left out of town[149] leaving Luffy to ponder what exactly was happening.[150]
Destruction of Arlong Park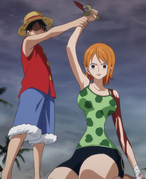 Later, Luffy witnessed Nami stabbing her Arlong tattoo with a knife. He stopped her and was once again told to leave by a crying Nami. However, Nami gave in and finally asked Luffy for help. With that, Luffy placed his straw hat on her head and agreed to help her. With the rest of his crew, Luffy then barged into Arlong Park and called out for Arlong.[151] Within Arlong Park, Luffy and his crew began fighting against Arlong and the rest of his fish-men.[152]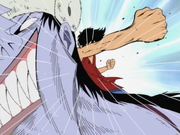 In the midst of the battle, the octopus fish-man, Hatchan, called out for Momoo to aid in the fight. As the monster came forward, Luffy embedded his feet in the ground and twisted his body. He then grabbed onto Momoo's horns and spun the monster off far away. As Luffy spun the creature, the majority of Arlong's fish-men were all completely knocked out.[153] While the attack was able to take out most of the fish-men, it left Luffy unable to move due to his feet being stuck in the ground. As Luffy's crew attempted to protect him from the fish-men's attacks, Arlong approached towards Luffy. Arlong pulled up Luffy while still stuck in the cement block and announced he was aware of the Devil Fruit weakness. He threw Luffy into the pool knowing that Luffy would be unable to move in the water. Luffy immediately tried to stop Arlong before the fish-man could throw him in. His efforts were in vain, however, and Luffy was thrown into the water with the cement block encasing his feet by Arlong.[154]
Unable to do anything but hold his breath, Luffy sank to the bottom of the pool as the rest of his crew were forced to deal with their fish-man opponents. Fortunately, however, Genzo and Nojiko decided to dive in after Luffy in order to rescue him.[155] Initially, they could not do anything to help Luffy because of the cement block. However through quick thinking, they were able to at least keep Luffy from drowning by pulling his head up to the surface. This way they could get the water out of Luffy's system as they figured out a way to free him from the block.[156] After several incidental events with Luffy's crew,[157][158][159] Sanji then dove into the water[160] and broke the block encasing Luffy's feet. With his feet freed, Luffy's neck snapped back to normal and his body was catapulted into the air. With himself saved, Luffy immediately saved Zoro from Arlong and began pummeling the fish-man with several of his attacks. Arlong however merely got back up from the attacks and the battle between Luffy and Arlong began.[161]
Arlong, as he attacked, explained to Luffy that humans are completely inferior to fish-men due to what they are incapable of doing. Luffy however countered by stating that he himself is incapable of doing certain things but he has friends who he can depend on for such problems. As the argument continued, Luffy was able to smash Arlong in the face and broke the fish-man's teeth. Arlong however rectified the situation by pulling out his broken set of teeth and growing a new one. The fish-man then pulled out two sets of his teeth and attacked Luffy with them. Luffy managed to grab a nearby fish-man and use him as a shield. As Luffy witnessed this, he came up with a good idea.[162] The next moment that Luffy got an opportunity, he kicked a set of teeth out of Arlong's mouth and began fighting with them in his mouth like Arlong. While Luffy then got a good shot and bit Arlong with his own teeth, the attack however did not do much damage and Arlong countered instead by biting Luffy's arm. Fortunately, however, Luffy slammed Arlong onto the ground before he could do any real damage.[163]
As Luffy stood up to recover from that last attack from Arlong, he noticed that Arlong had dove into the pool nearby. Luffy then found himself dodging Arlong's high speed attacks using his nose like a spear. After several attacks, the fish-man dove back to the water to repeat his barrage of attacks on Luffy.[164] Luffy however countered Arlong's attacks by catching him with his hands positioned like a net and kicked the fish-man in the chest onto the ground. This attack however angered the fish-man and Arlong began to attack Luffy more viciously. With Kiribachi, a massive sword with a saw for a blade, Arlong then chased Luffy up across Arlong Tower. The two then ended up in the highest room of the tower, the room where Nami was forced to draw maps for Arlong.[165]
Within the room, Luffy was then explained by Arlong what the room was used for, and how Nami had been used for the last eight years to fulfill the fish-man's desires. Luffy remained relatively calm, until Arlong said that Luffy could not "use" Nami like he could, which enraged Luffy. With this, Luffy broke Arlong's Kiribachi[166] and started wrecking the room. Arlong, angered by this, grabbed Luffy and bit him. Luffy however then countered by breaking Arlong's nose, stating that he did not care if the fish-men are so great or about charts, but that he now knew how to help Nami. Luffy then said that she hated being in the room and he was gonna destroy it for her. Although Arlong lunged at Luffy with a spinning bite attack and bit deep into Luffy, he managed to swing his outstretched leg down and send him straight to the bottom of the tower through several floors of concrete. With that, Luffy had defeated Arlong. That last attack however broke the stability of the entire tower and the whole thing collapsed with Luffy still inside it.[167]
With Arlong and his gang defeated, and Arlong Park completely destroyed, Luffy rose from the wreckage and proclaimed Nami his friend. Before they could celebrate for long, the Marine Captain Nezumi decided to take everything that Arlong had stolen. Although the Marine was beaten up and sent packing away with his men, he took out his vengeance by reporting Luffy in to his higher ups.[168]
After the whole commotion at Arlong Park, Luffy was sent to Dr. Nako to heal his wounds along with the others who were injured. As Luffy watched the doctor re-stitch Zoro's wounds, the doctor gave Luffy the idea that his crew should have a doctor.[169] For the next several days, Luffy and his crew then celebrated alongside the people of Commi Island over being finally freed from Arlong. As Luffy was looking for some more meat to eat in the party, he came across Genzo at Bell-mère's grave. There, Luffy promised to Genzo that he would take care of Nami and not hurt her feelings.[170]
After all the partying, Luffy and crew were ready to set sail once again. They thus bid their farewell to the villagers of Cocoyasi Village as well as Johnny and Yosaku. Nami came running towards the Going Merry and told them to immediately raise the anchor. As Nami went through the villagers and jumped on board the Going Merry, Luffy and the rest immediately realized that she had stolen the wallets of the villagers as she passed through. After this final hilarious incident, Luffy and his crew then set sail once again with Nami.[171]
Loguetown Arc
Arrival at Loguetown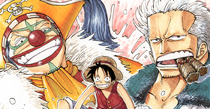 As Luffy and crew sailed towards the Grand Line, they were startled by a wanted poster included within a newspaper bought by Nami.[172] The wanted poster was of Luffy and included his first bounty of

30,000,000. Luffy had become the most wanted pirate in all of the East Blue. As the crew sailed on, the island where Loguetown was located came into sight. Wanting to see the place where Gol D. Roger was born and executed, and also to refresh the crew's supplies for the voyage ahead, Luffy and crew decided to dock in the place. Upon arriving there, Luffy decided to visit the scaffold where Gol D. Roger was executed.[173]
As Luffy explored the scaffold,[174] he was ambushed by Buggy and his crew, and a now skinny Alvida. Luffy was then all of a sudden trapped in a wooden restraint by Cabaji and sentenced to death by Buggy.[175] With the execution being publicly shown atop the scaffold before all of the people of Loguetown,[176] Luffy was asked by Buggy if he had any last words. To this Luffy shouted out that he will become the next Pirate King.[177] (This was seen by Bartolomeo, although not revealed until much later.)[178] As he stated this, Zoro and Sanji came to Luffy's rescue. However, despite their efforts to get to their captain through Buggy's crew, they were not fast enough. Despite his inescapable situation, Luffy merely smiled and said he was sorry as Buggy's sword came down. However just as Buggy's sword was about to decapitate Luffy, a lightning bolt suddenly struck the platform, shocking Buggy and freeing Luffy. As Luffy ran to his ship through the raging storm that suddenly appeared in Loguetown,[179][180] Luffy was stopped by the Marine Captain, Smoker. Despite all his efforts Luffy was unable to fend off Smoker and was caught. Just as Smoker was about to gain the upper hand on Luffy, Dragon, Luffy's father, stopped him (unbeknownst to Luffy). A big gust of wind then came by and freed Luffy from Smoker.[181]
Not knowing exactly what happened, Luffy continued escaping towards his ship. Back onboard the Going Merry with the rest of his crew, they decided to enact a ritual before going to the Grand Line.[182] After escaping from the Sea Kings dwelling there, Luffy and crew continued sailing through the storm and towards the Reverse Mountain.[183]
Luffy and his crew soon came upon the mountain and headed into the canal that was the entrance. Despite some tough maneuvering which was helped by Luffy using his Gomu Gomu no Fusen technique to bounce the Going Merry away from the gate, the ship was able to go into the canal. Within the canal, they then rode it up to the top of the mountain. Reaching the top, Luffy and crew saw and entered into the Grand Line.[184]

References
Community content is available under
CC-BY-SA
unless otherwise noted.