Ahoy! This here is the 1st Featured Article.

"Monkey D. Luffy" has been featured, meaning it was chosen as an article of interest.

Monkey D. Luffy's family is filled with incredibly notorious and powerful individuals. This includes his grandfather, Monkey D. Garp, who is considered a hero within the Marines and the man who had fought Gol D. Roger, the Pirate King. His father, Monkey D. Dragon, is the head of the Revolutionary Army. His two brothers are Portgas D. Ace and Sabo, though they are not related to him by blood but are his sworn brothers through the ritual of drinking sake. Ace became the Second Division commander under the emperor, Whitebeard, who was considered the strongest man alive, and achieved a bounty of

550,000,000. Sabo is the second in command of the Revolutionary Army, serving directly under Luffy's father, Dragon, and has a bounty of

602,000,000. His foster mother, Curly Dadan, is a bandit and the boss of the Dadan Family. Luffy's biological mother and grandmother are still unknown.
Blood Related
Edit
Monkey D. Dragon
Edit
Luffy has never met Dragon, despite him being his father, and for a long time did not even think he had one. He has never inquired about his father to anyone, not even his grandfather, Garp. He also had no idea about Dragon nor about his position as a criminal and the head of the Revolutionary Army and was thus left confused by everyone's, including his crew's, shock when Garp revealed to them all that Dragon is Luffy's father.[24]
Since then, Luffy has remained indifferent about Dragon's identity, and is not at all fazed by his father's reputation. He never mentions or discusses him and has never tried to locate him. The only time Luffy has taken any interest in his father was when he read that Blackbeard had attacked the base of the Revolutionary Army and got his first look at Dragon's face, commenting that he looks nothing like him.[25] He nonchalantly told Ivankov that Dragon, who Ivankov served under, was his father while the Okama was discussing his role in the Revolutionary Army.
Dragon, on the other hand, seems to keep up with his son's exploits, although this is rarely shown. He is completely accepting of Luffy's decision to become a pirate and expects great things of his son. He made an appearance in Loguetown in order to save Luffy from Smoker and as his son sailed away to the Grand Line, he shouted towards him with a smile to go forth and achieve his desires. This is the closest Dragon has ever been to meeting his son. He smiled when he heard the news of Luffy's actions at Enies Lobby, remarking to himself that Luffy should live the life he wants and that the day for them to meet will eventually come. It was noted by Ivankov that Dragon tends to stare off into the distance in the direction of East Blue, where Luffy was born, acting as some sort of homing instinct. When asked about it, Dragon casually confirmed to his men that Luffy is indeed his son, showing that he had no problem with sharing this information. He sounded somewhat grateful for Ivankov's role in protecting Luffy during the Battle of Marineford, but remarked that Luffy is not a child anymore. Dragon did express interest in Luffy's adventure in Totto Land.
Since this connection was fully revealed by Fleet Admiral Sengoku during the Battle of Marineford, Luffy has garnered a lot of attention, both positive and negative. He has been labeled a 'dangerous future element' and has been hunted down, personally, by Admiral Akainu, as well as the World Government, who escalated their hunt for Luffy, although this is now mostly because of Luffy's own actions than his relationship with his father. Luffy also gained allies because of his connection to Dragon, such as Ivankov and Kuma, the latter of whom never revealed to Luffy he was aiding him in order to maintain his cover. His connection with Dragon has also inspired fear into some people, with members of the Marines growing wary of fighting Luffy.
Monkey D. Garp
Edit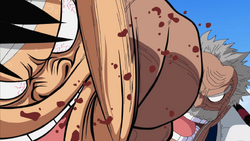 Monkey D. Garp is a Vice Admiral, a hero of the Marines, and is Luffy's grandfather. Due to being a prideful member of the Marines, Garp had high expectations of his grandson and wished for him to become a Marine just like him. As a result, he was extremely vexed that his grandson chose to become a pirate instead, the natural enemies of the Marines, and blamed Shanks for 'corrupting' him. Nonetheless, he cares deeply for his grandson and has shown to be proud of some of his achievements. Luffy loves, but also fears, his grandfather. However, the two get along quite well with each other, often laughing or scolding one another.
It is unknown how Garp came into custody of Luffy. However, it is assumed that because of the nature of Dragon's life as a revolutionary, he had passed Luffy off to Garp to be raised by him. Luffy's childhood relationship with Garp was dominated by the latter's unorthodox, and brutal, training methods, such as throwing him into valleys, leaving him alone in dangerous forests, and tying him to balloons to fly at high altitudes. He did all this with the explicit goal of making Luffy a strong Marine. Due to Garp's work, he had to give Luffy to Curly Dadan, a local mountain bandit, whilst he was away. He regularly returned to Luffy during his vacations and held training sessions with him and Ace, and at one time, with Sabo.
Due to his experiences of Garp from his childhood, Luffy has developed a fear of him whilst having also grown to love him. This was highlighted when the pair reunited in Water 7 and Luffy was immediately on the receiving end of one of Garp's punches. Such was Luffy's fear of Garp he refused to fight back and told his crew not to attempt anything either. The two are more than capable of pleasant chit-chat however, as despite the rough start to them reuniting they were happy to see each other, Garp even told Luffy about who his father was and updated him on Shanks, as well as inform him about the Four Emperors. He also promised Luffy he would not try and stop him leaving Water 7 and was willing to falsify a report to do so. However, he was later forced to renege on this promise but was happy to see he managed to escape him. The two share similarities, such as their bizarre habit of spontaneously falling asleep, as they both did so whilst Garp was scolding Luffy, shocking everyone. The Straw Hats noted that he really must be Luffy's grandfather because of the striking similarities in their personalities.
Luffy was completely ignorant of Garp's great reputation within the Marines and had no idea his own grandfather fought on an equal footing with the Pirate King, Gol D. Roger, until his crew informed him. However, Luffy shrugged it off and still sees him as just his grandfather. Due to his love for his grandfather he was extremely reluctant to fight him during the Battle of Marineford, despite him standing between him and Ace, but eventually gave in and punched him out of his path. Since the time skip Luffy has not met his grandfather but showed some curiosity in seeing him again after Chinjao mentioned him. He does not appear to hold a grudge against Garp for being indirectly involved with Ace's execution and eventual death, fully understanding that Garp's duty as a Marine made it difficult for him to act.
Although he is greatly disappointed by Luffy's decision to become a pirate, he is still pleased with how Luffy has turned out as a person. Garp was upfront about how proud he was when he heard that Luffy had outrageously infiltrated Impel Down, remarking gleefully that his grandson had done it again, annoying Fleet Admiral Sengoku. He was left in a panic when he saw Luffy falling from the sky to join the Battle of Marineford, fearing for his well-being. He was the least surprised out of everybody that Luffy could use Haoshoku Haki, simply remarking that he did inherit it after all. Due to Garp's pride and loyalty to the Marines he accepted that he had to try and stop Luffy reaching Ace. He shouted at Luffy to be a man and take him on as that was the only way he could save his brother. As Luffy attacked him Garp's loyalty to his grandchildren won out and he allowed Luffy to strike him. He was guilt stricken by the loss of Ace and Luffy's suffering, despite trying to hide it, and took a beating from Dadan over the serious pain Luffy was going through. Since the time skip, Garp has become more lax about his grandson's well being, as he did not seem fazed by the news that two members of the Four Emperors, Kaido and Big Mom, had teamed up to take down Luffy, instead just laughing it off.
Adopted and Honorary
Edit
Portgas D. Ace
Edit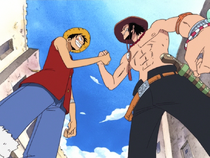 Portgas D. Ace was a notorious pirate of Whitebeard's crew who was the sworn brother of Luffy and Sabo. The two shared an extremely close bond that was forged in their childhood. They first met when they were kids after Luffy was sent to Dadan by his grandfather, Garp. They grew close on their many misadventures and eventually recognized each other as brothers through the ritual drinking of sake. Luffy was fully aware that Ace's father was Gol D. Roger.
The pair got off to a bad start as Ace was hostile towards Luffy and at one point spat on him before they had been introduced. Luffy was determined to become friends with Ace, however, and persistently followed him around trying to win him over, having to overcome constant dangers forced upon him by Ace for three months. Luffy eventually won Ace over when he refused to reveal the location of Ace's treasure stash to Porchemy. Impressed, and understanding the loneliness that Luffy felt, Ace decided to become friends with him.
Throughout their childhood the pair would regularly fight to see who was stronger, with Luffy losing every time despite the advantage of having a Devil Fruit. Nonetheless, Luffy remained determined to one day defeat Ace. They swore over a bottle of sake that they are brothers and continued living their lives of misadventures throughout Foosha Village. They grew even closer after Sabo's apparent death, the devastating loss of their brother hardened their determination to become pirates and they both promised each other that once they turn 17 they would set out for sea, with Ace doing so first as he was three years older than Luffy. They would reunite in Alabasta whilst Ace was on the hunt for Blackbeard and Luffy was aiding Princess Vivi. Once he had held off Smoker for Luffy he met up with him on his ship and offered Luffy to join the Whitebeard pirates, despite knowing he would say no. He was introduced to Luffy's crew, the Straw Hats, and Ace implicitly apologized to them for the trouble his brother causes them without needing to know the details. The two were very friendly and happy to see each other again after three years. He then chose to leave Luffy and his crew before giving him his Vivre Card so they could meet up again.
Ace cares deeply for Luffy and became angry with Blackbeard when he stated that he will try and capture Luffy and hand him over to the Marines, responding that he would not just let him do that to his brother. This protectiveness of Luffy has been a staple of his relationship since they were kids, as he would often intervene when Garp was too rough or harsh with Luffy. He grew distressed when he overheard that Luffy had made it inside Impel Down and actively tried to rush back into the elevator to head down to the level he was on but was stopped by Magellan. He was angry with Luffy when he arrived at the Battle of Marineford because he feared that he was going to get himself killed, however, he pretended that it was a matter of his pride. Despite this, he could not help but be surprised that Luffy could use Haoshoku Haki and being joyful when Luffy had successfully freed him from his seastone handcuffs, both lamenting and praising him. He then quickly tried to flee the battlefield with Luffy. However, it would be Ace's loyalty and protectiveness that would be his downfall. Having taken the bait by Admiral Akainu, he tried to protect Whitebeard's pride and ended up having to take a direct hit from one of Akainu's attacks that was aimed at Luffy, destroying his internal organs. He collapsed into Luffy's arm and poignantly noted that he would not get to see him become the Pirate King, being certain that he would achieve this dream. But nonetheless, he died with a smile on his face after thanking Luffy for loving him when nobody else would.
Luffy greatly admired Ace and is proud of his accomplishments out at sea. His devotion to Ace is so high that he was willing to infiltrate the Marines's most notorious prison to save him, and then immediately traveled to the Battle of Marineford to try and save Ace from his execution. When it came to saving him, Luffy outright refuted any pleas for him to stop, shouting back at his brother that he can say whatever he likes, but that he was still going to try and save him regardless. This devotion greatly impressed Whitebeard and his crew who all followed suit. Ace's death crushed Luffy both mentally and emotionally. The shock from losing his brother sent Luffy into such a catatonic state that he was completely unable to react to his surroundings and protect himself. He almost certainly would have died at the hands of the Marines and Akainu if it were not for the allies he had around him. He had to be carried off the battlefield and eventually woke up at Amazon Lily and had a mental breakdown, not being able to fully comprehend Ace's death and at times outright refused to believe it was true, whilst also lashing out destructively at his environment. It was only thanks to Jinbe that Luffy was able to get out of this depression and continue living his dream of becoming the Pirate King, like he promised to Ace so many years ago.
Since the time-skip Luffy has not talked about Ace as the topic has never come up. This changed when he landed on Wano Country and met a young girl named Tama who had befriended Ace. She was unaware that he had died due to Wano being cut off from the rest of the world, forcing Luffy to bluntly tell her that Ace was now gone, showing he had come to terms with his passing. Whilst in Dressrosa he abandoned his original mission there in order to compete in the gladiatorial games as Ace's Devil Fruit, the Mera Mera no Mi, was the prize and did not want anyone else to have it. Whilst fighting Chinjao, Luffy was greatly angered when he mocked Ace's death and unleashed his Gomu Gomu no Thor Elephant Gun on him.
Curly Dadan
Edit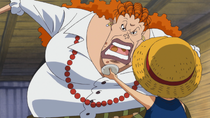 Dadan is the foster mother of Ace and Luffy and is a notorious Mountain Bandit. She was extremely reluctant to take on Luffy as she felt her hands were already full with Ace, but was blackmailed by Garp to do so. Luffy disliked Mountain Bandits due to being captured by the mountain bandit, Higuma, and almost fed to a Sea King by him before Shanks saved him. Despite this, they grew to love and care for each other deeply.
She was often left flabbergasted by Luffy's attitude, as he never seemed fazed by the threats or challenges she threw at him. Remarking that both he and Ace are too strong for her to handle. Dadan was initially cold to Luffy as she stated outright that she does not care if he were to die, leaving him out in a forest for a week. This started to change, however, as she begrudgingly got use to his presence and was willing to rescue him and Ace from the pirate captain, Bluejam. She was greatly distraught over Ace's death, but even more so for Luffy, knowing full well that his heart is in complete agony. She begged him not give in to the pain and to bounce back. She proudly declared that no matter what Luffy does, she will always be on his side.
Luffy was greatly worried for her well-being when she was defending him from Bluejam. He had grown attached to Dadan and wished for her and the rest of her family to see him off before he sets sail on his pirate journey. However, she stubbornly refused whilst trying to put on a brave face. Before leaving, Luffy told her once again that he hates Mountain Bandits, but that he likes her, causing her to burst into tears.
Dadan has been seen making a scrapbook of news articles about Luffy whilst her bandit family were wearing Straw Hats. She was overjoyed when she heard the news of Luffy defeating the Shichibukai, Doflamingo, and his bounty increasing, having a party with her bandit family and the rest of Foosha Village to celebrate.
Like Ace, Sabo was initially annoyed with Luffy when they first met. At first, Sabo wanted to kill Luffy for discovering his and Ace's plans. However, when Luffy refused to give away the location of Ace and Sabo's treasure to Porchemy, Sabo and Ace rescued and befriended him. Like with Ace, Luffy is very close to Sabo, who had a tendency to defend or save Luffy when they were hunting together.
Sabo, Luffy, and Ace shared a drink, making them official brothers and establishing the deep bond between the three. According to Luffy, Sabo was a nicer brother to him than Ace. When Sabo's father came to take him back, Sabo willingly returned with him so that Luffy and Ace would be safe from the hired pirate Bluejam. When Sabo's apparent death was reported by Dogra, Luffy grieved by crying all night until he fell asleep. Luffy only snapped out of this sorrowful moment when Ace told him to live proudly, as Sabo wanted. Sabo's supposed death was also one of the main motivations for Luffy to become stronger.
When Sabo and Luffy were reunited after twelve whole years, Luffy did not recognize him at first and even challenged him after hearing he would not let him have Ace's Mera Mera no Mi. However, he reacted in shock upon realizing the latter's identity. Luffy quickly embraced Sabo while crying joyfully after finding out his remaining brother was alive and well.[26] Sabo thanked Luffy for surviving the Battle of Marineford and asked for permission to eat the Mera Mera no Mi which Luffy unhesitatingly allowed.[27] When Jesus Burgess attempted to kill Luffy, Sabo quickly intercepted him and Luffy was happy to see his brother again even more so after seeing that Sabo inherited Ace's power.[28] When Sabo was preparing to leave Dressrosa, he left Luffy a Vivre Card and entrusted Luffy's safety to the Straw Hats similar to what Ace once did in the past.
After learning about the Blackbeard Pirates' attack on the Revolutionary Army's base, Luffy expressed worry for Sabo's safety and only calmed down when Pedro mentioned the possibility of Sabo being okay due to there being no mention of him being killed or captured.
References
Edit
Community content is available under
CC-BY-SA
unless otherwise noted.