Ahoy! This here is the 1st Featured Article.

"Monkey D. Luffy" has been featured, meaning it was chosen as an article of interest.
Naturally, Luffy being a pirate has earned the Straw Hat captain their ire. However, due to his actions, and unintentional declaration of war against them, he has incited their fury towards him. Members of the World Government up and down the apparatus all wish to see Luffy eliminated and have dedicated most of their time trying to do so, having rapidly increased his bounty to

1,500,000,000.
A number of Luffy's actions against the World Government include breaking into Enies Lobby, burning their flag, defeating Rob Lucci of CP9 and reclaiming Nico Robin into his crew. He then assaulted a Celestial Dragon on Sabaody Archipelago. Following this, he infiltrated Impel Down and escaped with some of the most notorious criminals. He joined the Battle of Marineford on the side of the Whitebeard Pirates, and has defeated three of the Shichibukai: Crocodile, Gecko Moria and Donquixote Doflamingo. Because of this, they see him as a major threat and a bringer of chaos, as well as someone who has threatened to upset the power balance between the Three Great Powers when he challenged Big Mom.
Luffy does not like the World Government, but does not necessarily hate them either. He does not think of them as an entity to hate, but instead hates the individuals that threaten him or his friends, or commit acts he finds atrocious, who also happen to be part of the World Government. This has allowed him to make temporary and permanent allies, friends and acquaintances within the organisation and their affiliates, such as Koby, Helmeppo, his grandfather Monkey D. Garp, Smoker, Tashigi, the Admiral Fujitora, members of the Shichibukai, Crocodile, Boa Hancock, Jinbe, Trafalgar D. Water Law, and Buggy, as well as kingdoms such as Alabasta, Dressrosa, Sakura, Ryugu and their respective rulers.
Management
Edit
Five Elders
Edit
Luffy has never met a single member of the Five Elders, and is not aware of their existence. However, the Five Elders have been keeping close tabs on Luffy and his progression. They see him as a nuisance and a threat to the World Government and the balance of power among the Three Great Powers. Due to Luffy having the initial "D." in his name and being the son of Monkey D. Dragon, the head of the Revolutionary Army and the World Government's greatest enemy, they have labelled Luffy a "Dangerous Future Element".
They first noted Luffy after he defeated Crocodile and have followed his various actions against them since, such as infiltrating Enies Lobby, burning the flag of the World Government, defeating Rob Lucci and saving Nico Robin, followed by an assault on a fellow Celestial Dragon while on the Sabaody Archipelago as well as his breaking into Impel Down and causing a mass breakout, followed immediately by him joining the Battle of Marineford to try and rescue his brother, Ace, and for defeating three members of the Shichibukai: Crocodile, Gecko Moria and Doflamingo. They were notably angry, and shocked, when they discovered that Luffy had defeated Doflamingo, cursing the Straw Hat captain and calling him a brat.
World Nobles
Edit
The World Nobles, also known as Celestial Dragons, are the highest nobility in the world, sitting right below the Five Elders. Because of their actions on Sabaody Archipelago, particularly what the Celestial Dragon, Charlos, did to Hatchan, they incurred Luffy's wrath, with Charlos being sent crashing through rows of seats and into a wall after the Straw Hat captain punched him.
So far, it appears that the World Nobles do not have a say in the policies of the World Government, aside from the Five Elders. As a result, most of them are not necessarily responsible for the World Government's actions against Luffy. They do, however, have the right to call an Admiral to do their bidding should they wish it, and this was seen when Admiral Kizaru was called to Sabaody Archipelago after Luffy's actions against Charlos. During the Battle of Marineford, Kizaru stated that the World Nobles have been itching to see Luffy arrested.
Luffy has flat out stated he hates the World Nobles. This began when he witnessed Charlos shoot and mock Hatchan, who he was now friends with. Such was his anger, he was willing to punch the Celestial Dragon despite knowing the consequences of doing so. He was later informed by Boa Hancock of the atrocities they committed to her and her sisters, despising them even more. When he discovered that Doflamingo is a former Celestial Dragon, his hatred for him grew.
Saint Charlos
Edit
Saint Charlos is a World Noble and a brief, minor, antagonist to Luffy on Sabaody Archipelago. The two absolutely hate one another and earned each other's anger whilst on Sabaody. Charlos despises Luffy for both standing up to him and defying him. Whilst Luffy loathes Charlos for shooting his friend, Hatchan, and for his completely deplorable personality and cruelty.
Whilst on Sabaody, Luffy crashed landed inside the Human Auction House where Charlos and his family were. Luffy was looking to rescue Camie, who was being auctioned off, ironically to Charlos, but was stopped by Hatchan who did not want Luffy to anger the World Nobles present but in the process revealed himself to be a fish-man. Due to the severe discrimination of fish-men, he was hounded by the crowd and gleefully shot by Charlos, which earned him Luffy's wrath.
Charlos has only interacted with Luffy once, very briefly. However, due to his extreme sense of entitlement and narcissism, he immediately hated Luffy, not just for defending the fish-man he just shot, but for also looking directly at him and defying his command. As Luffy stormed towards him, he tried to shoot at the Straw Hat captain but quickly began to panic when Luffy dodged his shots before being punched by him. According to Admiral Kizaru, during the Battle of Marineford, the World Nobles have been itching to see Luffy apprehended ever since.
Luffy has nothing but complete and utter contempt for Charlos, as well for the World Nobles at large. He believes them to be completely deplorable people after witnessing their rotten personalities before himself. After he saw Charlos shoot Hatchan, and proceeded to mock and taunt his friend, he became filled with immense rage that compelled him to walk up to the World Noble and deliver a powerful punch to his face, knocking him out. Such was his hatred he did all this despite knowing the full consequences. He made it clear to Boa Hancock that he had no regrets about punching Charlos as he completely deserved it. Upon hearing Hancock's story about being tortured by a World Noble as a child, he has grown to hate them even more.
Employees
Edit
Magellan is the Vice Warden and the former Chief Warden of Impel Down, who became a natural antagonist to Luffy during the Impel Down Arc. The two see each other as nothing but enemies and actively worked to overcome each other. Magellan found Luffy's willingness to break into his prison, and being the first to do so, infuriating and bewildering, and was determined to know how the Straw Hat captain managed to infiltrate his prison. Luffy found him to be a strong opponent when he fought him and came to acknowledge that he is a tough person to face and a pain in his plans to save Ace.
Before they met, Magellan was made aware of Luffy's infiltration and was angered by the news. He prepared the troops of Impel Down to intercept him and eventually met Luffy in the kitchen on the fourth floor. The two fought each other and Magellan emerged the victor. Much to his shock, Luffy was not only able to survive his poison but also reached level 6 of his prison. Luffy ultimately escaped his prison thanks to the help of Bon Clay and his makeshift crew of notorious criminals.
Magellan dislikes Luffy and has taken personal offence to him breaking the prison's perfect record since Shiki's escape, and, by extension, damaging his reputation. He was amazed by Luffy's tenancity and reckless attempts to attack him, as Luffy decided to punch him with his jet gatling despite coming into contact with Magellan's poisonous body. Having robbed Luffy of his sight, hearing, and control of his hands, he was left stunned that Luffy still attempted to try and fight him, due to him being amazed by his mental strength. Luffy never defeated Magellan, but his success in escaping Impel Down destroyed his standing with the World Government who demoted him to Vice-Warden of Impel Down and replacing him with his subordinate, and previous Vice-Warden, Hannyabal.
When faced with Magellan, Luffy remained to determined to fight him and save his brother despite the warnings of his friend, Bon Clay. Even though the power gap between them was too big for him to overcome, he was not afraid of Magellan and refused to inform him of how he infilitrated his prison, wishing to protect Boa Hancock. He ultimately tried to overwhelm the Warden of Impel Down with a barrage of attacks but this proved to be futile and he was quickly defeated. He never thought much of Magellan after that as he was focused on making sure to escape Impel Down and catch up to Ace in order to save him. He fought Magellan a second time and although he was able to fight him more evenly, thanks to Mr. 3, he was still no match for the Warden and ultimately decided to flee with the help of Emporio Ivankov. Luffy inadvertently gained a benefit of his encounter with Magellan, as he developed an extremely strong resistance to poison.
Cipher Pol
Edit
Though Cipher Pol have agencies stretching from 0 all the way to 9, Luffy has only encountered CP9 and CP6, with the former headed by Rob Lucci, who acted as the main antagonist of the Water 7 Arc and Enies Lobby Arc. CP6 were part of the escort team for Franky and Robin but were detached from the Sea Train whilst on their way to Enies Lobby and then had their carts cut in half by Luffy and Zoro.
Cipher Pol do not hold any particular dislike or hate towards Luffy and the Straw Hats. Unlike the Marines, they exist to execute covert missions for the World Government, meaning that they would not try to apprehend Luffy unless specifically ordered to do so. They ended up becoming enemies of Luffy for taking Nico Robin from him and his crew.
Luffy greatly dislikes Cipher Pol, particularly CP9 and their agents, for their actions in Water 7, having falsely accused him and his crew of trying to assassinate Iceburg, and for destroying Galley-La Headquarters. CP9's loss to Luffy and the Straw Hats caused inside turmoil for Cipher Pol, resulting in the pursuit of Rob Lucci and his former comrades of CP9, and a reshuffling of agents that eventually allowed Lucci to return as a member of CP0.
Rob Lucci
Edit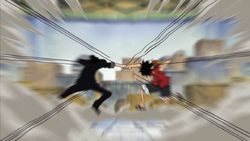 Rob Lucci is an agent of CP0, a former agent of CP9 and was the main antagonist of the Water 7 Arc and Enies Lobby Arc. He dislikes Luffy but sees him as a worthy opponent, having initially looked down on him, but still views himself as being far stronger than the Straw Hat captain. Luffy strongly despised Lucci for trying to take away Nico Robin and followed him, and the rest of CP9, from Water 7 to Enies Lobby in order to retrieve her. He ultimately found him to be the toughest opponent he had faced up until that point and was completely exhausted after he defeated him.
The two first met on Water 7 when he was undercover as a carpenter for Galley-La. He would eventually fight him once his identity was revealed, with Lucci comfortably defeating the Straw Hat captain. Later he eventually met Lucci again after he had stormed the base of Enies Lobby, with the CP9 agent pleased to face the Straw Hat captain again. After a grueling battle, Luffy was eventually able to defeat the notorious agent of CP9 and save Robin. Subsequently, Lucci would be made a fugitive of the World Government but was soon brought back in as a member of CP0.
Lucci looked down on Luffy and regularly mocked him, continuously commenting that he was too weak to defeat him and save his friend. However, despite his personal animosity towards Luffy, he was clearly excited at the prospect of fighting him again after he had caught up to him, Spandam and Robin whilst on Enies Lobby. This likely indicates that, despite what he says, he sees Luffy as a worthy opponent. Whilst fighting Luffy he was impressed by his abilities and was stunned when he was able to take multiple hits of his Sai Dai Rin: Rokuogan. He had also praised Luffy for his leadership skills and states he is cut out to be the captain of his crew, and wished a certain idiot (Spandam) could bear witness to him. Due to his defeat at the hands of Luffy, which also meant that his five year mission had ended in failure, he was made into a fugitive and was pursued by Spandam and varying members of Cipher Pol. However, he was able to make a return to the agency, joining CP0.
Luffy despised Lucci for taking Robin away, but also because of his attempts to kill Iceburg and frame the Straw Hats, destroying Galley-La Headquarters and betraying the people of Galley-La. He found Rob Lucci to be his toughest opponent pre-timeskip, as he was pushed well beyond his limits by the CP9 agent and took an incredible amount of damamge from him. However, he was ultimately thankful that he had met him, as their fight helped to make him stronger and develop his Gear Second and Gear Third techniques. Luffy also understood just how dangerous Lucci is, as he admitted that he could not leave their fight to try and save his friends because if he took his eyes off the CP9 agent he would simply kill everyone, which earned Luffy his praise. Like with most of his enemies, Luffy gave a nickname to Lucci, calling him the "Pigeon guy".
Blueno was the first agent of CP9 that Luffy defeated. The two hardly exchanged words and only interacted twice, briefly in Water 7 and again at Enies Lobby. Luffy tried to attack him in Water 7 but his attacks were completely ineffective due to Blueno's 'Tekkai' and 'Soru' techniques that are part of the Rokushiki martial arts style. Blueno was responsible for Luffy being able to master the 'Soru' technique as he was able to observe his movements during their first fight.
He believed Luffy to be a weak pirate and was thus left surprised when, fighting him a second time at Enies Lobby, the Straw Hat captain displayed his Gear Second form and had mastered the 'Soru' technique in such an absurd amount of time, even after only witnessing the move. He was completely overwhelmed by Luffy and was not able cope with Luffy's onslaught. He remained defiant however, and chose to take Luffy's Jet Bazooka head on with his strongest 'Tekkai', this proved to be too much for him as, after a delayed reaction, he fell to the ground, defeated. After his defeat to Luffy he was made a fugitive, alongside the rest of CP9, for failing in his mission.
Luffy greatly disliked Blueno for taking away his crew mate, Robin, framing the Straw Hats for Iceburg's attempted assassination, destroying Galley-La Headquarters and betraying the friends he had made in Water 7. Luffy still respected him as an opponent, however, and acknowledged he had to use his newly developed Gear Second form to defeat him, and was prepared to use his Gear Third form on him when he believed his second wasn't enough.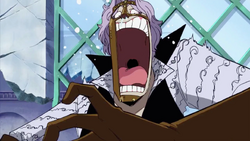 Spandam is the former chief of CP9, a member of CP-0, and an antagonist during the Water 7 Arc and Enies Lobby Arc. They share a completely hostile relationship and do not get on well. Due to his role as a government agent, he loathes Luffy and sees his defiance towards the World Government as pure insanity. He also grossly underestimated Luffy and regularly taunted Nico Robin that he would inevitably fail to save her. Luffy hates Spandam for trying to take Robin away from him and his crew and openly challenged the chief of CP9.
He played a behind the scene role during the Water 7 arc after being informed by Admiral Aokiji that Robin is present on Water 7. He would not directly meet Luffy until the Enies Lobby arc after Luffy, along with his crew, stormed Enies Lobby. After a confrontation, he attempted to take Robin towards the Gates of Justice but was eventually stopped by Franky. At the same time, Luffy and the Straw Hats had defeated Rob Lucci and the entirety of CP9. Despite his complete, and disastrous, failure he was made a member of CP0.
Spandam found Luffy to be completely insane and was often left stunned by his open defiance towards him and the World Government. This was highlighted when he pointed out the flag of the World Government and informed Luffy about the great meaning behind it, only for the Straw Hat captain to burn it down and declare war on them, leaving him speechless. He seriously underestimated Luffy's abilities and did not concern himself when he stormed the base of Enies Lobby, but panicked when, after falsely believing he had only taken down five of his men, he was correctly informed that Luffy had taken down over a thousand Marines. When he saw that Blueno had been defeated by Luffy he was left stunned and could not believe a CP9 agent fell to a pirate. Whilst dragging Robin to the Gates of Justice he still underestimated Luffy and would gloat to her that Luffy was probably dead; this led to him going into a blind panic once he could hear Luffy closing in on him, Robin and Lucci, as the Straw Hat captain shouted Robin's name.
Luffy completely despises Spandam for his role in abducting Robin from his crew and for ultimately trying to kill her. He finds him to be both insufferable and uninteresting, as he picked his nose whilst disregarding the chief of CP9. He had no fear at all of Spandam and his role in the World Government and openly defied him numerous times. He ordered Sogeking to shoot down the flag of the World Government that Spandam proudly pointed to and challenged him head on when he questioned him if he really believed he could take on the entirety of the world.
Marine Headquarters
Edit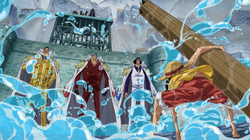 As a pirate, Luffy is naturally an enemy of the Marines. They started to take him more seriously after he defeated the villainous Marine Captain "Axe-Hand" Morgan and several known pirates such as Buggy the Clown, "Pirate Admiral" Don Krieg, and "Saw-Tooth" Arlong the fish-man. A

30,000,000 bounty was placed on his head after he had beaten Arlong.[24] This reward eventually becomes

100,000,000 after he defeated Crocodile, one of the Shichibukai.[25] Luffy's bounty later increased to

300,000,000 after invading Enies Lobby[26], to

400,000,000 after the Battle of Marineford because of his heritage and actions[27], to

500,000,000 after defeating Doflamingo, and to

1,500,000,000 after the events of the Whole Cake Island Arc.
Fleet Admirals
Edit
Sakazuki, otherwise known as Akainu, is the Fleet Admiral of the Marines having previously been an Admiral. He and Luffy hold absolute hatred for each other and see one another as completely irredeemable enemies. Akainu loathes Luffy due to his absolute contempt for pirates and believes the Straw Hat captain is one of the biggest troublemakers out there. His hate is further fueled due to Luffy's father being the Revolutionary Monkey D. Dragon. Luffy has undeniable hate for Akainu as he is the one that killed his sworn brother, Portgas D. Ace, right before his very eyes.
The two have only met once, during the Battle of Marineford, and for the majority of the battle they rarely crossed paths. It was only towards the climax of the conflict that Akainu truly made his presence known to Luffy when he antagonised and killed Ace. However, Luffy was sent into shock from the death of his brother and was rendered unconscious for the remainder of the battle. From then on, Akainu ruthlessly pursued Luffy until he was eventually stopped by the arrival of the emperor, Shanks. He has since cursed that day for allowing Luffy to escape and continues to hunt the Straw Hat captain.
Akainu believes Luffy to be the foremost biggest threat to the world because he is the son of Dragon and often refers to him as "Dragon's son". He witnessed Luffy's arrival to the Battle of Marineford and stated that Luffy is the pirate that must be taken care of the most. He has an extreme obsession to end Luffy's life because of his lineage to Dragon and has stopped at nothing to achieve this goal. He fought through the Whitebeard Pirates and Luffy's allies just to try and kill him. He was only stopped when Koby momentarily brought the battlefield to a halt and the emperor, Shanks, had arrived, which allowed Luffy to escape.
He has been frustrated by Luffy's actions since he made his return following the time skip, as he was shocked and left angry when he was informed that Luffy had defeated the Shichibukai, Doflamingo, and ranted at Admiral Fujitora to arrest him. Despite his complete hatred for Luffy, he was willing to acknowledge his tenacity when the Straw Hat captain managed to be the first to clear the wall and land into the plaza during the Battle of Marineford. Akainu is one of only two characters (the other being Bartholomew Kuma) to have completely broken Luffy's indomitable spirit, a staple of Luffy's character.[28] He also left a great scar on his chest when he managed to land a hit on him whilst Jinbe carried an unconscious Luffy.
Luffy completely hates Akainu despite having never even exchanged words with him, nor acknowledged him, up until he killed his brother, Ace. Luffy fell unconscious from the shock and became a broken person following the battle because of what Akainu did, but was soon saved by Jinbe's words. He has never talked about Akainu but it is a safe bet to assume that there is no one else he hates more in the world than him. When he was informed by Jinbe, whilst on Fish-Man Island, that Akainu had become the Fleet Admiral after defeating his rival for the position, Aokiji, he was shown to have an angry expression on his face and placed his hand on the scar that he got from him.[29]
Borsalino
Edit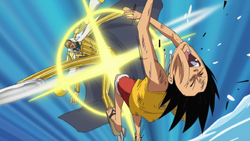 Borsalino, otherwise known as Kizaru, is an Admiral of the Marines. He was an antagonist to Luffy and his crew during the Sabaody Archipelago Arc and again during the Battle of Marineford. Due to his apathetic attitude, he does not particularly care too much about Luffy but recognises how much of a troublemaker and dangerous person he is. However, he still looks down on Luffy and believes him to be a weak pirate. Luffy views Kizaru as an incredibly powerful enemy and generally tries to avoid fighting him.
After Luffy had assaulted the World Noble, Charlos, Kizaru was sent to Sabaody to arrest or eliminate the Straw Hat captain, but found his attempts frustrated by the intervention of Silvers Rayleigh and Bartholomew Kuma. He encountered Luffy again during the Battle of Marineford where he interfered with Luffy's attempts to save Ace multiple times and tried to prevent his escape from Marineford before being stopped by Benn Beckman.
Kizaru seems to think poorly of Luffy whilst also acknowledging how dangerous he is. When he finally got to fight the Straw Hat captain he ridiculed him and insulted Whitebeard for allowing someone so weak to lead his attack. Nonetheless, he has commented that Luffy is scary after he was the first person to clear the wall and land in the plaza of Marineford and was also surprised when Luffy unleashed his Haoshoku Haki. It was because of this use of Haki that he, along with his fellow Admirals, pursued Luffy to try and kill him as he believed it was a sign of the dangerous person he will become. Due to his exceptionally laid back attitude, Kizaru is ultimately not fazed by some of the actions Luffy commits and is not too upset after he managed to escape his grasp, twice.
Luffy is well aware of the strength Kizaru possesses and tried to retreat, with his crew, when facing the Admiral on Sabaody and was thankful when Rayleigh intervened on their behalf. Throughout the Battle of Marineford, he was greatly frustrated by Kizaru's constant interventions in his attempt to save Ace, having been defeated by him twice during the conflict. He also panicked when, after managing to reach Ace, the key to his seastone handcuffs was destroyed by Kizaru. However, he did not appear to take any personal offense to the ridicule he got from the Admiral and simply chose to carry on trying to rescue Ace.
Following the death of his brother, the marine Admiral pursued the comatose Luffy when he was about to be rescued by Trafalgar D. Water Law but the Red Hair Pirates arrived and Benn Beckman intervened on behalf of Luffy.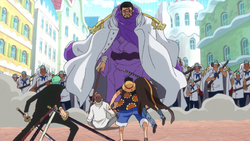 Issho, otherwise known as Fujitora, is an Admiral of the Marines and a supporting ally, as well as an antagonist, to Luffy and his crew during the Dressrosa Arc. Compared to most members of the Marines, Luffy and Fujitora arguably have the most positive relationship. Fujitora, like many others, has become intrigued with Luffy's character and was willing to offer up his aid to him in his fight against Donquixote Doflamingo. Luffy has a lot of respect for Fujitora but also feels pity for him due to his blindness whilst still acknowledging his immense power.
The two first met on Dressrosa, inside a casino, where Fujitora was gambling. Whilst being taken advantage of by members of the Donquixote Pirates, due to his blindness, Luffy stepped in and clarified that he had actually won his bet. The two crossed paths again during Luffy's attempt to reach Doflamingo but were soon interrupted by Pica. Although Fujitora attempted to frustrate Luffy's efforts against Doflamingo, he had also become wary of the Shichibukai and decided to aid the Straw Hats after he had become somewhat disillusioned with the Marines' role in Dressrosa. He stated to King Riku that he wished to take a gamble on Luffy to save the kingdom. By the end of the arc, he eventually tried to apprehend Luffy and his crew and, after briefly fighting him, decided to let him escape once he realised that the citizens were trying to help him, causing him to ponder what kind of person Luffy truly is.
Fujitora very much has a complex view on Luffy, owing to Luffy's complex nature. He views the Straw Hat captain as his enemy for being a pirate, but is conflicted by his kind heartiness and how his own sense of justice clashed with the Marines' sense of justice. This results in him changing sides, from protecting Doflamingo, a Shichibukai, to supporting Luffy and his crew to save Dressrosa. He was troubled about having to arrest Luffy and instead decided to use his dices to make the decision for him, commenting that Luffy is a lucky person as his dices landed favorably for him two days in a row. During his brief fight with Luffy, he showed complete amusement at Luffy unusually calling out the direction of his own attacks because of his blindness, finding it absurd but also annoying as he was being pittied by him.
Following his fight against Luffy, he noticed that there was not a hint of anger in any of the voices of the citizens who were "chasing" Luffy out of their kingdom; instead, they seemed to adore him. Having blinded himself because he wished to no longer see the atrocities of the world, he admitted, for the first time in his life, that he now regrets his blindness because he cannot see Luffy's face. This caused Fujitora to ponder what Luffy looks like and wanted to believe he has a kind face. He ultimately decided to drop the debris he had lifted into the sky on top of Doflamingo's business associates who were trying to kill the Straw Hat captain, instead of Luffy and his crew, as a way to thank him.
Luffy was not aware that Fujitora is an Admiral when he first met him and decided to help him when he was being cheated out of a game of dice by members of the Donquixote Pirates. Despite having learned he is an enemy, Luffy still pities him for being blind which led to him announcing every one of his attacks whilst fighting the Admiral, however, this prompted laughter from Fujitora which irritated Luffy. However, even though he patronised him, he still views Fujitora as a person that he and his crew must surpass as he declared that he should no longer run away from powerful foes like him, wanting to prove that his training was not for nothing. He was frustrated when Hajrudin forcibly took him away from his fight against Fujitora.
Vice-Admirals
Edit
Smoker is a Vice-Admiral of the Marines and the Commander of G-5. He is Luffy's most prominent antagonist within the Marines, having hunted down the Straw Hat captain since the Loguetown Arc. They share a complex relationship as both enemies and allies due to their differing personalities but affinity for honor. Smoker believes Luffy is a troublesome pirate that he must capture but also understands that he is not a bad person. Luffy does recognize Smoker as an enemy but nonetheless likes to treat him as a friend since he believes him to be a good guy.
Whilst stationed in Loguetown, Smoker heard about the chaos being caused by pirates in the plaza and headed there to capture them. Having witnessed Buggy's failed execution of Luffy, he tried to apprehend the Straw Hat captain but was stopped by Monkey D. Dragon who, unbeknownst to him at the time, is Luffy's father. He followed Luffy all the way to Alabasta where he ended up getting captured alongside him and his crew by Crocodile. Because Luffy saved his life he allowed him to escape and temporarily left Alabasta due to urgent business. He next encountered Luffy during the Battle of Marineford and at one point managed to capture him but was kicked away by Boa Hancock whilst Luffy escaped his grasp yet again. On Punk Hazard, he came across Luffy once more and attempted to apprehend him but did not have the fighting strength to do so after he was put into Tashigi's body due to Trafalgar Law's Devil Fruit. He ended up working with Luffy and the Straw Hats to take down Caesar Clown and once more allowed Luffy to escape as a way to repay his work in defeating Caesar.
Smoker is both greatly intrigued by Luffy as a person but also dislikes him because he is a pirate. Due to witnessing Gol D. Roger's execution, Luffy almost being executed by Buggy on top of Roger's execution platform had a profound impact on Smoker as he was left stunned by Luffy's willingness to embrace his death with a smile, exactly like Roger, and was even more stunned that it occurred on the anniversary of Roger's execution. This piqued his interest in the Straw Hat captain and has resulted in him obsessively following Luffy to the Grand Line and the New World, having requested a transfer to the notorious G-5 unit for this specific purpose. When Dragon prevented him from capturing Luffy in Loguetown, he was completely perplexed why the most wanted man in the world would save a relatively unknown pirate at the time. Eventually, he was informed that Dragon is Luffy's father and understood why he intervened. Whilst he was in Alabasta, he came across Portgas D. Ace and was intent on capturing the Whitebeard Pirates' Second Division Commander, however, after he saw Luffy he completely disregarded Ace and devoted his time and effort to capturing the Straw Hat captain instead, despite Ace being a much more notorious and dangerous pirate than Luffy at the time. He was confused to see Luffy working alongside Crocodile when the pair arrived, with their makeshift crew, at the Battle of Marineford. Smoker finally understood why Dragon saved Luffy and he became determined to stop him from progressing into a future threat. He pursued Luffy during the conflict and momentarily caught him once more but was stopped by an enraged Hancock.
Despite not liking him, he harbors no serious hatred towards Luffy and does not seem intent on killing him but instead simply wants to capture him. He is more than willing to work with Luffy if the situation calls for it, such as on Alabasta and Punk Hazard. He accepts that he owes Luffy and his crew a great deal, especially following the Alabasta Arc, as the Straw Hats had covered for the Marines' mistake of failing to stop Crocodile's plans coming to fruition. He was absolutely livid when the World Government intended to give him credit for Crocodile's defeat and wanted the world to know it was Luffy and his crew that saved the kingdom. It was also during this arc that he reluctantly allowed Luffy and his crew to escape after Luffy had ordered his crew mate, Roronoa Zoro, to save his life as he could not swim due to being a Devil Fruit user. During the Battle of Marineford, he complimented Luffy that he had gotten stronger as he pinned him down with his jutte. He also decided to work with Luffy, his crew, and Trafalgar Law on Punk Hazard once it was revealed that Vergo had betrayed the Marines. Having succeeded in their mission, he reluctantly took part in a banquet that Luffy and his crew held and once more allowed him to escape his grasp. Due to having pursued Luffy for so long, he has picked up on his habits and was able to correctly predict that he would try and visit Raijin Island as it was extremely dangerous and is fully aware of Luffy's reckless nature.
Luffy found Smoker to be one of the toughest people he had faced when he met him in Loguetown, as he was the first Logia Devil Fruit user he had fought. This has led Luffy to, unusually, runaway from Smoker rather than fight him. However, despite him being his enemy he is pretty kind to Smoker and does not believe him to be a bad person despite his constant pursuit of him. Such is his fondness for Smoker, he ordered his crew mate, Zoro, to save Smoker's life as they fell into water during their escape from Crocodile's casino and was very happy to see him again when he arrived in the New World on Punk Hazard, admitting he worried about him following the Battle of Marineford. He is very warm and friendly with Smoker even though they are enemies and often jokes with him despite his stoic nature. Following the time skip, Luffy was more than eager to fight Smoker on Punk Hazard, having now mastered all three types of Haki, but chose not to when he discovered that Smoker and Tashigi had their bodies swapped by Law. Luffy has the habit to refer to Smoker as "Smokey".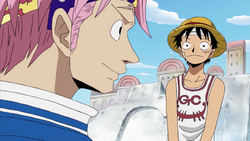 Koby is a Captain of the Marines, a former pirate, and the first friend Luffy made at sea. The two first met during the Romance Dawn Arc and became good friends rather quickly. They both share a close relationship and often wonder how each other are doing from time to time. Koby has huge admiration for Luffy and credits him with giving him the inspiration to try and fulfil his dream of becoming a strong Marine. Luffy found Koby's cowardly nature to be pathetic but viewed him as a friend regardless. He was very happy to see that Koby is trying to become a Marine and had grown a lot since he met him.
The two met at the beginning of Luffy's journey to become the Pirate King after he ended up in Alvida's camp. Luffy broke out of his barrel and met Koby who he quickly befriended. He managed to defeat Alvida and thus liberated Koby from serving under her. The two travelled together to reach Shells Town so Luffy could recruit the notorious bounty hunter, Roronoa Zoro. After rescuing Zoro, Koby and Luffy agreed to part ways. The two met again on Water 7, with Koby now being under the apprenticeship of Luffy's grandfather, Monkey D. Garp, and after a brief fight and a friendly chat they parted ways once again. Koby was present during the Battle of Marineford but only came across Luffy very briefly when he tried to stop him reaching Ace, but was immediately defeated. The two have not met since but Koby passionately keeps up to date with his friend's exploits.
Despite being on opposite sides, the pair share an indomitable friendship. They take great pride in each other's accomplishments and hold no prejudice or ill will for each other despite being enemies. They also completely accept that they will inevitably clash in the future and do not hold grudges when they do so, such as at the Battle of Marineford, as they both fully understand each other's obligations. The two like to talk about each other, but whilst Luffy openly discusses their friendship, Koby prefers to keep it hidden due to the strict nature of the Marines. When they reunited on Water 7 they both marveled at how much strong the other has gotten, Luffy was especially amazed over Koby's drastic growth spurt.
Out of everyone he has met, Koby admires Luffy the most and cherishes his friendship with him as he was the first person who ever acknowledged him as a friend. When they first met, he was amazed by Luffy's fierce determination to become the Pirate King and even divulged his own dreams of becoming a strong Marine to him. After seeing Luffy's fearlessness, he was able to momentarily throw away his cowardly nature and insult Alvida instead of fearfully praising her. His admiration for Luffy led to him aiding Luffy in his quest to free Zoro, especially after he found his resolve to uphold "real justice" as a Marine. This admiration convinced Koby to officially join the Marines and to work hard to achieve his ultimate goal of becoming an Admiral. Because of the great respect he has for Luffy, he is determined to defeat and capture him one day as, to him, Luffy is the person he must measure himself up against in order to become a strong Marine. This has resulted in him trying to fight Luffy a few times but always being easily defeated, such as on Water 7 and again at the Battle of Marineford. Following the time skip, Koby met Rebecca, a fellow admirer of Luffy, and found out about his recent exploits in Totto Land, crying tears of joy at his achievements.
Koby is often stunned by Luffy's fearless and straightforward attitude. He was crushed when Luffy bluntly told him he does not like him because he is a coward and was left stunned when he casually insulted Alvida. When Luffy revealed his intention to recruit the Pirate Hunter, Zoro, he was shocked and desperately tried to discourage his new friend from attempting this. He panicked when Luffy punched the son of Captain Morgan, Helmeppo, and tried to hold him back. He watched in amazement as Luffy was able to overwhelm Captain Morgan during their fight in Shells Town. He was initially upset with Luffy, and punced him, after he revealed his past as a pirate to the local Marines. After being beaten up by Luffy he realised that Luffy was actually putting distance between them so he could become a Marine, as being associated with a pirate is extremely taboo. He thus gave his friend a Marine salute as he sailed out of Shells Town and thanked him for what he had done for him. When he travelled with Garp to Water 7, he was left completely shocked when his commander revealed that, not only is he Luffy's grandfather, but that the leader of the Revolutionary Army, Monkey D. Dragon, is Luffy's father. During the Battle of Marineford, he could not believe that Luffy not only fell out of the sky on to the battlefield but that he had also managed to escape from the infamous prison, Impel Down.
Like Koby, Luffy cherishes the friendship they share and has a lot of faith in Koby to grow and become stronger. When Luffy first met Koby he insulted him for his cowardly nature but still befriended him anyway. He was proud of him when he stood up to Alvida and saved him when she went to strike him with her mace. He decided to travel with him for a short while and relied on him as a navigator to get to Shells Town as he wished to recruit Zoro. Luffy does not pay much attention to Koby's objections towards his actions, often completely disregarding them, nonetheless, he is happy to have him by his side despite how weak he is. He is also more than willing to attack Koby if the situation calls for it, as he knocked out his old friend with a single punch during the Battle of Marineford when he stood in his way. Nonetheless, he considers Koby to be a very good friend and was very happy to meet him again in Water 7 where he reminisced with him and Helmeppo.
He wants Koby to follow his dreams and was happy to motivate him to do so. When he found out that his dream is to become a Marine, but his past as a pirate would hinder his chances, he decided to help Koby by antagonizing and attacking him when the Marines came to remove him and Zoro from Shells Town in order to put distance between him and Koby so he could join the Marines. Luffy was overjoyed to see he had started to work to achieve his dream of becoming a strong Marine and was impressed by the improvements he had made. When Koby bluntly told him he wishes to become an Admiral and to defeat and capture him one day he was not at all bothered by this, instead being overjoyed to see how far Koby has come and gave him words of encouragement to meet him in the New World.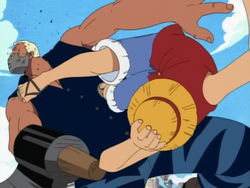 Morgan is a former Marine captain and a wanted criminal. He was an antagonist to Luffy during the Romance Dawn Arc whilst in Shells Town. Luffy does not like Morgan and sees him as a cruel and abusive person. Like most Marines, Morgan dislikes Luffy because he is a pirate, but also because he damaged his ego and ended his luxurious lifestyle of being a Marine captain.
Luffy arrived in Shells Town and noticed that the residents of the town cowered at the name of Morgan. He later met Morgan's son, Helmeppo, in a restaurant and overheard him bragging about his intentions not to honor his deal with Zoro and punched him. Luffy later stormed the Marine base for Zoro's swords and angered Morgan in the process. He then fought him in the base's courtyard and comfortably took him down, alongside his son, with the aid of Zoro.
Due to being extremely prideful, egotistical and cruel, Morgan absolutely despised Luffy, not just for being a pirate but for openly defying him. He grew extremely angry when Luffy accidentally destroyed the statue he had built of himself and wished to kill him. He was somewhat shaken at seeing Luffy's Devil Fruit powers, as this was his first time seeing one. Nonetheless, he still maintained his determination to take down Luffy but was easily bested by the pirate. When his son distracted Luffy by threatening Koby, he tried to land a sneak attack but was stopped by Zoro.
Luffy did not like Morgan and recognized him as a cruel personal based on the reactions the townsfolk had just from mentioning his name, and again when he defeated him. Despite his notorious reputation among the Marines in East Blue, he was not at all worried about facing him, and took him on with a big smile as he knew how much stronger he was than the captain. Nonetheless, when he had subdued Morgan, he showed his hatred for the captain, as he punched Morgan whilst chastising him for ruining Koby's idealistic views of the Marines.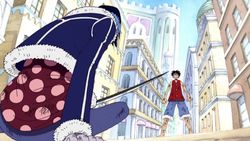 Tashigi is a captain in the Marines who serves under Vice-Admiral Smoker and has joined him as part of the G-5 squad. The two have rarely interacted, however, they have crossed paths and see each other as enemies. Tashigi, like her superior, Smoker, views Luffy as an enemy because he is a pirate, but has also begrudgingly come to respect him for all the good he ends up doing. Luffy does not have particular opinion of Tashigi but acknowledges her as a good person because she works alongside Smoker.
Alongside Smoker, Tashigi watched as Luffy survived his execution from Buggy whilst in Loguetown and tried to chase after him and his crew, particularly Zoro, but lost her fight to the swordsman and allowed Luffy and his crew to escape. She met Luffy and his crew again in Alabasta with the intent of apprehending them but ended up providing aid to Luffy when he was hunting down Crocodile. She was present at the Battle of Marineford and notified Smoker of Luffy's arrival, being just as surprised as he was that Crocodile was with him. She would not encounter Luffy again until after the time skip on Punk Hazard where she, after attempting to fight Luffy whilst in Smoker's body, ends up working alongside him to defeat Caesar Clown and his subordinates.
Due to Luffy being a pirate she wishes to apprehend him and follows Smoker faithfully in order to achieve this. She feels both a sense of gratefulness, but also frustration, at having to rely on Luffy and his crew for help. This was most apparent in Alabasta when, after being defeated by Nico Robin and ridiculed by Crocodile, she could do nothing but point Luffy in the direction that Crocodile went in. This greatly upset her and damaged her pride, as she scolded herself for being weak and having to rely on a pirate such as Luffy for help. However, during the Punk Hazard Arc she was a little more accepting of working alongside Luffy and his crew to take down Caesar Clown. Her respect for him has slightly improved as she chastised the troops of G-5 for denying the children's wish to thank Luffy and his crew for what they did.
Luffy never acknowledges Tashigi and has only interacted with her on two occasions, once in Alabasta and again in Punk Hazard. However, he gives her the benefit of the doubt due to her working alongside Smoker and tends to be friendly around her as oppose to hostile despite her being a Marine. He thanked her back in Alabasta when she gave him the direction that Crocodile went in. Luffy openly thinks she is weak as when he fought against her whilst she was in Smoker's body he was disappointed at how much weaker "Smoker" had apparently gotten, and when he fought Smoker whilst he was in Tashigi's body he commented that she had gotten strong. He also does not remember her name and tends to just refer to her as "the girl with glasses".
Other Officers
Edit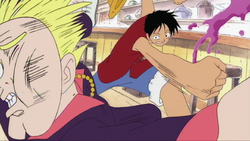 Helmeppo is an officer in the Marines and a minor antagonist to Luffy during the Romance Dawn Arc. They originally shared a hostile relationship but have come to see each other as friends since Helmeppo joined the Marines alongside Koby. Helmeppo is often amazed by Luffy's abilities and considers him to be a great person, similar to Koby. Luffy has come to see him as a friend, but has struggled to remember who he is, nonetheless, he is kind to Helmeppo despite having originally hated him.
Whilst in Shells Town, Luffy intended to recruit Roronoa Zoro into his crew but he was tied up to a post in a Marine base on the orders of Helmeppo, who is the son of the now disgraced Captain Morgan. Eventually, Luffy worked with Koby to free Zoro and easily defeated Morgan and Helmeppo. Luffy would not meet Helmeppo again until the Water 7 arc where he was amazed to see he was now part of the Marines, alongside Koby, and has cleaned up his attitude. Helmeppo was also present at the Battle of Marineford but the two did not cross paths.
Originally, Helmeppo was incredibly antagonistic towards Luffy due to his self-entitlement for being the son of a famous Marine captain, however, he is also a complete coward and greatly feared Luffy as he was not only strong, but more than prepared to hit him. This results in him despising Luffy and tried to get his father to kill him but ended up getting hit by him. Following his father's defeat, and the loss of his luxurious lifestyle, he hated Luffy and at one point stabbed a doll resembling the Straw Hat captain. However, by the time of the Water 7 arc, and after being trained under Luffy's grandfather, Monkey D. Garp, he had a redeemed personality and was very friendly to Luffy but was disappointed that he only remembered him as a spoilt rich kid. Nonetheless, he sat with Luffy and Koby as the three reminisced about how they met. Like many others, he is shocked by Luffy's actions and lineage, when he discovered that his father is Monkey D. Dragon, and his grandfather is his own commander, Monkey D. Garp, he was stunned. His jaw dropped at the sight of seeing Luffy arrive to the Battle of Marineford, and at the realization that he had escaped Impel Down.
Luffy initially loathed Helmeppo, as he was furious when he overheard him bragging about not honoring the deal he made with Zoro, and proceeded to punch him. During his battle with Morgan, he punched Helmeppo for pointing a gun at Koby, leaving him defeated. He never thought much about Helmeppo after the incident in Shells Town and had mostly forgotten him by the time he met him again in Water 7. However, after remembering who he was, and seeing how much better he is, he treated him as a friend and is happy to see he is friends with Koby, who Luffy considered a close friend. He sat with both Helmeppo and Koby to reminisce about how they all met, gleefully informing Helmeppo about how Koby accidentally became a pirate, laughing at Koby's expense.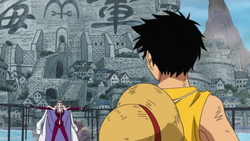 Hina is an officer in the Marines and is a minor antagonist to Luffy and his crew at the end of the Alabasta Arc and the Marineford Arc. Hina, like many in the Marines, dislikes Luffy for being a pirate and hunts him down whenever the opportunity arrises. Luffy treats Hina like any other Marine officer and tries to avoid confrontation with her, as a result, he has never had a serious interaction with her.
On Alabasta, following Luffy's victory over Crocodile, Hina arrived alongside Smoker. Hearing that Luffy and his crew were nearby, she opted to personally try and apprehend them all as they sailed away from the desert kingdom. However, whilst seeking to entrap them, she was tricked by Bon Clay and his crew who posed as the Straw Hats, allowing the real Straw Hats to escape. She next encountered Luffy at the Battle of Marineford and attempted to stop the Straw Hat captain but he was too quick for her and slipped away once again.
Very much like every Marine, she wishes to capture Luffy as she believes him to be a dangerous pirate and a threat to the world. At Alabasta, she broke her strategic formation when she believed she had spotted Luffy and tried to pursue him, only to have been deceived by Bon Clay. However, it is apparent she does not necessarily hate Luffy as she was indulging of Smoker's distaste for receiving credit for defeating Crocodile when it was Luffy. She also does not seem bitter about having allowed Luffy to escape and even smiled when she deduced that Smoker was pleased he managed to get away. She is also humble to Luffy, as when her attempt to ensnare him during the Battle of Marineford, with her Devil Fruit powers, failed she complimented his speed and admitted he had bested her.
Luffy first heard of Hina from Bon Clay when he had escaped with him out of Alabasta and was warned by his new friend that she is a dangerous Marine. Luffy was in tears as Bon Clay sacrificed himself to Hina in order to allow him to escape her. He eventually came face to face with Hina at the Battle of Marineford and surprisingly remembered who she was. He was momentarily caught off guard by her Devil Fruit abilities but was ultimately able to escape from her rather easily. It appears he might have taken Bon Clay's warning about Hina seriously as he opted not to try and fight her at the Battle of Marineford despite going on to fight nearly every other enemy he encountered during the battle.
References
Edit
Community content is available under
CC-BY-SA
unless otherwise noted.