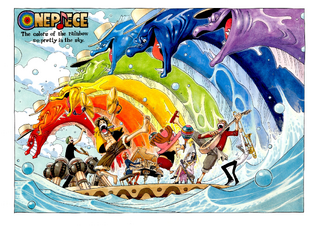 Orchestra of the Sea is the first omake and only omake so far that appears in the actual One Piece volumes. It is published in Volume 32 and appears in Chapter 304, as an omake as well as a color spread. So far, this is the only omake that was ever colored in its manga form.
The Straw Hat Pirates decide to play beautiful music in order to lure out fish so that they can eat something for dinner. Zoro comments that fishing with Chopper as bait would be much quicker, much to Chopper's horror. When they start playing the music, the legendary Rainbow Moray Eel Brothers appear. After the Straw Hats comment on the rare sight, they get ready to catch them for dinner, which enrages Nami. Luffy seems to get punched in the end by Nami, judging from the big bump on his head.
Instruments
Edit
Community content is available under
CC-BY-SA
unless otherwise noted.