Doctor Strange in The Multiverse o Madness - The Loop
Play Sound
Needless is a pirate and the right hand man of Gasparde. With a bounty of

57,000,000. He was the secondary antagonist of the fourth movie.
Appearance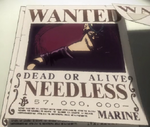 Needless is a tall, muscular man with short blonde hair and a pale complexion. He has black, wavy patterned tattoos on both his biceps, and a tattoo of x-crossed dark green sabers with black seagull wings and a hook-ended cross on his face. He wears a black a-shirt and pants, two golden earrings on each ear, and holsters for his clawed weapons on his waist.
Personality
Personality-wise, Needless is a quiet man who rarely speaks, and seems to be very silent when in his captain's presence, but appears merciless during combat, going as far as to casually toss aside a crew member deemed useless. However, he is also somewhat respectful to strangers as he obeys Luffy when he is told to leave his straw hat alone. When angered or on the losing side of a fight, Needless becomes more talkative and tauntful as his calm attitude begins to crumble and he grows desperate or spiteful towards his opponent.
Despite being Gasparde's right-hand man, Needless seems to despise his own captain, as he ignored his orders not to damage the ship and even stated that Gasparde was for him to kill.
Abilities and Powers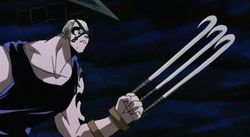 Needless is Gasparde's right-hand man, being one of the two main fighters of the Gasparde Pirates, and the second strongest of the crew, after his captain. He possesses great strength, casually gripping a crew member Gasparde declared useless on the shoulder to cause pain and easily throwing him over the balcony, and was able to stop a ship's pedal with one hand. He also has great speed and endurance, managing to continue fighting even when his arm was dislocated.
Weapons
Needless' primary weapons is a pair of sharp, extendable hooked claw weapons, and he uses his speed to get close to his opponent for a lethal blow. He keeps them holstered on his waist when not in use.
History
Sky Island Saga
Dead End Adventure
Needless partook in the Dead End Race as a crew member of Gasparde Pirates; he threw a member over the balcony when Gasparde said that member was useless. When Shuraiya Bascùd revealed himself in an attempt to take Gasparde's head, Needless fought on behalf of his captain, but ignored his orders to not damage their own ship. He is taken out after a long fight in which his right arm gets dislocated and one of his claw weapons is jammed in one of the Salamander's paddle wheels by Shuraiya and knocked into the ocean.
References
Active

5,000,000,000 to 1,000,000,000

:
Kaidou *  •  Charlotte Linlin *  •  Shanks *  •  Marshall D. Teach *  •  Monkey D. Luffy *  •  King *  •  Marco *  •  Queen *  •  Charlotte Katakuri *

1,000,000,000 to 500,000,000

:
Jack *  •  Charlotte Smoothie *  •  Charlotte Cracker *  •  Charlotte Perospero *  •  Sabo *  •  Charlotte Snack *  •  Little Oars Jr. *  •  Who's-Who *  •  Chinjao *  •  Izou *

500,000,000 to 100,000,000

:
Trafalgar Law *  •  Edward Weevil *  •  Black Maria *  •  Sasaki *  •  Eustass Kid *  •  Belo Betty *  •  Jinbe *  •  Tamago *  •  Karasu *  •  Ulti *  •  Scratchmen Apoo *  •  Capone Bege *  •  Donquixote Doflamingo *  •  Pekoms *  •  Cavendish *  •  Vinsmoke Sanji *  •  Basil Hawkins *  •  Gecko Moria *  •  Roronoa Zoro *  •  Lindbergh *  •  Charlotte Oven *  •  Charlotte Daifuku *  •  Caesar Clown *  •  Morley *  •  Page One *  •  X Drake *  •  Squard *  •  Caribou *  •  Sai *  •  Killer *  •  Usopp *  •  Bartolomeo *  •  Bellamy *  •  Coribou *  •  Orlumbus *  •  Jewelry Bonney *  •  Nico Robin *  •  Charlotte Mont-d'Or *  •  Urouge *  •  Bobbin *

100,000,000 to 50,000,000

:
Dorry *  •  Brogy *  •  Trebol *  •  Diamante *  •  Pica *  •  Vito *  •  Rockstar *  •  Franky *  •  Albion *  •  Gotti *  •  Lip Doughty *  •  Brook *  •  Chadros Higelyges *  •  Boa Hancock *  •  Daz Bonez *  •  Raccoon *  •  Gyro *  •  Doc Q *  •  Suleiman *  •  Gambia *  •  Nami *  •  Van Augur *  •  Lao G *  •  Devil Dias *  •  Senor Pink *  •  Kelly Funk *  •  Peachbeard *

50,000,000 to 10,000,000

:
Laffitte *  •  Boa Sandersonia *  •  Boa Marigold *  •  Sarquiss *  •  Shoujou *  •  Mikazuki *  •  Bobby Funk *  •  Miss Doublefinger *  •  Mr. 2 Bon Kurei *  •  Gladius *  •  Miss Goldenweek *  •  Mont Blanc Cricket *  •  Mr. 3 *  •  Foxy *  •  Charlotte Lola *  •  Demaro Black *  •  Masira *  •  Arlong *  •  Jesus Burgess *  •  Yeti Cool Brothers *  •  Krieg *  •  Lacuba *  •  Kuro *  •  Buggy *  •  Dellinger *  •  Bluejam *  •  Miss Merry Christmas *  •  Gin *  •  Machvise *
10,000,000
and under:
Mr. 5 *  •  Wellington *  •  Kuroobi *  •  Hatchan *  •  Curly Dadan *  •  Miss Valentine *  •  Sham & Buchi *  •  Chew *  •  Alvida *  •  Porchemy *  •  Mr. 4 *  •  Bepo *  •  Tony Tony Chopper *

Unknown reward

:
Benn Beckman  •  Lucky Roux  •  Yasopp  •  Zeff  •  Dracule Mihawk  •  Crocodile *  •  Monkey D. Dragon  •  Crocus  •  Yorki  •  Jozu  •  Vista  •  Silvers Rayleigh  •  Emporio Ivankov  •  Inazuma  •  Shiryu  •  Sanjuan Wolf  •  Vasco Shot  •  Catarina Devon  •  Avalo Pizarro  •  Aladine  •  Charlotte Amande
Non-canon

1,000,000,000 to 100,000,000

:
Bounty *  •  Prize *  •  Byrnndi World * ?  •  Panz Fry *  •  Chameleone *  •  Lambor Bukini *  •  Puggy *  •  Dopp *

100,000,000 to 10,000,000

:
Puzzle *  •  Gasparde *  •  Tambu *  •  Bobrad *  •  Woonan * †  •  Needless *  •  Olive *  •  Willy *  •  Bigalo *  •  Battler *  •  Wetton *  •  Bear King *
10,000,000
and under:
Eldoraggo *  •  Dick *  •  Pin Joker *  •  Golass *  •  Honey Queen *  •  Skunk One *  •  Gally *  •  Billy (Bandit) *  •  Heaby *  •  Hotdog *  •  Spiel *  •  Pandaman *  •  Boo Jack *  •  Billy (Pirate) *  •  A A A *  •  Wild Joe *  •  D.R. *  •  Hitokui *  •  Henna Oyag *  •  Koba K *  •  Usanksai *  •  Sard *  •  Tohenbok *  •  Tacobo *

Unknown reward

:
Patrick Redfield *  •  Mobu Head *  •  Red Arrows Pirates * †  •  Dareda  •  Dontacos

Others

:
Gill Bastar *  •  Mikio Itoo *