Doctor Strange in The Multiverse o Madness - The Loop
Play Sound
Not to be confused with Nico Olvia.
Olive is a pirate who was captured and sent to Impel Down. She seduced Hannyabal and attempted to escape, but was thwarted by Magellan and locked away. She appeared exclusively in the anime, briefly in Hannyabal's flashback.[1]
Appearance
Olive is a tall and well-dressed slim female, appearing as that of a wealthy and successful pirate. She dresses in an unbuttoned orange shirt, revealing the cleavage of her large breasts, with her hips being equally wide in proportion, maintaining a marked ideal hourglass figure. She has a large belt secured around her waist, a blue jean bikini bottom, beaded necklaces around her neck and hips, pink frilled boots. She also wears a pink captain's jacket (with a large white frill over the neck and shoulder areas) over all of it, and golden small spherical earrings. On her head she wears a pink bicorne with a big pink feather on top and a golden hoop on the front of it, which has her long olive colored hair coming out from under it and reaching to her neck, with two tufts tied in pigtails. Her eyes are olive in color as well.[1]
When she knocked out Hannyabal, she stole his uniform, which was a perfect fit, giving her an appearance similar to Domino's. However, this was short-lived, as almost immediately she was apprehended by Magellan and she was then seen garbed in a standard-issue inmate Impel Down attire.[1]
Personality
She is cunning and strong, using her looks to charm and seduce those around her, to get what she wants. She holds contempt over men on how easily they are tricked. Her eyes have shown to glow a vivid red whenever she feels or is about to do something particularly malevolent. However, once she was overpowered and caught, she would whine and struggle pointlessly.[1]
Abilities and Powers
Olive is apparently a strong female pirate whose infamy was enough for her to gain a bounty of

50,000,000. Much like Nami, she uses her feminine wiles to catch male foes off-guard, and has shown to be physically powerful enough to lift a large mallet over her shoulders, which she bashed Hannyabal over the head with.[1]
History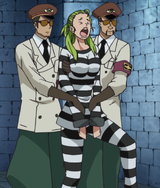 Olive appeared in a flashback of Hannyabal thinking back 20 years ago when he first joined. She was the first prisoner he dealt with and she successfully had the new jailer lower his guard, knocked him out and stole his clothes so she could escape. Unfortunately for her, almost right after she donned the uniform and remarked on Hannyabal's naïveté, she was caught by then-Chief-Warden Magellan, who appeared behind her. Olive was then taken into custody by two guards as she struggled pointlessly.[1]

References
Active

5,000,000,000 to 1,000,000,000

:
Kaidou *  •  Charlotte Linlin *  •  Shanks *  •  Marshall D. Teach *  •  Monkey D. Luffy *  •  King *  •  Marco *  •  Queen *  •  Charlotte Katakuri *

1,000,000,000 to 500,000,000

:
Jack *  •  Charlotte Smoothie *  •  Charlotte Cracker *  •  Charlotte Perospero *  •  Sabo *  •  Charlotte Snack *  •  Little Oars Jr. *  •  Who's-Who *  •  Chinjao *  •  Izou *

500,000,000 to 100,000,000

:
Trafalgar Law *  •  Edward Weevil *  •  Black Maria *  •  Sasaki *  •  Eustass Kid *  •  Belo Betty *  •  Jinbe *  •  Tamago *  •  Karasu *  •  Ulti *  •  Scratchmen Apoo *  •  Capone Bege *  •  Donquixote Doflamingo *  •  Pekoms *  •  Cavendish *  •  Vinsmoke Sanji *  •  Basil Hawkins *  •  Gecko Moria *  •  Roronoa Zoro *  •  Lindbergh *  •  Charlotte Oven *  •  Charlotte Daifuku *  •  Caesar Clown *  •  Morley *  •  Page One *  •  X Drake *  •  Squard *  •  Caribou *  •  Sai *  •  Killer *  •  Usopp *  •  Bartolomeo *  •  Bellamy *  •  Coribou *  •  Orlumbus *  •  Jewelry Bonney *  •  Nico Robin *  •  Charlotte Mont-d'Or *  •  Urouge *  •  Bobbin *

100,000,000 to 50,000,000

:
Dorry *  •  Brogy *  •  Trebol *  •  Diamante *  •  Pica *  •  Vito *  •  Rockstar *  •  Franky *  •  Albion *  •  Gotti *  •  Lip Doughty *  •  Brook *  •  Chadros Higelyges *  •  Boa Hancock *  •  Daz Bonez *  •  Raccoon *  •  Gyro *  •  Doc Q *  •  Suleiman *  •  Gambia *  •  Nami *  •  Van Augur *  •  Lao G *  •  Devil Dias *  •  Senor Pink *  •  Kelly Funk *  •  Peachbeard *

50,000,000 to 10,000,000

:
Laffitte *  •  Boa Sandersonia *  •  Boa Marigold *  •  Sarquiss *  •  Shoujou *  •  Mikazuki *  •  Bobby Funk *  •  Miss Doublefinger *  •  Mr. 2 Bon Kurei *  •  Gladius *  •  Miss Goldenweek *  •  Mont Blanc Cricket *  •  Mr. 3 *  •  Foxy *  •  Charlotte Lola *  •  Demaro Black *  •  Masira *  •  Arlong *  •  Jesus Burgess *  •  Yeti Cool Brothers *  •  Krieg *  •  Lacuba *  •  Kuro *  •  Buggy *  •  Dellinger *  •  Bluejam *  •  Miss Merry Christmas *  •  Gin *  •  Machvise *
10,000,000
and under:
Mr. 5 *  •  Wellington *  •  Kuroobi *  •  Hatchan *  •  Curly Dadan *  •  Miss Valentine *  •  Sham & Buchi *  •  Chew *  •  Alvida *  •  Porchemy *  •  Mr. 4 *  •  Bepo *  •  Tony Tony Chopper *

Unknown reward

:
Benn Beckman  •  Lucky Roux  •  Yasopp  •  Zeff  •  Dracule Mihawk  •  Crocodile *  •  Monkey D. Dragon  •  Crocus  •  Yorki  •  Jozu  •  Vista  •  Silvers Rayleigh  •  Emporio Ivankov  •  Inazuma  •  Shiryu  •  Sanjuan Wolf  •  Vasco Shot  •  Catarina Devon  •  Avalo Pizarro  •  Aladine  •  Charlotte Amande
Non-canon

1,000,000,000 to 100,000,000

:
Bounty *  •  Prize *  •  Byrnndi World * †  •  Panz Fry *  •  Chameleone *  •  Lambor Bukini *  •  Puggy *  •  Dopp *

100,000,000 to 10,000,000

:
Puzzle *  •  Gasparde *  •  Tambu *  •  Bobrad *  •  Woonan * †  •  Needless *  •  Olive *  •  Willy *  •  Bigalo *  •  Battler *  •  Wetton *  •  Bear King *
10,000,000
and under:
Eldoraggo *  •  Dick *  •  Pin Joker *  •  Golass *  •  Honey Queen *  •  Skunk One *  •  Gally *  •  Billy (Bandit) *  •  Heaby *  •  Hotdog *  •  Spiel *  •  Pandaman *  •  Boo Jack *  •  Billy (Pirate) *  •  A A A *  •  Wild Joe *  •  D.R. *  •  Hitokui *  •  Henna Oyag *  •  Koba K *  •  Usanksai *  •  Sard *  •  Tohenbok *  •  Tacobo *

Unknown reward

:
Patrick Redfield *  •  Mobu Head *  •  Red Arrows Pirates * †  •  Dareda  •  Dontacos

Others

:
Gill Bastar *  •  Mikio Itoo *