Jurassic World: Dominion Dominates Fandom Wikis - The Loop
Play Sound
Experience Fighting, One Piece: Punch Battle ~You Will Be the Pirate King~ is a TV plug-in game released in late October, 2004.[1]
Gameplay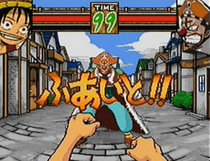 One Piece: Punch Battle is a self-contained One Piece TV game which plugs into the AV inputs of any television and uses XaviX technology to detect the punches and swings from a player. The player can wear the blue boxing gloves which contain motion sensors. For example, one may choose to play as the elastic Luffy and view the game from a "Crossed Swords" in-person perspective where only Luffy's fists are viewed. Swing your left arm in real life and watch with mouth agape as Luffy's virtual left arm stings with a jab. Do the same with your right hand and Luffy swings his best in perfect mimicry of your action. Using just the weapons known as your hands, punch and pound a foe into submission. Characters, both playable and enemies, can use special moves to overwhelm opponents. In addition to normal battle action, mini-games may also be enjoyed, like deflecting cannonballs back at the Big Top, cutting down flying fish with Zoro, and deflecting kicks from Sanji.[2] The game features six battles and seven minigames in a campaign.[1]
The game features four options upon startup: Story, Free Battle, Minigames, and Option.
Story
The Straw Hat Pirates are sailing through the seas when they encounter a harsh storm that sways the Going Merry back and forth. Suddenly, the ship is struck by lightening and sucked into a vortex. When Luffy awakens, he, Zoro, and Sanji are alone of the ship in the East Blue and have to search for their lost crewmates. As they were sailing, they encountered the Big Top and exchanged cannonfire with it. They came to Orange Town, where the Buggy Pirates were holding Usopp hostage. Luffy defeated him and reunited with his sniper. The crew continued to Cocoyasi Village, where Arlong was holding Nami. Luffy defeated him and rescued her.[2] They left the East Blue through Loguetown, defeated Smoker, and reentered the Grand Line. They went to Arabasta and rescued Nico Robin from Crocodile.[3]
Minigames
Characters
Playable Characters
Enemies
References