Spider-Man: No Way Home Trailer Dropped - The Loop
Play Sound
One Piece 1000 Logs, stylized as ONE PIECE 1000 LOGS, is a celebratory project being held by Shueisha in honor of the manga's 1000th chapter. It features the World Top 100 popularity poll, promotional artwork and videos, free chapters and episodes, and collaborations. The campaign includes the launch of a new slogan "We Are One."[1]
Information
World Top 100
World Top 100, or WT100, is the first global popularity poll held from January 3, 2021 to February 28. Fans could vote online and by mail-in postcards, and they could vote every day for the duration of the poll. Characters were organized by arc introduced or could be searched for by name. Regional totals were viewable on the poll website for Japan, Asia, the United States, Europe, Africa, and the Middle East.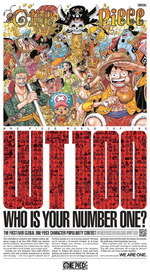 To promote the poll, WT100's website included an AR Collection where fans could earn and view AR versions of One Piece World Collectable Figures from the Wano Kuni volumes by voting every day. Shueisha also released a special PV at the launch of the popularity contest featuring the song "Dead or Alive" by Japanese metalcore band Crossfaith.[2] Additionally, a full page color ad for the poll was published in the New York Times on February 4.[1]
Shueisha produced a broadcast program called One Piece Times to announce and discuss findings from the poll with One Piece fans from around the world. Before the end of the poll, the One Piece Times "WT100 Preliminary Results Broadcast" premiered February 20 on the official One Piece YouTube channel. Hosted by comedy duo Kamaitachi, the program welcomed guests like Greg Warner and other fans from around the world to announce and discuss the poll's rankings before the final week.[3] Additional One Piece Times events will be hosted in the future to summarize the poll's final results.[4]
Shonen Jump Issues 3-4 and 5-6
Weekly Shonen Jump 2021 Issues 3-4 and 5-6, the latter of which contained Chapter 1000, featured covers that, when combined, celebrated the series' milestone with characters drawn by all of the other magazine's authors. The issues also contained posters of the Chapter 999 and Chapter 1000 covers. When combined, they make the largest insert poster in Shonen Jump history at 847 mm x 620 mm.[1]
Issue 5-6 also included some celebratory content:
The 1000 Logs Teaser Movie was published on the official One Piece YouTube channel on January 3, 2021. It is a live-action short film that features people enjoying One Piece over the years in real-life parallels to iconic scenes from the manga.[5] The following scenes are mirrored:
A child wearing a straw hat stands at the top of a playground and declares that he will be the Pirate King like Luffy.
A child playing soccer poses like Luffy activating Gear 2nd while protecting a goal.
A boxer who is defeated puts his hand in the air and declares he will become stronger like Zoro after facing Mihawk.
A graduating volleyball player thanks her coach like Sanji leaving the Baratie.
A group of high schoolers draw a scar like Luffy's on their sleeping friend, but when he was up and realizes, they show him that they've drawn 'X's on all of their wrists like the crew during Arabasta Arc.
The same kids who were playing soccer notice a group of old men who are sitting around a table like the Five Elders.
A man at a bar declared that dreams never die like Marshall D. Teach after overhearing a group of young men talk about their professional lives.
The same guy who had his face drawn on is sitting by himself on his school rooftop before his friends come to get him, reminding him like Luffy after Ace's death that he still has people he cares about.
Free Chapters and Episodes
Shueisha periodically released volumes 1-71 for free on the Shonen Jump+ app and Zebrack, Shueisha's digital reading platform.[6] Episodes have also been published on the official One Piece YouTube channel with five episodes uploaded each Friday at 17:00 JST.[7]
Oda's Letter
Release
Original Release Date
Press Distribution
January 3, 2021
"1000 Chapters!!

I, uh, wow...Words pretty much fail to describe the whirlwind these past 23 years have been. Literally half of my life has revolved around the almighty WEEKLY SERIALIZATION hehe. But it's not just me, Luffy and the Strawhats have navigated themselves to so many different islands and found themselves caught up in so many adventures. At this point, even I'm not sure how many lives they've touched along the way! But it's thanks to them that so many special people have entered my own life; first and foremost among them being my family. All of these people have supported me through the years and I am deeply indebted to each of them. Meanwhile, my readers have been leading their own bustling lives. There's a certain theory that exists for long-term readership in the entertainment world that states, "A given pool of readers will rotate out of a series after five years." And so for a while now, I've avoided calling my readers, 'fans'. It's like they say, "Pride cometh before a fall." I convinced myself that I shouldn't get too full of myself because my readers would eventually leave the series and move on with their lives. Let me say that all of you have put me to shame for thinking such a thing. Your belief in Luffy has led me to believe in all of you, and that is what allows me to continue drawing exactly the kind of manga I want to draw. So here we are, ready to dip our toes into the final stages of the story. It's taken us a long time to reach one thousand chapters. However, it's because I've completed a thousand chapters that you must believe I'll take us to the end. The story waiting for you will defy expectations! I mean it!!

I have a favor to ask. This is for everyone with whom —by some means or another— I've managed to create a bond, in other words, the FANS of the world! My story is a long one. But for just a while longer, please watch over Luffy and his crew as they continue their adventure!

January 2021 Eiichiro Oda"
My Log Generator
One Piece My Log Generator is an interactive webpage showcasing the history of One Piece. It features panel collages, volumes released, and plot highlights for each year of the series' serialization.[8]
One Piece Everyday
One Piece Everyday is a One Piece-centered companion app that lets users view the weather, track their daily steps, and stay up-to-date on the latest One Piece news. Users can also collect stamps and special artwork.
Tamashii Special Exhibition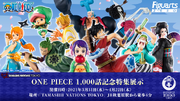 Bandai hosted the ONE PIECE 1,000 Episode Commemorative Special Exhibition (ONE PIECE 1,000話記念特集展示, Wanpīsu 1, 000-wa kinen tokushū tenji?) at its flagship Tamashii Nations Tokyo store from March 31 to April 22, 2021. The free exhibition had all of the Figuarts ZERO One Piece figurines released, approximately 150, on display.[9]
One Piece Treasure Cruise
A commemorative 1000 Logs unit was added to One Piece Treasure Cruise on July 22, 2021 to celebrate the milestone. The unit, Straw Hat Pirates, ONE PIECE 1000 LOGS (麦わらの一味 ONE PIECE1000LOGS, Mugiwara no ichimi wanpīsu 1000 LOGS?), is a ★ 6 Legendary, Mind attribute (心属性, Kokoro zokusei?) unit.[10]
Episode 1000
The Episode 1000 is also part of the project, celebrating the milestone on 1000 episodes of the anime a few months after the manga.
Collaborations
Irasutoya
Illustration website released 20 stylized drawings of One Piece characters that people can freely download and use. The drawings were released on January 4, 2021 and can be found here.[11] The following characters were drawn:
MORE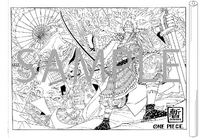 Shueisha's women's fashion magazine MORE included a special collaboration appendix in its March issue, released January 28, 2021. The appendix featured One Piece-themed adult coloring book pages, including ones based on the series' color spreads.[12]
Ribon
Shueisha's shōjo manga magazine Ribon included a collaboration with One Piece in its March issue, published February 3, 2021. The collaboration consists of a "One Piece Heroines" poster drawn by various Ribon authors, a "Friend Choco Matching Test" by Mr. 2 Bon Kurei, and a special One Piece dust jacket based on the Ribon Mascot Comics design.[13]
The following is a list of the eleven characters on the Heroines poster and the artists.
Weekly Playboy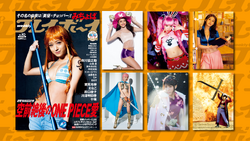 Shueisha's Weekly Playboy published an edition of its magazine on February 22, 2021 featuring models dressed as different One Piece characters. The magazine featured cosplay models Michopa (Miyu Ikeda), Reina Sumi, Enako, Ayako Inokuchi, Asuka Kawazu, and Toomi as well as interviews with Ennosuke Ichikawa, Masahiro Yamamoto, Osamu Suzuki, Fuminori Nakamura, Kendo Kobayashi, Ryota Yamasato, and EXIT about their love for One Piece.[14][15]
The following characters were cosplayed:
Pretz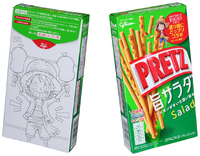 Ezaki Glico released Pretz snacks with special One Piece packaging and launched a promotional campaign from March 2 to June 30, 2021. The packaging had a coloring page on the back, and people who completed their coloring page and submitted it on Twitter or LINE would be entered for a chance to win prizes. Between March 3 and May 31, 300 people who colored in a Pretz box would receive a One Piece-themed desktop humidifier. Between April 13 and June 30, 300 who colored in a Pretz bag would receive a One Piece puzzle.[16] Prior to the lottery campaign, Glico hosted a follow and retweet campaign on February 22, in which 20 people who followed and retweeted the original post by Pretz would receive a complete coloring book package.[17]

Rurubu One Piece
Rurubu One Piece is a collaboration with the travel information magazine Rurubu by JTB Publishing. It is a book that details the locations in the One Piece world and reveals the real-world inspirations for them. It was released on March 4, 2021.[18]
Wolfgang's Steakhouse
A short story collab movie was produced with New York-based restaurant Wolfgang's Steakhouse.[19] It featured a mix of animated manga panels and real-life images.[20] To promote the collaboration, Wolfgang's gave out limited takeout and delivery bags.[21]

Ocean Tokyo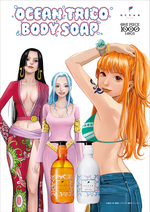 Japanese hair salon Ocean Tokyo produced a commemorative body soap, Ocean Trico Body Soap, which released on March 16, 2021, with key visuals by Mayu Yukishita featuring Nami, Vivi, and Hancock. A promotional video featuring Nami was released the same day.[22] Promotional videos featuring Vivi and Hancock were released June 29 and July 15, respectively.[23][24]

COOLish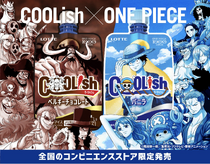 A collaboration between Lotte's drinkable ice cream product COOLish and One Piece. Starting April 6, 2021, illustrations of One Piece characters will be featured on the packages of COOLish Vanilla and COOLish Belgian Chocolate. The COOLish Vanilla packages feature the Straw Hat Pirates from Luffy to Brook, while the COOLish Belgian Chocolate packages feature series villains Arlong, Crocodile, Enel, Rob Lucci, Gecko Moria, Marshall D. Teach, Donquixote Doflamingo, Big Mom and Kaidou. The COOLish logo is also stylized, resembling the One Piece logo on the Vanilla packages, and uniquely stylized for each villain on the Belgian Chocolate packages.[25]
In addition, a campaign will be held from April 26 to May 31, where participants have the chance to win special collaboration merchandise. Prize A is a set of 6 different One Piece–themed bottle caps, available for 1000 winners. Prize B is a set of 30 One Piece–themed badges, available to 50 winners.[25]
The official COOLish website has also been "hijacked" by Kuzan (in reference to his ice ability) for the duration of the collaboration.
Sportiva
Shueisha's sports magazine Sportiva will feature a collaboration with One Piece later during the project.[1]
Merchandise
Limited Edition 'ONE PIECE 1000 Logs Anniversary Edition' Watch
One Piece Comic BOX Sets
References
External links