One Piece 100 We Are ONE is a project held by Shueisha in commemoration of the manga's 100th volume, which was released September 3, 2021. It is the second celebratory project held in 2021, following One Piece 1000 Logs. The slogan "WE ARE ONE", initially featured with 1000 Logs, is the main title of the project and also used as the hashtag #WeAreONE.[1]
Information
The special site onepiece100we-are-one.com was launched on July 19, 2021. The commemorative events features three major projects, the second and third of which have yet to be revealed.
Project 1: Kibo Discover Project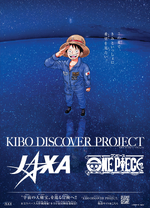 Project 1: Kibo Discover Project is a collaboration between Shueisha, Japanese creative company Bascule, and the Japan Aerospace Exploration Agency (JAXA) and the first of three major projects. It features the Straw Hat Pirates travelling to the International Space Station.
The Straw Hat Pirates learn of the existence the greatest treasure in the universe (宇宙の大秘宝, Uchū no dai hihō?). To find it, they travel to the International Space station to meet with Captain Hoshide, who is in the Japanese Experimental Module, also called "Kibo".
In the first part of the project, Space Operations (スペース大作戦, Supēsu dai sakusen?), on August 2, 2021, fans will be able to track the ISS's location in real-time using an AR guide on their smartphones.
In the second part of the project, On This Planet, Let's Look at Kibo ~WE ARE ONE. (この星で、きぼうを見よう ~WE ARE ONE.~, Kono hoshi de, kibō wo miyou ~ WE ā wan.~?), to celebrate the release of Volume 100 on September 3, Captain Hoshide and the Straw Hat Pirates are scheduled to appear in a broadcast from the ISS.[2][3]
Project 2: "WE ARE ONE."
Project 2: "WE ARE ONE." is a video work commemorating both the 100th volume of the manga as well as 1000th episode of the anime. It is a collaboration between One Piece, director Mika Ninagawa and the Japanese rock band RADWIMPS. Starting August 30, five short dramas will be released on the official One Piece YouTube channel and a special website. The main characters of the dramas will be fans of One Piece, played by actors such as Kengo Kora. RADWIMPS has composed a new song called "TWILIGHT" which will be used as the theme song of the dramas.[4]
Project 3: One Hundred Great Pirate Views
One Hundred Great Pirate Views (大海賊百景, Daikaizoku Hyakkei?) is a large poster illustrated by Eiichiro Oda, featuring the top 50 characters of the WT100 popularity poll. It will be released in three parts in consecutive Shonen Jump 2021 issues 39, 40 and 41.[5] The name of the illustration may be a reference to One Hundred Famous Views of Edo.
Where's Wally? in One Piece
Where's Wally? in One Piece (ウォーリーをさがせ!in ONE PIECE, Wōrī o sagase! In wanpīsu?) A collaboration with the Where's Wally? series of puzzle books. It is a giant illustration of Onigashima full of One Piece characters as well as Wally and others from the Where's Wally? series. Fans can enter a Twitter gift campaign using the hashtag #ウォーリーinワンピ.[6]
The official Twitter account for Oda's staff posted parts of the illustration and challenged players to find different characters to enter the giveaway, each with increasing levels of difficulty. Fans had to find Luffy, Enel, Hancock, Kuzan, and Bentham.[7][8][9][10][11] For an extra challenge, but not part of the giveaway, fans were asked to find Caesar Clown, Pappag, Gaimon, and Perona.[12]
Searchable
Challenge Characters

Additional Characters

Unnamed CP0 Agent
Butterfly Gifter

From "Where's Wally?"

"Where's Wally?" Items
Gallery
Monsters Voice Comic
The one-shot Monsters by Eiichiro Oda will be turned into a voiced comic, set to premiere in two parts on the official One Piece YouTube channel on September 6–7, 2021.[13]
Three Captains Interview
The Three Captains Interview (三船長キャストQ&A, San senchō kyasuto Q&A?) An interview with the voice actors of Luffy (Mayumi Tanaka), Law (Hiroshi Kamiya) and Kid (Daisuke Namikawa) published in Weekly Shonen Jump, Issue 33-34.[14]
All Figure Applicants Service
Shonen Jump subscribers in Japan can mail order limited edition World Collectable Figure sets from Issue 33-34 of the magazine as part of the Summer Dream All Figure Applicants Service (サマードリームフィギュア応募者全員サービス, Samādorīmufigyua ōbo-sha zen'in sābisu?), the magazine's fourth mail order offer. Three sets are available. The first features Portgas D. Ace and Yamato, and the second features Monkey D. Luffy, Trafalgar D. Water Law, and Eustass Kid. The third features Mash Burnedead and Lance Crown.[15]
Shokugeki no Sanji Chapter 3
Shokugeki no Sanji Chapter 3: A Beautiful Dessert is the third installment of the spinoff by Food Wars: Shokugeki no Soma creators Yūto Tsukuda and Shun Saeki, and was released in Shonen Jump 2021 Issue 33-34.[16]
Wano Country Arc on YouTube
Continuing the regular trends of weekly free episodes published of the official One Piece YouTube channel for One Piece 1000 Logs, episodes from the Wano Country Arc will be available to watch for free on the channel. Every Friday at 17:00, six episodes will be uploaded.[17]
Free Chapters
Chapters from Volumes 1-90 will be released for free in three stages on the Shonen Jump+ app and Zebrack:
One Piece Knowledge King
The third annual One Piece Knowledge King competition will be held later this year. Pre-registration for the exam is open July 19–23, with the exam taking place October 24. The exam will be structured the same as previous exams, except the subject matter includes Volumes up to 100, as well as the Vivre Card - One Piece Visual Dictionary.[19]
Mainichi World Economic Journal
Mainichi World Economic Journal (毎日世界経済新聞, Mainichi Sekai Keizai Shinbun?) is a special tabloid published in collaboration with the Mainichi Shimbun. It consists of 24 pages and it set to be released on the same date as Volume 100, September 3, 2021. [20]
Wonda x One Piece
A collaboration with the "WONDA" brand of canned coffee manufactured by Asahi Soft Drinks. Both One Piece and Wonda are celebrating their 24th anniversary in 2021. The collaboration consists of 44 One Piece-themed can designs featured on various Wonda products.[21]
References
External links