One Piece 15th Anniversary: Dive to Grand World is a minibook released in Weekly Shonen Jump alongside Chapter 676.
This chapter explains how Punk Hazard changed since the battle between Akainu and Aokiji.
Chapter 2 includes all the known races of the world, including one race that has been spoken of but not yet seen (snakenecks). The Three-Eye Tribe remains a mystery.
The third chapter introduces estimated sizes (as well as other characteristics) of animals (and other characters).
Chapter 4 presents the Shichibukai and the marine ranks of some characters. Dracule Mihawk, Donquixote Doflamingo, Bartholomew Kuma, and Boa Hancock are confirmed to still be part of the Shichibukai.
This chapter presents various pirates, the bounty posters from the "One Piece Ten" exhibition, and a bounty ranking:
Chapter 6: Mysteries
Edit
The final chapter lists mysteries such as the Will of the D., One Piece, the World Government taboo, and the three ancient weapons: Poseidon, Pluton, and Uranus.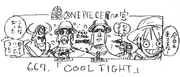 Community content is available under
CC-BY-SA
unless otherwise noted.